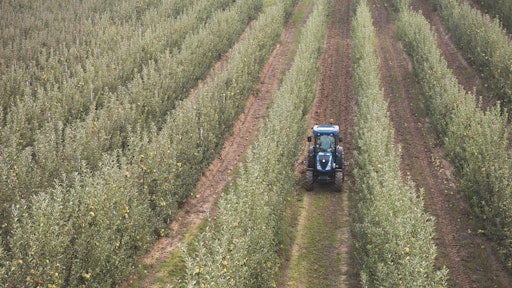 CNH Industrial
Innovation can take many forms, which is why each year the Tractor of the Year award looks to honor those in the agricultural equipment industry. Winners are determined by a group of independent journalists specializing in agricultural mechanization.
While winners are typically European based, they represent what is happening in the industry on a global level. The tractor designs include many of the features important to the market such as improved operator comfort and visibility, as well as increased performance and more data collection and connectivity.
Winners are announced each year at the major alternating agricultural trade shows EIMA and Agritechnica; this year the Tractor of the Year 2020 awards were handed out during Agritechnica.
There are now four categories in which a piece of equipment can be named Tractor of the Year (TOTY):
Tractor of the Year 2020,
Best Utility 2020,
Best of Specialized 2020,
and the newly added Sustainable TOTY 2020.
Many pieces of equipment from this year's nominated companies were also honored with Agritechnica Innovation awards.
And the winners are
A total of 14 tractors were finalists in the three main categories, and from those finalists (see sidebar below) one winner in each category was selected.
Tractor of the Year 2020
Winner of the Tractor of the Year 2020 award was the Fendt 942 Vario. The new 942 series for the first time reaches more than 400 hp (298.3 kW). This model impressed the jury also for the level of connectivity it offers which permits full remote control of several functions.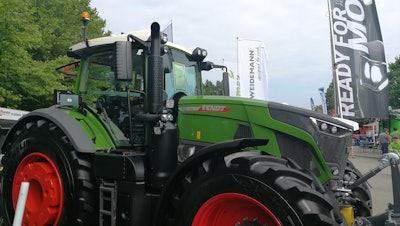 It includes an optimized MAN 9 L engine which is based on a low-regime concept (Fendt ID) that delivers high power performance at a low rpm. In this way the engine smoothly works at a specific max torque level at a minimum consumption level.
The innovative hydraulic system includes two separated high-flow circuits, while the VarioDrive Transmission splits and delivers the torque to the two axles for optimized traction in the field and on the road.
Dana Inc.'s Spicer 980 independent suspended axle is featured on the Fendt 942 Vario tractor. Its front suspended axles deliver enhanced speed and operator comfort for compact tractor applications as well as tractors with increased performance requirements. Dana also offers independent suspension axles for open-field tractors up to 375 kW (500 hp).
"Tractor manufacturers are increasingly challenged to deliver vehicles that provide superior productivity and operator comfort while minimizing the environmental impact through high fuel efficiency and reduced soil compaction," says Aziz Aghili, President of Dana Off-Highway Drive and Motion Technologies. "The results of the 'Tractor of the Year 2020' competition demonstrate how Dana's advanced technologies are helping manufacturers strike a balance between often competing goals."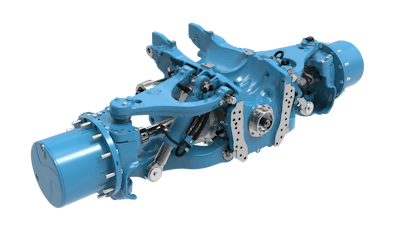 Best of Specialized 2020
The New Holland T4.110 N was the winner for the Best of Specialized category. New Holland T4.110 N made the difference mainly thanks to the suspended axle "TerraGlide" available either with brakes or without. This system is a turning point in terms of comfort and agility. It allows users to drive at higher speed in full safety condition whether in field or on the road.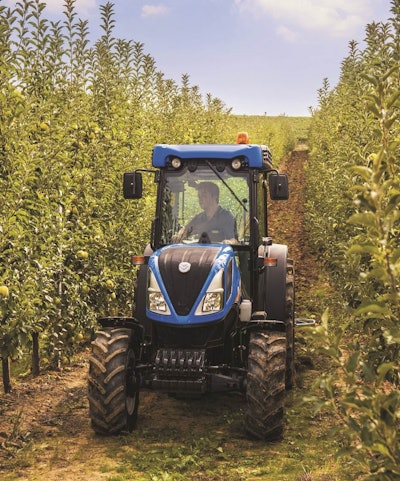 According to the company, the T4N Terraglide delivers best-in-class stability, especially with heavy front implements, with the anti-dive/squat feature, which prevents pitching during braking and acceleration. The axle roll control further adds to the tractor's stability, preventing excessive oscillation and the risk of rolling over when working side slope. The operator not only enjoys the comfort of reduced tractor roll, but also greater safety from its stability.
Operators can easily adjust height and rigidity of the suspension according to soil conditions. An anti-dive function is standard, reducing pitching effect while braking or accelerating with heavy implements. To emphasize the work of the suspended axle, this tractor can be equipped with PneuTrac tires produced by Trelleborg.
An FPT Industrial F34 on the T4.110 N is specially suited to use on specialty and compact tractors. The 3.4-L engine delivers 79 kW (107 hp) at 2,300 rpm and maximum torque of 440 Nm (324.5 ft.-lb.) at 1,500 rpm.
Best Utility 2020
The Fendt 314 Profi + took home the Best Utility 2020 award. This tractor brings into the market an innovative new boost system called Dynamic Performance which provides extra power regardless of the task including stationary PTO work.
It includes the FendtOne cab environment which expands the display area with new terminals. It also includes more customizable controls and the onboard/offboard philosophy to synchronize the office with the tractor and the fleet in terms of data share and task planning.
Dana is the supplier of the front axle for the Fendt 314 Vario Profi+.
Martin Richenhagen, Chairman, President and CEO, AGCO Corporation, says winning awards such as the two TOTY it received "demonstrates that we are dedicated to providing smart solutions for sustainable agriculture. AGCO's continued investment in research and development enables our brands to develop award-winning innovations, and we are proud that our industry and our customers recognize our commitment."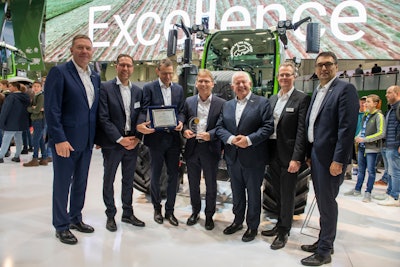 Sustainable TOTY 2020
For the new Sustainable TOTY 2020 award, all 14 finalists from the three main categories were considered as well as three prototype machines.
The jury selected the New Holland T6 Methane Power tractor as the winner for this category. This tractor makes the virtual circle a reality—in which materials such as crops on a farm can be used to produce methane which then powers the tractor.
Read more: New Holland Methane Powered Concept Tractor Receives Good Design Award
The tractor's eco-friendly package delivers up to 30% lower running costs. In real field conditions the T6 Methane Power tractor produces 99% less particulate matter than an equivalent diesel configuration, and reduces overall emissions by 80%. This tractor is a key element in New Holland's Energy Independent Farm Concept, closing the loop of a true circular economy, from fields to energy generation and back to fields – a complete CO2-neutral cycle.
New Holland's sister brand FPT Industrial specifically developed a methane engine for the tractor which delivers the same power and torque as a diesel equivalent. The N67 NG has a displacement of 6.7 L and a six cylinder in-line configuration, delivering power of 180 kW (241.4 hp) at 1,800 rpm and torque of 1,035 Nm (763.4 ft.-lb.) at 1,500 rpm. It is compatible with compressed natural gas (CNG), liquefied natural gas (LNG) and biomethane, and has 10% lower CO2 emissions than diesel engines in real field conditions. When running on biomethane, this can reach virtually zero or even become negative.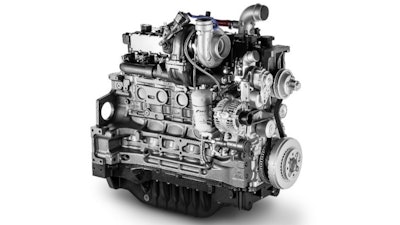 Integrated precision farming technology includes some elements of autonomous operations such as the ability to detect obstacles. Specific working functions can switch from one monitor to another by simply dragging and dropping. Connectivity features can be seen throughout the machine such as with the ability to use a smartphone to unlock the tractor, and even to control the rear linkage.
High-precision gears and shifting solutions from Dana are used in the transmissions of the Methane Power tractor, as well as the New Holland T 4.110 N.
New Holland intends to make the Methane Power tractor commercially available in 2020.
Read more about the New Holland T6 Methane Power in the article "A Vision of Sustainable Farming."
Companies in this article