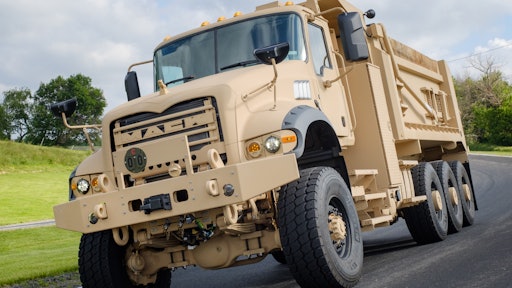 Mack Defense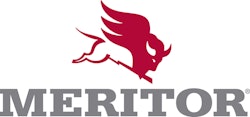 Meritor Inc. has announced it will supply drivetrain components for use in the Mack M917A3 Heavy Dump Truck (HDT). Mack recently received an order from the U.S. Army for these vehicles which have been undergoing production vehicle testing with the Army. 
Per a press release from Meritor, it will supply the following Meritor Defense products for use on the HDT: 
MX-810 front axle with weight rating up to 24,000 lbs., offering maneuverability and excellent ground clearance
MTC-3220-FV high-torque transfer case that is compact and rugged for ease of maintenance and serviceability while remaining durable enough for the demands of military applications
ProTec 5000 Series beam axles, engineered to military specifications with gross axle weight rating (GAWR) up to 30,000 lbs. per axle
Permalube RPL Series drivelines, designed for gear-fast/run-slow drivetrains and high-torque applications, and permanently lubricated and sealed for life to reduce maintenance compared to conventional drivelines
EX+ air-disc brakes in the front and 16.5 x 7-in. Q+ drum brakes in the rear. 
"This agreement gives us the opportunity to proudly support the U.S. Army," said David Damian, Senior Director of Defense for Meritor, in the company's press release announcing the delivery of drivetrain components for the HDT. "We are privileged to have supplied our nation's warfighters with proven drivetrain solutions for more than 100 years."
Meritor is one of several companies Mack Defense has partnered with during the development of its HDT. Doing so helps the company ensure it is providing the best possible product to meet the needs of the U.S. Army. 
Read more about the design of the HDT in the article New Military Vehicle Designs to aid Market Growth.
Companies in this article