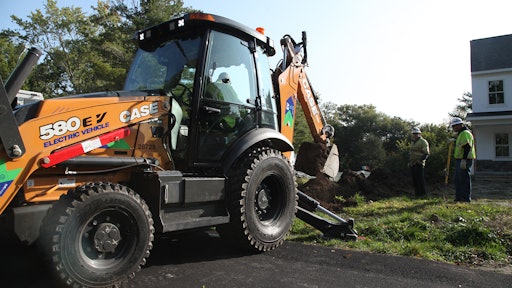 CASE Construction Equipment
OEM Industry News Briefs provides a weekly round up of the latest news and company announcements you may have missed in the heavy equipment engineering and manufacturing industries.
Over the past week OEMs like Peterbilt and John Deere announced new equipment updates, demonstrating the continued efforts of vehicle and equipment manufacturers to improve their product offerings for customers. Manufacturers working in the military space had a big week as well with Mack Defense receiving an order for its Heavy Dump truck and the U.S. Postal Service selecting Oshkosh Defense as the manufacturer of its Next Generation Delivery Vehicle.
Mergers and acquisitions were a big highlight this past week, as well, with Dana Inc. acquiring Pi Innovo, The Toro Company acquiring Left Hand Robotics, and Navistar's stockholders approving its acquisition by TRATON. These types of mergers will enable some companies to better compete in the market while others will help the companies involved further advance their technology efforts by bringing together more industry knowledge.
READ MORE: The Pros and Cons of Industry Consolidation
Peterbilt updates vocational trucks
Peterbilt announced this past week it has updated its vocational Model 567 and 520 trucks. This includes the integration of a new VMUX electrical system designed to provide enhanced functionality and seamless integration with different types of truck bodies.
Cab-mounted side mirrors, a bright air intake bezel option and increased DEF tank volume are among the updates Peterbilt made to the exterior of the trucks. A 15 in. Digital Display is included in the cab of the Model 567 which features a customizable interface. Peterbilt first introduced this new display technology in February when it debuted its new Model 579 Class 8 truck. The company said at that time it plans to incorporate the Digital Display into its various truck models in the coming years to provide an improved operator experience and help keep up with ever evolving digital technologies.
Several safety systems are also integrated into the Digital Display such as lane keeping assist, adaptive cruise control with auto resume and speed sign recognition. Meanwhile, the new Model 520 has a 7 in. Digital Display featuring a conventional speedometer, tachometer and water and oil temperature gauges.
Electronic stability control was added to the Model 520, as well, and is available with Bendix Fusion with side object detection, automatic emergency braking and other safety features.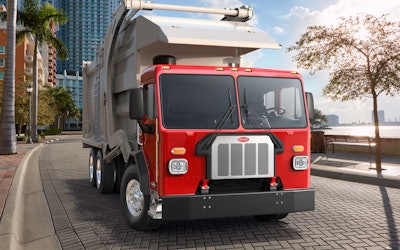 Cummins promotes five leaders
Cummins has promoted several members of its organization to the role of vice president effective March 1. "The world is rapidly changing and we need strong leaders who excel at both strategy and execution to ensure our company, employees and communities can continue to thrive, and I am confident this group will help successfully guide us," said Tom Linebarger, Chairman and CEO, Cummins Inc., in the company's press release announcing the VP appointments. "All five of these leaders are experts in their fields and hold roles strategically important to Cummins' long-term success. They are highly capable leaders who consistently champion our leadership behaviors and live Cummins' values in all they do. I am confident they will help us lead Cummins successfully."
The new Cummins VPs include:
Gary Johansen – Vice President, Power Systems Engineering
Jonathon White – Vice President, Engine Segment Engineering
Jason Wang – Vice President, Partnerships and Joint Ventures – China Area Business Organization
Kurt Kuhn – Vice President, Internal Audit
Carolyn Butler-Lee – Vice President, Diversity and Inclusion
TTI exhibiting electrical components at Work Truck Show
Electronic components distributor TTI Inc. will be one of the many exhibitors at this year's virtual Work Truck Show. The company plans to exhibit various products aimed at vehicle electrification, as well as general electronic components.
TTI Transportation Sales Engineers will be online during the event, as well, to answer any questions.
Mack Defense receives order from U.S. Army
Mack Defense has received an order from the U.S. Army for 99 M917A3 non-armored Heavy Dump Trucks (HDT) has part of a previously announced contract with the U.S. Department of Defense. "This order signifies the successful testing of non-armored and armored vehicles that we conducted in 2018 and 2019," said David Hartzell, President of Mack Defense, in the company's press release announcing the new order. "We are proud that Mack Defense was chosen to fulfill the needs of the U.S. Army and support our armed forces."
The HDT is based on the Mack Granite truck model, and is spec'd with heavier duty rear axles, all-wheel drive and an increased suspension ride height.
Read more about the design of the Mack HDT in the article New Military Vehicle Designs to aid Market Growth.
Initial deliveries will are scheduled to begin in May 2021.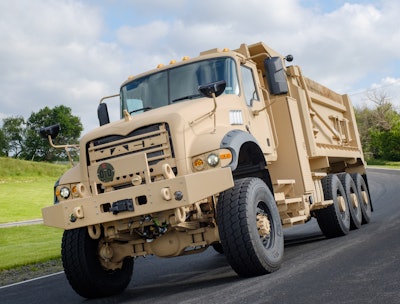 Daimler and Volvo complete fuel cell venture
Daimler Truck AG and Volvo Group have completed the transaction necessary to form its previously announced fuel cell joint venture. As part of this, Volvo has acquired 50% of the partnership interests in Daimler's spin off Daimler Truck Fuel Cell GmbH & Co.
The companies aim to make the joint venture a leading global manufacturer of fuel cells and help enable global uptake in the technology to create more sustainable transport options by 2050. Daimler and Volvo have agreed to name the joint venture cellcentric GmbH & Co. KG.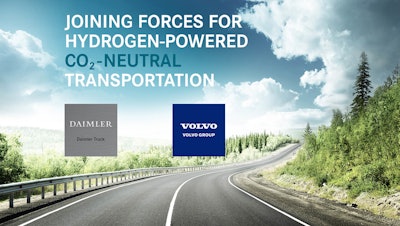 cellcentric will develop, produce and commercialize fuel cell systems for heavy-duty trucks primarily, but will also look at other application possibilities. The companies are looking to start customer tests of trucks with fuel cells in about 3 years and to commence series production during the second half of this decade.
CASE introduces factory-fit machine control, delivers electric backhoes
CASE Construction Equipment made two big announcements this past week. The first of which is that the company is now offering factory-fit machine control technology on its 750M through 2050M dozers. This includes factory installed and calibrated 2D, dual mast 3D and SiteControl CoPilot precision construction solutions from Leica Geosystems.
The technology aims to help improve efficiency and productivity for machine owners. CASE says offering the technology from the factory simplifies acquisition and allows dozer owners to group the precision solution of their choice in with the initial purchase of the machine. It also combines all elements of the investment into a single payment, financing package and interest rate — making ordering and implementation seamless.
And because the company uses World Class Manufacturing processes, system integrity is achieved and owners can get up and running as soon as they receive their machine.
CASE has also announced the delivery of two 580 EV backhoes to utilities in New York. The battery powered electric backhoe loaders are designed to produce zero emissions and provide cleaner, quieter operation for customers. It partnered with Green Machine Equipment Inc. on the backhoe; Green Machine provided its proprietary 480V, 90 kWh lithium-ion WhisperDrive battery pack which can be charged by any 220V connection. Each charge can support common 8-hour workdays.
Navistar stockholders approve TRATON acquisition
Navistar announced this past week its shareholders approved TRATON's proposal to acquire all outstanding common shares during their annual meeting.
Per Navistar's press release on the subject, the transaction remains subject to regulatory approvals and the satisfaction of customary closing conditions. Navistar continues to expect that the transaction will be completed in mid-2021.
As part of a new initiative to aid customers developing carbon-neutral products, Schroeder Industries has developed a suite of GREEN Electric Drive (E-Drive) Media and other low energy loss products. All of the new products are designed to support sustainability in the manufacturing industry—including OEMs and maintenance, repair and operations (MROs).
In addition, the company plans to share information on technologies which will support Zero-Net-Carbon initiatives, many of which are slated to go into effect by 2030.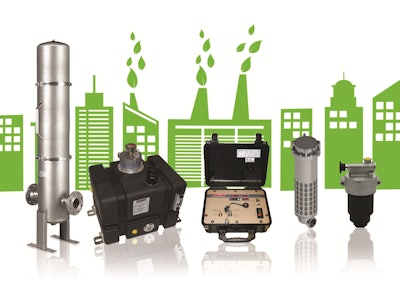 Hexagon Composites brands expand fuel system partnerships
Hexagon Purus and Hexagon Agility continue to create new partnerships and receive orders for their alternative fuel storage systems.
Hexagon Purus this past week signed two joint venture agreements with CIMC Enric Holdings Limited (CIMC Enric), a global supplier of cryogenic and compressed gas storage and transportation solutions and manufacturer of clean energy equipment, headquartered in Shenzhen, People's Republic of China.
The joint ventures will provide compressed hydrogen storage solutions to meet growing demand in the Chinese market. They will also support the transition to zero emissions mobility solutions in Southeast Asia.
According to Hexagon Purus, the companies' initial plan includes:
Expanding CIMC Enric's existing production and systems capacity for Type 3 storage cylinders
Increase Type 4 cylinder production and systems in the Chinese market
Design production line capacity to accommodate approximately 100,000 cylinders per annum
Construction a new facility as early as the second quarter of 2021
Begin production of Type 3 storage cylinders in 2021.
Hexagon Agility signed maser services agreements in June 2020 with a global logistics customer to deliver compressed natural gas (CNG) fuel systems for medium- and heavy-duty trucks. It has now received two orders in 2021 related to this customer to deliver the fuel storage systems in the first half of 2021.
Companies in this article