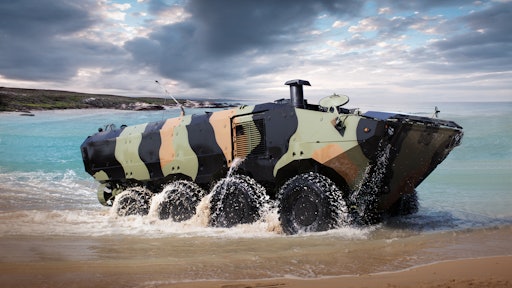 Iveco Defense
Grand View Research reported early in 2019 the global armored vehicle market will achieve a compound annual growth rate (CAGR) of 5.4% from 2019-2025. Growth is due to an increased focus on safeguarding soldiers, as well as governments around the world wanting the latest machinery to aid with various emergencies and tactical missions.
According to the report, military vehicle OEMs have been making investments in new product developments to meet market needs. This can be seen through the many vehicles introduced this year, as well as upgrades made to existing vehicle designs.
Most recently Iveco Defence announced it will be delivering Amphibious Combat Vehicles (ACV) to the U.S. Marine Corps as part of an order for new generation vehicles awarded in 2018. The company is partnering with BAE Systems to develop an ACV Personnel Carrier variant (ACV-P) for the Marine Corps.
The ACV-P can be utilized in the open ocean and features a six-cylinder, 700 hp (522 kW) engine that offers more power than the legacy fleet currently in service. It is capable of operating in all types of terrain which is vital to ensure personnel safety in any environment.
Oshkosh Defense LLC debuted its Light Combat Tactical All-Terrain Vehicle Command and Control (L-ATV C2) at the Association of the United States Army (AUSA) National Conference. A modular interior enables the vehicle to be modified to meet the needs of specific applications or crews.
"The L-ATV C2 provides the same level of protection and extreme off-road mobility as our already fielded JLTV platform. In addition, the L-ATV C2 houses a robust communications suite, giving our armed forces the unique and highly-desirable advantage of staying well connected while on the move," said George Mansfield, Vice President and General Manager of Joint Programs for Oshkosh Defense, in the press release announcing the vehicle's debut.
Partnerships aid design
Grand View Research's report notes the emphasis many in the military vehicle market are placing on collaboration—particularly that between OEMs and component suppliers. As with any heavy-duty equipment design, collaboration ensures a vehicle and its components are best optimized for an application.
Mack Defense partnered with several companies when developing its new M917A3 Heavy Dump Truck (HDT) for the U.S. Army. One such company was Crysteel Manufacturing which provided a specialized dump body for the vehicle. The companies worked together to ensure the dump body would meet the U.S. Army's specialized safety and functionality needs.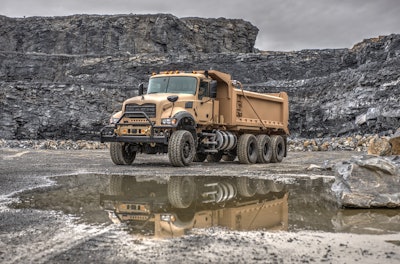 "We needed partners that could engineer and build components tough enough to pair with the Mack Defense M917A3 and meet the U.S. Army's demanding applications," said David Hartzell, President, Mack Defense, in the press release announcing the partnership. "Crysteel Manufacturing fits the bill, thanks to their decades of leadership in their industry, and we're proud to have them as a partner on this project."
For the dump body Crysteel developed an integrated touchscreen control module which allows drivers to control several features such as the hoist, material control system and on-board weigh scale.
Mack Defense publicly introduced the HDT in May. The truck is built upon the Mack Granite truck model, which is utilized in many vocational applications, ensuring its durability for military operations. Heavier duty rear axles, all-wheel drive and increased suspension ride height were added to the truck in order to meet the Army's requirements.
Included on the truck is a Chemical Agent Resistant Coating (CARC) developed by Sherwin-Williams General Industrial Coatings. It is designed to meet the U.S. Department of Defense's CARC process specifications MIL-DTL-53072F. The coating protects the vehicle from corrosion, wartime chemical and biological weapons, as well as provides camouflage properties.
A new armored cab was developed for the HDT, as well. It exceeds the U.S. Army's blast requirements and includes many features of the Granite model, keeping personnel safe and comfortable.
The cab was designed by Tencate Advanced Composites for Mack, and JWF Defense Systems (JWFDS) manufactured it; JWFDS provided both fabricating and painting of the cab. Mack says it chose JWFDS for its reputation for working with armor fabrication for military vehicles.
Military grade products
Components designed specifically for military vehicles are essential to ensuring performance and durability in the harsh environments in which these machines operate.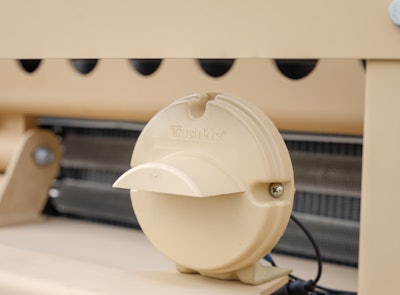 Truck-Lite, for instance, has been producing military-spec lighting which meets or exceeds the U.S. Military's lighting standards for several years. The company partnered with Mack Defense to provide lighting for the HDT. These include blackout drive lights, front and rear composite lights, as well as auxiliary lighting.
Meritor Inc. collaborated with Mack Defense on the HDT, as well. It provided much of the drivetrain system for the truck, which includes its MX810 front drive steer axle, transfer case, ProTec Series 50 tridem drive beam axles and Permalube RPL Series drivelines.
Components of the drivetrain system such as the ProTec Series 50 beam axles are engineered to military specifications; the beam axles have a gross axle weight rating (GAWR) of up to 30,000 lbs. (13,607.8 kg) per axle.
In October, Meritor introduced its ProTec Series 3000 front and rear all-wheel drive beam axles which are the company's first purpose-built solutions for Class 5 vehicle applications. Dave Damian, Director of Defense for Meritor, said in a press release announcing the new axles that they meet market demand for increased payload capacity, mobility and stability.
The ProTec Series 3000 front-drive steer axle features a GAWR of up to 12,000 lbs. (5,443.1 kg), a 4,500-lb. (2,041.2 kg) increase over factory OEM-provided equipment.
Earlier in 2019 Meritor also introduced an electric independent suspension for use in tactical and combat vehicles. The 3400 eISAS delivers 160-320 kW (214.6-429.1 hp) of continuous power and 300-600 kW (402.3-804.6 hp) of peak power. It is engineered to handle maximum regenerative braking which allows it to charge vehicle batteries while decelerating and braking.
"The Meritor Defense ProTec product family has been bolstered by the addition of AxleTech's trusted independent suspension technologies to offer a broader, more robust portfolio of proven, custom-engineered solutions," said Joe Muscedere, Vice President of Off-Highway, Specialty & Defense for Meritor, in a press release announcing the debut of the new axle technology. "With the combination of these complementary technologies, Meritor has expanded…and improved our ability to deliver new solutions to market quickly."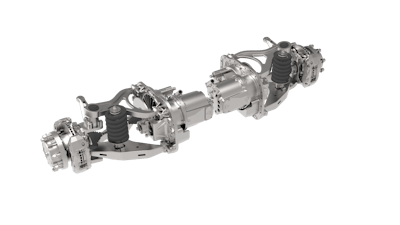 Meritor acquired AxleTech in May 2019; AxleTech brought with it several years of experience developing drivetrain components for military applications, as well as electrified systems.
Electrification of military vehicles
Prior to the acquisition by Meritor, AxleTech partnered with Turkish defense OEM Otokar on the development of Otokar's AKREP IIe Electric Vehicle. The fully electric military vehicle features an electric motor integrated into the axle and an advanced battery pack. Integrating the motor saves on space and weight while meeting the performance needs of the application.
"AKREP IIe is a significant indication of Otokar's growing commitment for applying promising technologies to armored vehicles. The vehicle also highlights Otokar's maturity in the design and development of state-of-the-art armored vehicles. AKREP IIe's modern design provides mobility, agility and durability required for the wide range of missions," said Serdar Görgüç, Otokar General Manager, in a press release announcing the partnership.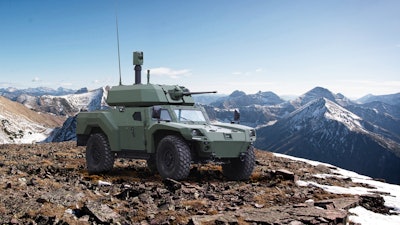 Like many other heavy-duty equipment industries, the military vehicle market is looking for ways to increase efficiency and create more sustainable transport options. Doing so is beneficial for military personnel, as well as the environment. Electrically powering a vehicle makes it quieter, aiding the stealth and safety of military operations.
In 2018, the U.S. Dept. of Energy (DOE) and the U.S. Army signed an agreement to collaborate on the development of hydrogen and fuel cell technologies as a means of finding alternative power sources to suit military and civilian needs.
Allison Transmission has developed an On-Board Vehicle Power (OBVP) system which will be installed in the driveline of the 44-ton Oshkosh Heavy Expanded Mobility Tactical Truck (HEMTT).
It is comprised of a generator fully integrated into the housing of an Allison 4500 Specialty Series transmission. A separate generator is no longer necessary, reducing logistics costs while improving agility of the vehicle. The OBVP will be paired with Leonardo DRS power electronics to enable the production of electric power for use on- or off-board the vehicle. When stationary up to 120 kW (160.9 hp) of power can be produced and up to 55 kW (73.8 hp) when the vehicle is moving.
Allison says a study by the U.S. Army Tank Automotive Research, Development and Engineering Center (TARDEC) found vehicles utilizing an OBVP consumed 23% less fuel than those which use a Quiet Tactical Generator.
The OBVP also aids with the increased need for onboard electrical power in military vehicles. "The electrical loads on vehicles have increased dramatically. It's getting more and more difficult to produce that level of power with an engine-driven generator/alternator. Allison is proud to be partnered with Leonardo DRS in the development of OBVP technology that will result in innovative and adaptive propulsion solutions that provide capabilities not available today," said Dana Pittard, Major General (Ret.) and Vice President for Defense Programs at Allison, in the press release announcing the new OBVP technology.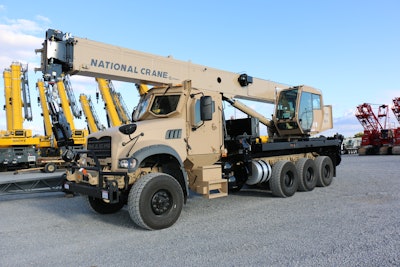 New orders exemplify continued importance
The amount of new orders military vehicle OEMs have received in 2019 helps give credence to Grand View Research's report of continued growth for the market.
Oshkosh Defense announced multiple times in 2019 orders it has received from the U.S. military for its various vehicle configurations.
JCB announced in May it had received an additional contract from the U.S. Army to manufacture High Mobility Engineer Excavators (HMEEs). The machines are used for various military and disaster relief missions, including earthmoving, fortification construction and ground clearing.
The Grand View Research report indicates limited budgets for military spending in some global markets—such as North America and Europe—may hinder growth of the military vehicle market. However, the amount of activity currently taking place in the industry shows the market has yet to be negatively impacted.
Companies in this article