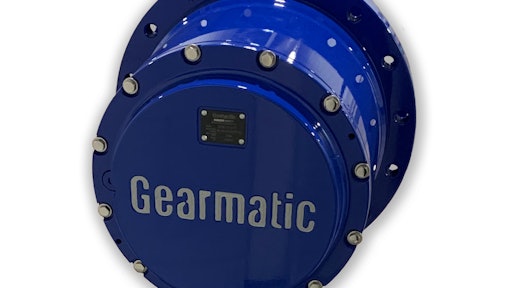 Gearmatic added a new line of hydrostatic track drives to the company's product mix, boasting maximum torque output ratings from 12,539 pound-foot (lb-ft) to 162,264 lb-ft (17,000 Nm to 220,000 Nm). The TD Series offers different gear ratios and mounting options among the 11 models, providing a full-line solution of new or replacement drives for tracked vehicles used in industrial applications.
Built for performance and reliability, the heavy-duty TD Series is designed for easy installation, minimal maintenance and universal fitment with ISO and SAE hydraulic motors. The compact profile is ideal for space-critical mounting configurations while increasing the overall efficiency of the undercarriage.
PACCAR Winch planetary gear boxes feature a main bearing system with high load carrying capacity. All TD Series models feature a spring loaded, hydraulically released multi-disk parking brake with braking torque set in accordance with specific application needs. The sealed design prevents moisture and dirt from infiltrating the drive. Gearmatic TD Series track drives are available for new fitments and retrofit applications for tracked equipment including skid steers, crawlers, dozers, excavators and cranes.        
Request More Information
Fill out the form below to request more information about
Hydrostatic Track Drives