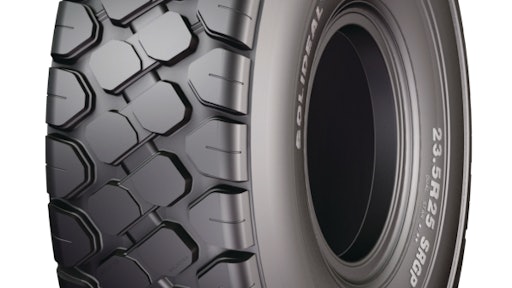 Solideal presents its SRGP (Solideal Radial General Purpose) tires at Intermat 2009.
The SRGP offering includes the L3/E3 radial tire for wheel loaders, articulated dump trucks and graders. The SRGP is Solideal's first all steel radial tire model.
During the development of the SRGP, Solideal engineers focused on both minimizing the vibration level and optimising the stability of the tire. Laboratory and field tests have proven that the SRGP not only meets industry expectations but exceeds them. The tire exhibits extremely low vibration levels for optimal riding comfort for drivers and improved stability.
The SRGP is available in 17.5R25, 20.5R25, 23.5R25, 26.5R25 and 29.5R25 sizes, and provides additional benefits such as excellent traction, extended life, self-cleaning lugs and Solideal's Dual Star system.
Request More Information
Fill out the form below to request more information about
SRGP - Solideal Radial General Purpose tires