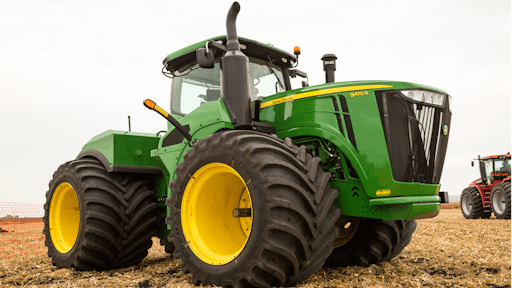 Titan International
A new report from Fact.MR projects the global farm tire market will grow at a CAGR of 6% through 2028. Demand is being led by tractors and harvesters, followed by trailers and sprayers. Sales are mostly concentrated in the independent aftermarket channel, with the rest coming from OEM and OES segments.
While demand is expected to increase, Fact.MR says sluggishness in the farm equipment market is impacting the farm tire market. The U.S. farm sector is hindering further growth of the farm tire market. Sales of new and replacement tires are currently being impacted.
Asia Pacific excluding Japan (APEJ) will lead global demand for farm tires; in 2018 close to 20 million tires were sold in that region alone. Market growth will be steady in North America and Europe, as well. Weakness in commodity prices will however offset gains mad in lucrative markets, says Fact.MR.
Tractor tire demand is high
Demand for tractor tires is higher than that of harvesters. Fact.MR says tire demand is highest for tractors in the 45-140 hp segment. For harvesters, machines in the 300-450 hp power range are seeing a high amount of demand. Both segments are expected to lead tire sales through 2028.
Spreaders will remain the least attractive segment for tire manufacturers, says the report.
Tire trends
Radial tires will continue to be a target segment for tire manufacturers. As agricultural equipment grows in size, so will the tires. Fact.MR says tire manufacturers are shifting their focus on Group 49 tires which are 7 ft. tall and have a rolling circumference index of 256 in.
The company projects demand for 20-45 in. rim diameter tires will grow the highest year over year. Tire size will continue to be a key focus for tire manufacturers, it stresses.
The report finds that manufacturer focus has shifted to digitalization and adoption of innovative technology. Product differentiation has emerged as a key strategy for market players to increase sales. The prevailing low commodity prices are influencing farm owners to boost operational efficiency, while reducing overheads. These developments have compelled farm tire manufacturers to launch technologically superior and cost-efficient products in the market. In view of the evolving end-user demand, launch of innovative agriculture tires that are equipped with sensors is likely to gain ground during the assessment period.
The prevailing scenario in the market has also induced a 'shop for value' trend among end-users. The weakness in global commodity prices has meant that farm owners are prioritizing price over quality. The change in buying behavior has made farm tire manufacturers to make changes to production. Farm tire manufacturers are now including cost-effective offerings in their portfolio.