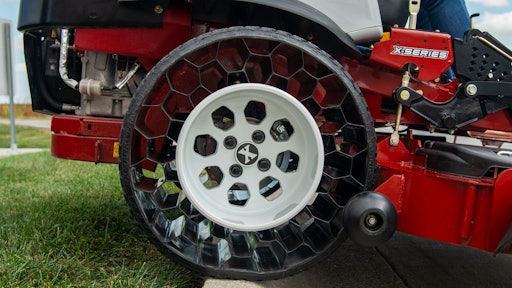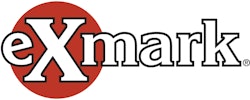 At the GIE+EXPO show in Louisville, KY, Exmark launched its new Tractus tire and wheel combination. Designed to eliminate the flat tires that increase downtime, Tractus is available as an accessory for select Exmark Lazer Z zero-turn mower models.
According to Exmark Director of Marketing, Jamie Briggs, the Tractus tire and wheel combination is the result of a multi-year development process involving testing both in-house and in the field.
"Offering an airless tire and wheel combination that raises the bar in every area compared to traditional pneumatic tires is a big challenge," Briggs says. "Our customers rely on our equipment to perform every day, so we exhaustively tested Tractus in the Exmark test lab, and in real-world conditions.
"The result is a tire and wheel combination that eliminates flat tires, increases traction and offers longer service life. In use, Tractus also provides more consistent ground pressure with a larger contact patch for reduced turf compaction and a better overall cut quality."
Exmark designed the Tractus tire and wheel combination to offer a similar ride quality to a pneumatic tire. This increases operator comfort, while the proven tread design offers superior traction in a wide range of turf conditions, with reduced marking when turning on concrete.
With first availability slated for early 2020, Exmark will initially offer three Tractus versions for gasoline-powered Lazer Z models of different sizes.