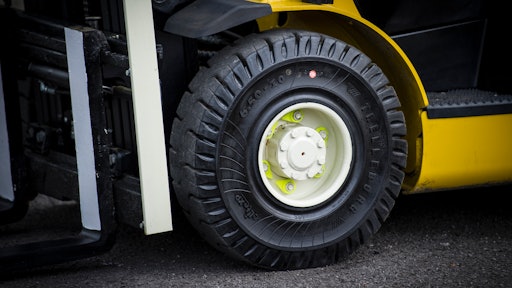 Trelleborg Wheel Systems has launched its Pit Stop Line for its premium range industrial tires. The solution answers one of the industry's most elusive and critical questions – how to know, with 100% certainty, when a forklift tire is worn out and needs replacing.
Incorporating an orange line which is embedded into the tire, the indictor is visible on the tire wall and is designed to reveal itself across the surface of the tire when the rubber has reached the end of its lifetime.
Trelleborg Wheel Systems Business Unit President, Jean-Paul Mindermann, says, "Tires are often replaced with up to 25% of their life remaining simply because people are unaware that tread depth has nothing to do with the life of a solid tire. Not only does this misconception cause a great amount of wastage, but it also costs companies thousands of dollars every year through unnecessary tire replacement and machine downtime.
"Now with the help of Trelleborg's latest breakthrough, users can be alerted when the tire has around 100 hours of life left, so that they can plan the replacement and eliminate those unnecessary costs."
The new Pit Stop Line completely encompasses the European Tyre and Rim Technical Organisation (ETRTO) Manual recommendations on tire safety and enables 100% accurate tire safety checks; a huge first for the industry.
Delivering more than just better value for spend, its sophisticated design will help improve machine up-time and service planning. With the Pit Stop Line appearing 100 hours or five to 15 working days before the tire needs replacing, operators are able to plan their tire changes in advance, totally eradicating unplanned downtime.
Pit Stop Line also offers a strong environmental benefit, enabling a dramatic reduction in waste, raw materials as well as the carbon footprint associated with packaging and transportation. Replacing tires less often means a reduced environmental impact.
Mindermann continues, "The Pit Stop Line has the potential to have a transformational effect on forklift operations, helping to minimize downtime, tire waste and whole life costs – a true innovation. Tire waste is now a thing of the past."