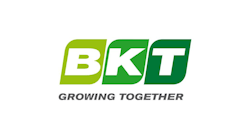 From February 26 to March 2, SIMA 2017 opens its doors in Paris at the Parc des Expositions de Paris Nord Villepinte. It is one of the main international events for agricultural machinery with over 1,700 exhibitors and an expected audience of more than 250,000 operators in the branch. This event is a must for BKT that, thanks to an always more established presence of its products on the major manufacturers' machinery and equipment along with a distribution network in over 130 countries worldwide, aims at further increasing its market share in the farming industry.
At this year's edition, BKT comes up with a radiant and bright booth (hall 7, stand E008) in a new design and of impressive dimensions on a surface covering not less than 459 sq. m. It is the biggest stand the Indian group has ever presented, and where a brand-new high-tech tire will be revealed as world premiere. Presently, everything is and remains top secret till the first opening day, when the tire will show off in a definitely unusual look.
As a result of the increased dimensions and the customary, clean and clear lines, the BKT booth offers its visitors a pleasant ambience with much larger spaces allowing for the best interaction with the audience. The new stand layout is functional and in harmony with BKT's trade fair concept that is not limited to presenting new products, but transforms the exhibition dates into moments of entertainment and cross-cultural exchange. Fully in line with this philosophy are the spectacular stunts performed by Iya Traoré, a footballer and football freestyle champion from Africa. Not only has he played for Paris St. Germain and other first-class clubs, but he has also been entered three times into the Guinness Book of Records. Traoré performs four times a day. After every show, thousands of BKT footballs (totally over 17,000) are given out to visitors for free. Other gifts and gadgets will be distributed at the stand in connection with a special social media activity.
Visitors will easily find the BKT stand at SIMA 2017 given the massive BKT advertising communication covering both indoor and outdoor spaces of the entire exhibition ground.