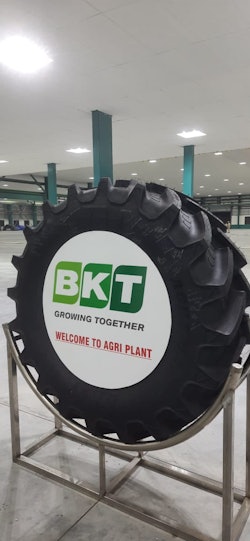 BKT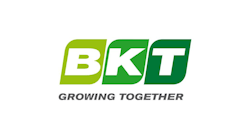 BKT has today rolled out the first radial agricultural tire at its new expanded Bhuj plant. This project is the culmination of an investment of € 95 million.
BKT has been able to achieve this in a record time of less than a year from the groundbreaking operations that began on May 22, 2021. With this the Group is ready to add another feather its cap of growth story. The new plant spread over 12 acres will achieve its full manufacturing capacity of 50.000 Metric Tons within 6 months.
BKT has strategically chosen to significantly expand its tire production to meet the global increase in the demand of tires particularly from the agricultural sector.
"The worldwide demand for agricultural tires is on the upswing" comments Arvind Poddar, BKT Chairman and MD. "There is a strong indication that growth in this sector is here to stay and in keeping with the company vision of growth and quality, the present expansion would meet the expectations from our loyal customers. During one of the most difficult times that the world has seen by way of the pandemic in 2021, we adopted a strategy that helped us satisfy even our most demanding customers and deliver our products as per their requirements. We truly feel that it is time to act and put our best foot forward to meet our commitment to the rising needs of our customers. This expansion is our answer to the universal demand."
BKT was established with a dynamic mission of 'continuous expansion and growth with high quality product' and this operation is in keeping with its objective of becoming one of the leading manufacturers in the world.
This production plant represents the state-of-the-art technology in terms of machinery and infrastructure facilities including employee welfare. The site is located at Bhuj in the State of Gujarat, India, at a distance of about 60 kms from the Port of Mundra on the Arabian Sea. This facilitates us in shipping BKT products to over 160 countries across the world.