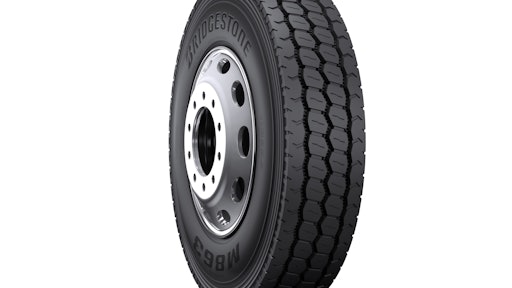 Bridgestone Americas

Bridgestone Americas (Bridgestone) introduced the M863 all-position radial tire designed to help deliver outstanding performance and increased durability for on- and off-highway fleets. The new tire provides a simple solution to equip tough trucks, concrete mixers, dump trucks, construction fleets, logging trucks and more with a product proven to deliver more miles per tire.
The 4-belt construction on the M863 delivers durability and a premium casing for maximum retreadability. Other key features include:
Stone rejector platforms: Help prevent trapped stones from pushing deeper into tread grooves and piercing belt layer, damaging and exposing belts to rust.
Block sipes: Promote traction by slicing through water for a solid grip on wet roads.
Stabilizing tie bars: Help reduce block squirm to fight irregular wear and extend tread life.
Wide flow-through grooves: Evacuate water effectively for solid wet traction.
Request More Information
Fill out the form below to request more information about
New All-Position Radial Tire