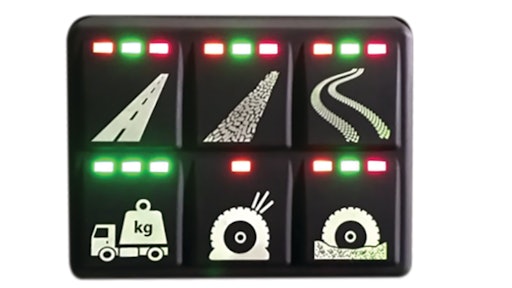 Parker
As farm machinery has increased in size, tire volume has also increased, but the overall footprint of the tires has not increased proportionally. As the load on each wheel increases, tires must be inflated to higher pressures to run safely on the road, but pressures over 15 psi can damage the soil.
Compacted soil creates unwanted consequences, because it more easily blows or washes away and can impede not only root growth, but nutrient uptake in plants. In order to increase crop yields, while also improving fuel efficiency and tire life, tire pressures in field equipment must be lowered. The right central tire inflation system (CTIS) makes this possible with little or no operator intervention.
A CTIS is an electronically-controlled tire inflation system designed to offer improved productivity for vehicles operating in agricultural environments. Many systems in the marketplace offer extended tire pressure operating ranges and allow for the autonomous lowering of tire pressures to create a larger tire footprint to distribute the load as a means for reducing soil compaction, rutting, wheel slip and operator fatigue.
Standard components of most CTIS solutions on the market today include a wheel valve that opens and closes to fill and exhaust air in the tires, a pneumatic control unit (manifold) which opens and closes the valves, an electronic control unit (ECU) that communicates with other components and a human machine interface (that may take the form of a digital screen) that displays the terrain and how the CTIS is responding to changes in it.
Evolving CTIS Technologies
Farmers have long understood how compacted soil can negatively impact yields. Early on, they manually deflated their tires when entering the field to spread out the weight of the vehicle to minimize compaction. The problem was that this manual approach was not only time consuming, but also resulted in inconsistent field results and damaged tires. Operators could potentially forget to reinflate the tires when they went back onto the road.
Early generations of CTISs that eliminated the need to manually adjust tire pressures were originally created for the military, which were not concerned about soil compaction but needed improved mobility of heavy vehicles in various terrains. The difference was that the tires used in military applications were higher pressure—typically around 80-100 psi—compared with tractor tires, which typically operate at 40 psi to 60 psi or less when on the road.
As farming technology has evolved, autonomous vehicles and smarter controls now utilize features like GPS mapping and moisture sensing inputs to adjust tire pressures to very specific terrains, with very little human intervention.
Considerations When Choosing the Right CTIS
Any vehicle or piece of equipment with a tire that touches the ground can be equipped with a CTIS. Choosing the option that's correct for your specific application is based on a number of key considerations, including:
Is the breadth and depth of product offerings enough to cover your full portfolio of ag products?
The benefits of a CTIS don't just apply to tractors. Rather, a CTIS should be employed when using any farm equipment, including combines, sprayers and planters. So when choosing a provider, make sure the product portfolio is robust enough to handle all of your needs.
Does the chosen system have the ability to reach extremely low pressures?
There are many CTIS options on the market today. Some are capable of going as low as 6 psi to maximize yields. Others do not have that type of versatility.
How quickly can the tire be deflated?
Time is money for most farming operations. Farmers cannot afford to sit and wait for their tires to reach optimal levels. Rather, choose an option that immediately adapts to accommodate a new surface by deflating or inflating quickly as you're in the process of entering the field or hitting the road.
How easy is the system to maintain?
Downtime is expensive. Check to make sure that ports/connections can be easily accessed and quickly repaired.
What is the system's level of fault tolerance? In other words, how well will the system work even if not everything is functioning properly?
Since ag equipment often works in locations away from where maintenance can be performed, it's important to consider not just how well the system performs in ideal conditions, but also how much work it can still do if not all components are working optimally.
What type of diagnostic tools are provided to help identify and resolve a problem?
When selecting a CTIS, make sure it comes with easy-to-use, easily accessible instructions and tools so that farmers (or their technicians) can make fast diagnoses and fix the problem quickly.
Where are the vents located for exhausting air?
Some CTIS options have vents located near the wheel for exhausting air. The problem with this design is potential contamination. Even though air is being forced out (not sucked in), there is still potential for dirt to infiltrate the system. Equipment that's running in water faces even greater risks because of potential damage to seals and valves. A better design is what's known as a remote vent that is located closer to the pneumatic controller. Remote tire venting helps to minimize damage from dirt, water and other contaminants.
Benefits of the Right CTIS Solution
The right CTIS solution will ultimately result in greater crop yields. But there are many benefits beyond productivity, including:
Longer tire life
Reduced downtime
Improved equipment performance
Less vibration (which affects operator comfort and system longevity)
Fuel cost savings
As a result, most owner operators find that a CTIS will more than pay for itself over the life of the equipment. Looking to the future, new CTIS technologies will likely focus on greater connectivity and incorporate more IoT approaches. Work is also underway on simplifying CTISs, including combining the controller and manifold. Such innovations will further help increase productivity by minimizing downtime and optimizing performance.