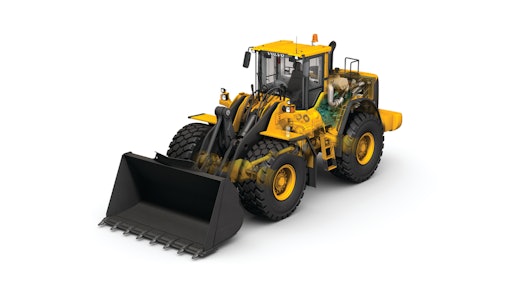 Integrated design allows OEMs to offer unique capabilities and features. With components and sub-systems communicating with each other, the whole is better than the sum of individual components.
Emissions regulations and the associated electronic capabilities have accelerated this trend. Tier 4 regulations changed the game. "Every manufacturer has increased manufacturing costs," notes Doug Phillips, Product Manager, Volvo Construction Equipment, Brussels, Belgium (Volvo CE, company information, 10633601). This cost must be passed on to the customer. To compensate, new technologies make machines easier to operate, more productive and more fuel efficient.
To understand the possibilities, let's examine two product lines where design integration has led to large leaps in efficiency – wheel loaders and Class 8 trucks.
Wheel loader design leaps forward
With the current wheel loaders, systems integration balances the power of the engine, drivetrain and implement systems, resulting in quick response, acceleration and power while significantly improving fuel efficiency. And telematics integration provides more information for owners and operators. "For example, we can tell if the operator is using the Cat Engine Idle Management system (EIMS) by how much idling fuel consumption is reported through Product Link," notes Bill Campbell, Senior Application Specialist, Medium Wheel Loaders at Caterpillar Inc., Peoria, IL (company information, 10055175). By simply applying the parking brake, EIMS reduces the idle revolutions per minute (rpm) to about 650 rpm. "Since this size wheel loader idles 30 to 50% of the time, this means up to half a gallon or more fuel savings per hour."
Powertrain integration has also led to selectable power mode options. OEMs--including Cat, Case, Doosan Kawasaki, Komatsu and Volvo--offer power modes that tailor the power curve of the engine. Typically power mode provides full machine performance at the expense of fuel economy. Then there are economy modes that slightly de-rate the machine to save fuel when working with lighter materials, when full power is not necessary.
A collaborative effort
Developing integrated systems requires close collaboration between various component designers or suppliers. For instance, Volvo CE manufactures and designs its own components. This enhances communication. "Nothing takes the place of having all of your design engineers sitting around the table and the engineer who is producing the axle knows exactly what the transmission engineer [is] going to do and the engineer who designs the engine knows what the peak torque needs to be," says Phillips. "As they are making changes on their part of the machine they are also conferring with the engineers across the table to make sure all of these components are made to work together."
The result of systems integration is often a unique feature that differentiates your product. In the case of Volvo CE wheel loaders, this includes OptiShift. Standard on 5- through 9-yd. machines, it is comprised of two technologies - a lock-up torque converter and Reverse By Braking. When operators get efficient, especially in short-cycle loading, they like to use the transmission and torque converter to stop and change directions instead of the brakes. This increases wear on the engine and torque converter, and it builds up heat.
Reverse By Braking provides a better solution that is seamless to the operator. When the operator shifts from forward to reverse without applying the brakes the machine goes to neutral, the engine drops to idle and the brakes are applied. The application of the brakes depends on how far down the operator depresses the accelerator pedal.
Reverse By Braking saves on components and improves cycle times. In addition, there is fuel savings. "We usually see between 10 and 12% fuel savings in short-cycle loading on machines with OptiShift," says Phillips. "And the transmission fluid is typically 15 degrees cooler.
"The transmission on Volvo loaders also features an Auto Mode for jobsites with multiple operators," adds Phillips. This feature determines how you like to operate. "It sets a shifting pattern designed especially for a particular operator. If I get in the machine and operate it differently than you, it sets a shifting pattern for me."
Caterpillar also uses system integration to develop unique features. With the high cost of fuel, efficiency has become a major design criterion. "Efficiency is measured by calculating the material moved per gallon of fuel burned," explains Scott Britton, Product Application Specialist for Small Wheel Loaders at Caterpillar. "The small wheel loader product line (924K/930K/938K) uses an intelligent power management system. It governs the hydrostatic drivetrain, engine control and implement system, and always monitors operator input and available power to allow for the most efficient operation possible."
Then there is the 966K XE with advanced powertrain. "The Caterpillar continuously variable transmission in the 966K XE is more than just a drop in transmission but rather is an advanced powertrain with deep system integration between the engine, transmission, hydraulics and cooling system," says Bryan Vogt, Engineering Manager, Caterpillar Medium Wheel Loader Performance & Controls.
"The 'magic' with the Cat 966 XE is in the control strategy," says Campbell. "This has taken years of research and development to perfect, but the result is fuel savings up to 25% compared to previous models with some customers claiming even greater fuel efficiency."
The advent of smart machines
Kawasaki used system integration to develop a machine that 'thinks' with the IntelliTech Operating System. "All Z7 models have the IntelliTech System consisting of: Intellidig (balances rim pull force and hydraulic digging force to match conditions), Simuload (allows simultaneous action of lift and tilt while digging), QuickCycle (speeds loading cycles), FlexShift (varies the shift points of the transmission to match working conditions) and Efficient Acceleration (prevents over-acceleration which ultimately wastes fuel.)," says Gary Bell, Vice President/General Manager, KCMA Corporation, Kennesaw, GA (Kawasaki, company information, 10980252). "With an increase in sensors the system captures every aspect of the working conditions; ground speed, hydraulic demand, etc. and adjusts the powertrain and hydraulics accordingly."
One example of the intelligent features is Intellidig. "This feature automatically meters hydraulic power to the cylinders powering the bucket-digging force and the wheel's rim pull force, allowing ideal allocation of power for the fastest, most efficient bucket fill," notes Bell.
Systems integration is placing more control in the hands of the owner/operator. "The use of ancillary controls that influence and interact with how the operator utilizes the machinery is a growing trend of differentiation between the brands," notes Rob Maringa, Brand Product Manager at Case Construction Equipment, Racine, WI (company information, 10250911). "Since most owners are not necessarily operating the wheel loaders, their ability to not only monitor but also control how the wheel loader functions on the jobsite is a key factor to not only operational efficiency, but fuel efficiency." For example, Case SiteWatch, a new telematics offering, enhances the visibility of the activity of the loaders remotely, allowing a comparative, scientific review of utilization, downtime and productivity (learn more, 10982877).
The key to Komatsu's fuel efficiency is SmartLoader Logic. "It uses machine inputs such as boom position, work equipment pressure and accelerator position to provide input to the machine's controller which then decides when it can reduce torque to save fuel," explains Armando Nájera, Product Manager, Wheel Loaders at Komatsu America Corp., Rolling Meadows, IL (company information, 10633042). "For example, during a load and carry application, the return trip does not need as much power since it has an empty bucket. The machine recognizes this and manages the fuel wisely without impacting productivity."
Additionally, Komatsu's telemetric system KOMTRAX is fully integrated with SmartLoader Logic and the Tier 4 Interim engine system to continually monitor and record machine health and operational data. "Information such as fuel consumption, utilization, maintenance tracking and error code communication help keep machines working," says Nájera.
Integration of Class 8 Trucks
Another example of how integrated design has permanently altered product development is the Class 8 truck market. Not many years ago, it was common for customers to spec their preferred brand of engine with their preferred brand of transmission and axles.
While you can still order a truck this way, there has been a definite move toward total vehicle integration where the manufacturer offers a proprietary engine, transmission or axle package. The theoretical benefit is a truck optimized for performance and efficiency.
"Vertical integration... was a good decision years ago, but with the current cost of diesel fuel at $4 per gallon, it's a great idea today," says David McKenna, Director of Powertrain Sales, Mack Trucks, Greensboro, NC (company information, 10055747). "The immediate benefit is the capital cost of the vehicle. Providing three or four different engine manufacturer choices for each chassis model could drive up the cost. A significant amount of that cost would be directly attributable to EPA HDDE emission compliance for each engine offered, not to mention the complex installation and cooling 'opportunities.'"
Delivering a unique pedigree
Mack Trucks offers a Pedigree Powertrain that consists of a Mack engine, transmission and axles. McKenna cites three main benefits to the customer:
Hardware: Various mechanical devices still have to work efficiently together. For example, the right horsepower with the correct engine profile must be mated to the optimal transmission connected to the proper drive axle arrangement.
Software: Communication and control are two key items to manage vehicle performance. Each applicable powertrain module must communicate with the other in a timely manner (milliseconds) and communicate in a language that is completely understood. Also, the amount of information exchange must be 100% all of the time, so that the engine knows exactly what the transmission is doing (and sometimes what it may do). This can improve vehicle performance while simultaneously lowering fuel consumption.
Uptime: If the truck is in the shop for unplanned downtime, this adds nothing to the customer's bottom line or Mack's credibility with its customers.
Fuel-conscious on-highway Mack Truck customers may witness the greatest return, especially when using the mDrive 12-speed automated manual transmission as part of an integrated package. For example, the Mack Super Econodyne MP8-445SE engine/mDrive/C120 drive axle combination offers an engine that is comfortable cruising at 1,150 rpm at highway road speed.
This reduces noise, vibration and fuel consumption. "But is it is not as simple as clipping 300 to 400 rpm off the typical cruise speed," says McKenna. "This involves matching the SE engine to the 12-speed mDrive and allowing the engine to remain at ultra-low rpms for highway cruise speeds, while shifting to 11th gear to maintain a higher road speed when operating on rolling hills, and still be well below typical engine rpms. There are certain occasions when the mDrive may actually take over full authority from the engine to maintain optimal performance," he adds.
Integration allows new solutions
The integration of components allows truck manufacturers to pursue concepts that would not otherwise be possible. For instance, Volvo Trucks' integrated powertrain allowed the introduction of the XE exceptional fuel efficiency concept, which improves fuel efficiency by reducing engine rpm at a given road speed — a concept Volvo Trucks calls 'downspeeding.' "Fuel efficiency improves by about 1.5% for every 100 rpm of downspeeding," says Chris Stadler, Product Manager, Volvo Trucks North America, Greensboro, NC (company information, 10959413). "So customers spec'ing the XE package can expect up to a 3% improvement when compared to another overdrive transmission in a similar operation."
To accomplish these breakthroughs, the components must communicate. "The technology that enables the Volvo engine and transmission to act as one is the outstanding communication we achieve with a proprietary interface," says Stadler. "This allows us to give the transmission authority over the engine in some instances, and allows the design to be optimized to a higher level of performance."
Volvo Trucks developed the 12-speed I-Shift automated manual transmission that is standard on all Volvo-powered trucks, including the vocational VHD and VNX heavy-haul tractor, to work as an optimized package with its engines. "I-Shift gives outstanding vehicle performance in challenging off-highway situations and has a number of specialized features to enhance performance in difficult situations," says Stadler. "These include Power Launch, Rock-Free, Downhill Control, Greatest Possible Downshift and Avoid Shifts."
By using microprocessor technology, integrated sensors continuously monitor changes in road grade, vehicle speed, torque demand, weight and air resistances to place the truck in the right gear per the conditions with smooth and optimum shifts. This operation extends clutch life and service intervals. I-Shift reduces wasted revs and boosts fuel efficiency. In addition, it helps improve driver safety by reducing fatigue and allowing drivers to give their full attention to operating the vehicle.
The I-Shift is a truly interactive product that shifts based on several variables. Stadler explains, "We are sometimes asked, what are the shift points of the I-Shift? The I-Shift knows exactly the performance of the Volvo engine mated to it, and will select shift points based on the whole realm of dynamic inputs."
An integrated electrical system ties everything together. "The communication between the engine and transmission is important and the electrical integration is a key to successful performance of the engine," notes Stadler. "Volvo engineers develop an electrical platform that closely interacts with all the components within the vehicle. They use that platform to ensure these electronics are communicating the correct information to the transmission so that it can place the engine in the correct gear based on the current road conditions."
Integration ties all systems together
Daimler Trucks has also made strides in vehicle integration through its line of Detroit engines, axles and transmissions. An example is the Detroit DD15 engine with the DT12 automated mechanical transmission. "The DT12 transmission and DD15 integrate and leverage shift schedules only achievable by both components being offered by one manufacturer," says Brad Williamson, Engine and Component Marketing, Daimler Trucks North America, Portland, OR (company information, 10247983).
"Another benefit of an integrated powertrain design is to be more cost efficient when emissions and regulatory changes occur," says Williamson. These changes often require thousands of man hours to design, test, validate, optimize and integrate various components. "So instead of repeating this process with multiple brands of components, our integrated design makes the process less challenging and ultimately more efficient."
Integration can also reduce downtime. "The Detroit integrated powertrain is monitored by Virtual Technician. [This is] Detroit's proprietary on-board diagnostic system that monitors and communicates directly with truck owners on all potential and real issues," says Williamson.
An example of where integrated design is headed can be seen with Daimler Trucks' Predictive Powertrain Control. The truck's cruise control system sees the topography of the road ahead. The powertrain then responds in the most fuel-efficient manner. While this technology sounds like science fiction, it is already in use.
Unlike a cruise control system that tries to maintain a given engine speed regardless of the terrain ahead, the Predictive Cruise uses GPS to look at the terrain up to a mile ahead. The system adjusts the actual speed of the truck for maximum fuel efficiency based on the terrain, while staying within 6% of the set speed.
Daimler Trucks worked with NAVTEQ, a provider of digital map data for location-based solutions and vehicle navigation. Using advanced digital map slope data from NAVTEQ, RunSmart Predictive Cruise combines high precision GPS road coordinates with road grade data of more than 200,000 miles of the most widely used truck routes in the continental United States.
Truck OEMs have also introduced collision avoidance systems that rely on systems integration.
These new capabilities clearly illustrate the case for integrated design. The performance and capabilities of these integrated products adds value for the end user otherwise not possible by using 'off-the-shelf' components.