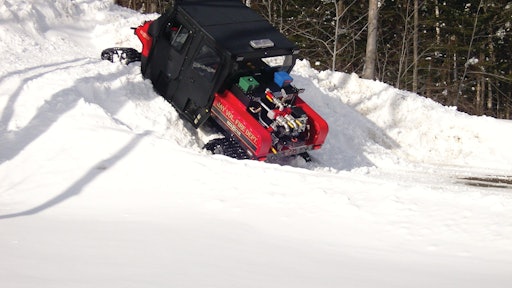 Jay Peak, a leading four-season resort located close to the Vermont—Quebec, Canada border, consistently has some of the heaviest yearly snowfalls in the Eastern United States. Recently, the Town of Jay and Jay Peak Resort teamed up to address the problem of a facility fire in an area impossible to reach by conventional wheeled fire vehicles. They investigated all the major ATV and snow specialty makers, inviting them to bid on fire emergency vehicles that could climb steep grades in heavy snow conditions. None were interested in bidding on the contract due to the unusual vehicle requirements and the unique location.
During the search process, they reached RKO Enterprises in Madison, IN. For over 60 years, RKO has specialized in custom designed fire equipment for on- and off-road vehicles, including vehicles that can negotiate extremely rough terrain. Starting with a Polaris RANGER Crew Diesel, RKO designed two vehicles that act as a team to handle the extreme conditions on Jay Peak. They included Polaris Prospector Pro-SR tracks on each wheel hub, plus a special rear carrier to carry heavy duty pumping equipment and water tank in one vehicle and support equipment such as hoses and hand held tools in the other.
Once RKO had the hardware solution in hand, it turned to Grote Industries for the vehicles' lighting. Fighting a mountain-top fire at night in heavy snow conditions requires work lamps and safety lighting that are extremely dependable.
RKO specified for each vehicle six Grote Trilliant Mini LED work lamps, top-mounted in pairs on the forward and rear of the cab and tandem mounted on the rear bumper. Grote also supplied some of its MicroNova Dot lamps for use as auxiliary corner and side markers, as well as for auxiliary stop lights. In addition, Grote supplied internal lighting for the side bins of the support equipment vehicle.
Now, no matter how steep the terrain, how cold the temperature, how dark the night, or how deep the snow, the fire responders have the ability to fight a fire as safely as possible.
Companies in this article