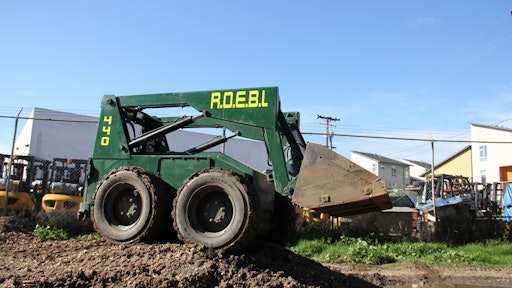 Two years ago, Cooper Gray Robotics LLC (CGR) debuted its remote controlled, electric drive skid steer known as ROEBL (Remote Operated Electric Bucket Loader). "Our system allows you to remotely operate in harsh environments without concern the vehicle is trying to ingest the environment—a diesel engine breathes in air and the driver breaths in air," explains Justin Gray, the company's CTO and co-inventor of ROEBL. This is particularly beneficial if working in a high dust or biologically hazardous situation that could be harmful for operators. Additionally, the lack of a diesel engine and associated componentry means there are fewer opportunities for sparks to occur which could cause a fire hazard in certain applications, such as moving dried wheat chaff.
The machine's design originated about 8 years ago when Gray converted a skid steer to operate via an electric drive system. He removed the diesel engine, replacing it with an electric motor which was used to drive the skid steer's hydrostatic systems. Eventually, though, the electric drive system overpowered the hydrostatic and hydraulic final drives, causing them to break.
At this point Gray completely stripped the machine down, removing all of its componentry including those for the electric drive system, human interface controls and even the roll-over protective structure (ROPS). He then began to rebuild the machine from scratch, developing what would become the first ROEBL model.
The machine design
The first piece of technology Gray and his partner developed for ROEBL was the command and control system circuit board. The electronics and the circuit board's method of chaining simple digital signals to a series of commands were developed to engage the high current motor controllers that move the skid steer forward and in reverse. According to Gray, off-the-shelf drive controllers have thousands of amps of rating capabilities but require safety inputs from the driver before a machine can move. Because the goal was to remotely control ROEBL, it was necessary to design the circuit board in a way that would allow it to release these safety inputs within the controllers when sending the forward and reverse commands. In addition, he says the circuit board is capable of pulse width modulation (PWM) control, enabling any hydraulic circuit on the machine to be controlled digitally.
On both the right and left sides of the skid steer are watercooled, brushless DC motors and controllers. Gray says brushless DC motors are best used for applications in which high torque at low rpms is required, whereas AC motors are better suited for smooth, high speed over the road use. The biggest advantage he says the brushless DC motors provide is a 100% sealed design that will not spark, preventing any potential safety issues.   
A 300 amp lead-acid battery helps power the skid steer, as well. On the next iteration of ROEBL, known as Mark 2, Gray says a lithium-ion battery pack will be used, offering 4-8 hours of run time with 1 hour of charge time. There will also be a "hot swap" capability built into it, allowing users to swap out one battery for another in 15 minutes or less. Doing so enables a spare battery to be kept on hand so that once the current battery is drained, it can be replaced by the spare and re-charged while the machine continues to operate. "Our machine does not need any modifications to adapt to current battery technology and renewable energy sources, it just charges off the grid," adds Gray.
The technology used to remotely control ROEBL enables operation over any network, and from any distance. "You can literally drive this thing from anywhere in the world," says Gray. Customers are able to specify the radio frequencies they want the machine to operate over. Additionally, he says there is typically minimal lag time between selection of an operation and the machine performing that action. "It's actually faster than the diesel hydraulic system because the input is instantaneous," he says. "You're not waiting for a lever and hydraulic pressure to occur." However, Gray notes the chosen radio frequency can have an effect on lag time.
CANbus technology integrated into the machine enables use of any off-the-shelf GPS and guidance systems, such as those used in agricultural applications. The CANbus and controller can even be pre-programmed with a specific pattern that the skid steer will then follow automatically without operator input.
Since ROEBL can be remotely controlled, there is no need for an operator cab. Instead, a custom fabricated sealed hull was created to enclose and protect the machine's various components. "We've deleted the ROPS, so we have a huge amount of space to add gear," says Gray, such as firefighting equipment or attachment of a drone for better visibility of the machine and work area. Removing the cab helps improve the safety and comfort of operators, as well, because they are no longer susceptible to the vibrations of the machine or other harsh conditions. Instead, they can be safely standing several feet away or at a remote work station controlling the skid steer. Gray says this enables ROEBL to be driven as hard as an operator wants without any adverse effects, or in environments where it would be otherwise unsafe to have an operator working without first modifying the machine.
According to Gray, ROEBL's sealed hub provides a hardened exterior that is much closer to IP67 than its diesel-powered counterparts. For the Mark 2 model, he says the goal is to be 100% IP67-compliant to ensure the entire machine can be steam cleaned without the fear of water entering it and causing damage to the electronics or other components.
Electrification has its benefits
By replacing a diesel engine with an electric drivetrain, exhaust emissions are completely eliminated, benefiting not only the environment but also the health of those working near the machine. This also enables it to be used in confined spaces such as buildings or mines where emissions would be especially harmful to those in the surrounding area. Use of an electronic versus hydrostatic drivetrain means there is limited maintenance to perform on the machine, as well.
While the original skid steer Gray built his prototype from had a 50-gal. (189.27 L) hydraulic oil reservoir to run the hydrostatic system and bucket loader hydraulics, ROEBL has only a 5-gal. (18.92 L) reservoir. A smaller reservoir could be used because hydraulic oil is only required for the machine's small electro-hydraulic drive system which is used for the bucket and its attachment. This helps save space and weight for inclusion of other components and gear on the skid steer.
Gray says CGR is looking at all options for implementing its electric drive technology into heavy-duty equipment. The company has had interest from manufacturers who want to produce machines from the ground up with the technology, as well as others that would provide CGR with a chassis it would retrofit with the electric drive system and remote controls. "Our goal is, with strategic partnerships, to be building the robots from scratch ourselves," he says. "The best way to build an electric vehicle is to purpose build it based on your drive components."   
Retrofitting typically requires components be fit into an existing design, which can be challenging. Purpose building an electric vehicle is more efficient in terms of space usage, Gray says, because the components can dictate the overall design and layout. For example, a manufacturer doesn't have to try fitting a certain size battery into an existing chassis, but instead can choose the battery size that will best suit the application and design the chassis around it. Gray adds that there are sophisticated electric hydraulic drive systems currently available that a standard diesel skid steer design cannot accommodate; purpose building the vehicle to be electric drive, however, would enable a manufacturer to take advantage of these technologies.
Gray says the electric drive and remote control technology used in ROEBL can be applied to any machine or vehicle type, and that ROEBL itself has been used in a wide variety of applications. "It's like the ultimate power tool," he says. "We've done salvage work with it, brush clearing, graded people's yards; it's an impressive machine."