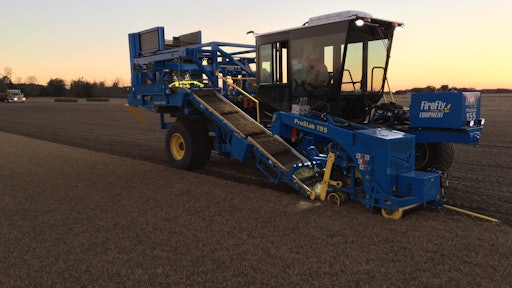 The ProSlab 155 Turf Harvester from FireFly Equipment is a self-propelled, automated harvesting machine designed to help ease labor time and costs. According to Steven Aposhian, CTO and President of FireFly Equipment, harvesting and stacking turf—traditionally done by hand—is a labor intensive job which can make it difficult for farms to find employees. Automating this process, however, enables harvesting to go from a three-person operation to a one-person job.
Growing up on a sod farm, Aposhian was familiar with many of the challenges associated with turf harvesting. In 2010, he and his family started a part-time venture making aftermarket parts for other manufacturers' machines to solve problems they were seeing on their own farm. "That was a great success, and we discovered that there was an unmet need in the harvester market," he says. "With my experience base in automation and control systems, we decided we could build a superior machine that used technology far ahead of what was being used in our industry to that point."
The ProSlab 155 automates all aspects of the turf harvesting process. As the machine moves through a field via a self-propelled tractor, its cutter lifts turf from the ground and cuts it into slabs which are placed onto a conveyor that moves the slabs to the rear of the harvester. The machine's stacker then moves the cut slabs from the conveyor to a pallet; while turf slabs are stacked onto the pallet, a set of pallet forks lowers the pallet closer to the ground until it is stacked with the desired number of turf slabs and placed on the ground.
For uninterrupted harvesting, a pallet magazine on the harvester stores empty pallets and inserts them onto the pallet forklift once a full pallet has been placed on the ground. This helps increase productivity for farmers by saving them as much as 35 seconds per pallet compared to machines that have to be stopped during the harvesting process to change pallets. Numerous sensors and digital outputs working in tandem on the machine enable a continuous, synchronized flow of communication between systems to ensure the harvester is able to work continuously, and accurately.
Improving the turf harvesting experience
Aposhian says the company's engineering group has many years of experience in automation, mechanical design and motion control systems in various industries which it used in conjunction with its knowledge of the turf industry to develop the ProSlab 155. This knowledge led the company to develop a harvester which Aposhian says is the first of its kind to implement high performance electric servo motion control and fluid power systems.
Servo motors are used to control movement of the harvester's SynchroStacker—the system used for stacking cut slabs of turf onto pallets. This allows for smoother coordinated motion for more precise placement of turf slabs onto a pallet. The stacker has four axes of motion so the turf slabs can be placed on the pallets at different orientations. "This results in a much more stable pallet for transport," says Aposhian.
"The electric power delivery system used for our servo motion controls was developed in-house," he adds.
Patented algorithms built into the SynchroStacker guarantee perfectly square pallets of stacked turf slabs are produced in a fast and efficient manner. They also allow speed of the stacker to be adjusted based on how tender or stiff the turf being harvested is to ensure quality is maintained.
Electronic auto-steering on the turf harvester enables operators to cut straight lines as they move through a field. It uses a simple mechanical guide rod to follow the ridge of the previous cut of turf. The guide rod is connected to an encoder that provides feedback to the steering control system. Aposhian says steering is controlled by a Compact RIO controller from National Instruments which outputs signals to an electrohydraulic steering control valve to move the steering wheels.
The CompactRIO controller is designed to provide high-performance control and monitoring in harsh operating environments. It includes a processor and reconfigurable field-programmable gate array (FPGA) technology; FPGA has become more prevalent in equipment designs to meet increasing requirements for speed, reliability and security. "Much of [the harvester's] high performance can be attributed to the fast motion control system that is controlled by the National Instruments CompactRIO," says Aposhian.
Low ground pressure was also an important aspect of the design process; according to Aposhian it was one of the driving design requirements in the early stages of the machine's development. "This requirement drove the decision to build a self-propelled machine, instead of a machine built off any existing platform," he explains. "The basic geometry of the machine is dictated by the needs of the turf harvesting operation."
By placing the harvester's engine on the opposite side of the conveyor and cutter, the company was able to ensure weight balance without the need for an extra ballast. Placement of the high flotation radial tires also helps achieve optimal weight balance, as well as flotation to reduce soil compaction.
Operator comfort was also taken into consideration when designing the ProSlab 155. The TurfView cab provides a clear view of the cutter head, conveyor and stacker so operators do not have to twist or strain their bodies to monitor their work. Visibility is further enhanced by the air-ride seat's ability to swivel over 180 degrees. "Our cab is comfortable and climate controlled. It helps turf farmers hire and retain better quality labor," says Aposhian.
FireFly optimized the operator experience by integrating the latest computing technology into the harvester. Its Intelligent Digital Control system features an interface with a simplified design and intuitive controls to make machine operation as easy as possible.
Fast and efficient design
The ProSlab 155 offers up to a 20% increase in harvesting speeds and 50% reduction in fuel consumption. Aposhian says this was achieved by using good fundamental design practices through sizing of the electric power generation and fluid power systems. All components were sized to run in the fuel efficiency "sweet spot" of the harvester's 115 hp John Deere engine.
In addition, he says "the electric servo motors that run our stacker gantry are much more efficient than hydraulic motion control systems that have been used on other machines."
He notes that the use of National Instruments' CompactRIO hardware and LabVIEW software were also large factors in enabling the company's rapid development of a machine with advanced controls. "This machine was designed and built in about 9 months with a team of four engineers," he says.
FireFly said in a case study it wrote on the use of National Instruments' technologies that the CompactRIO's modular I/O enabled flexibility in using a wide range of sensor types and connectivity. It also allowed customization and the implementation of complex, highly synchronized control systems. Meanwhile, the LabVIEW software provided an open and flexible platform capable of handling the design of many complex controller functions which needed to be built into the machine. (Read the full case study).
The company says it has had good reception from the market since introducing the ProSlab 155 in 2014, and has had to expand manufacturing capacity at its Utah headquarters to meet demand. FireFly says it will continue investing in research and development to make further advancements to the machine so that it can leverage new technologies as they become available such as the Industrial Internet of Things.
Companies in this article