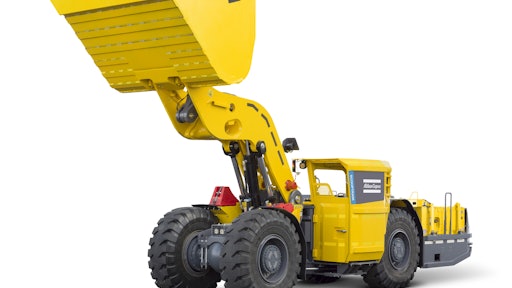 As mines continue to go deeper underground, diesel powered equipment will become less viable for profitability. This is because the cost of ventilation increases almost exponentially the deeper a mine goes, says Erik Svedlund, Global Product Manager, Electric Vehicles – Underground Material Handling at Atlas Copco. "[Ventilation] is one of the major cost points in mining operations."
He says that 80% of the fuel burned in an underground mine is being burned by loaders or trucks. Since these machines are commonly used in underground mining operations, Atlas Copco began investigating a way to electrify the equipment in order to help customers reduce ventilation costs while still keeping workers safe.
Electric underground mining equipment has been in existence for some time now, however, Svedlund says that 99% of the world market is still diesel powered. "And that is because today's electric machines are not flexible. They are attached to the wall with a cable which only solves the production part. But machines need to be flexible, go anywhere and do anything.
"The solution to this is battery equipment," he continues. "It has all of the benefits of an electrical machine but none of the drawbacks of a cable. [The machine is] free to go anywhere."
In May of this year, the company introduced its Scooptram ST7 Battery. The ST7 features a large battery as the energy source instead of a diesel engine, enabling emissions-free operation. 
The technology 
Atlas Copco worked together with Artisan Vehicle Systems—a manufacturer of electric and hybrid powertrain systems—to develop the ST7. Artisan supplied the battery, as well as the electric motors and drives.
Two 630V AC electric motors are used within the machine, one for the drive system and one for the hydraulics. Both are variable speed motors designed to run only when necessary and at the speed required for operation, making the system more energy efficient. Svedlund says the machine is capable of doing the same amount of work as a diesel but uses 80% less energy. 
It also generates 80% less heat, helping further reduce operational costs for mines. "The diesel machines generate so much heat you have to optimize your air conditioning system which is also very expensive," says Svedlund.
Heat generation is eliminated because the company was able to completely remove the engine and its associated components—including the fuel tank, oil filter, belt and engine fan. "That frees up a lot of space in the back end of the machine where you can put a really big battery instead," says Svedlund.
The 165 kWh battery is able to operate for more than 4 hours on a single charge. Recharging can be done by either plugging the vehicle into a charger, or swapping the battery out for a new fully charged one, enabling continuous operation. Battery swapping can be done in about 10 minutes, says Svedlund, typically through the use of an overhead crane within a designated battery swap area of the mine. The battery is then plugged in for recharging, which takes around 2 hours to complete if fully depleted.  
In addition to the emissions and efficiency benefits, electrification of the scooptram also provides for quieter operation. Unlike a diesel machine, the electric version enables other people working in the mine to easily talk to the operator while the machine is running, helping increase safety. "You will be able, without yelling, to have a conversation with the machine operator," explains Svedlund. "[With a] normal machine you can't even yell to each other." 
Adapting to the times
Automation features are included in the machine, as well. It can be operated via radio remote control in which it is controlled from a distance but still within an operator's line of site. Tele-remote control can also be used, enabling the machine to move underground while operated by someone on the surface. Svedlund says this is particularly beneficial when blasting work needs to be done. After a blast, the mine has to be emptied for two hours to ensure all toxins are removed from the environment, which means two hours of downtime for the mine. Having the ability to control mining equipment from the surface, however, means the mine does not have to lose any working time; the machines can continue to operate within the recently blasted mine while workers safely control the equipment above ground.
Fully autonomous operation can also be done with the ST7 using Atlas Copco's Scooptram Automation system. Developed in-house, the system uses sensors and software controls to enable tele-remote control of the machine from anywhere in the world as long as the internet connection is strong enough.
"Mine[s] have to adapt to stay attractive to employees," says Svedlund. Finding skilled workers or young people willing to go into the mining field is becoming more difficult because it's dirty, hard work, has health hazards associated with it, and is not considered to be environmentally friendly. By employing automation and tele-remote technologies, however, work within the mine can be done from the comfort and safety of an office setting, making it more appealing to potential employees. He adds that making the machines cleaner and greener also helps make mining more attractive.  
The ST7 will first be released in North America, with expansion into other global markets as interest in the technology grows. Svedlund says the machine is ready for use "as is" in any market since its charger is designed to accept any voltage in the world. There will be no need to develop new models for different voltages, as is often the case with cable connected electric machines.
Atlas Copco also plans to bring the battery-electric technology to other vehicle types including trucks and drills, and has already had requests from customers to electrify other models. "The most common comment [from customers] is 'This is definitely the future,'" says Svedlund. "[We have] a machine with same or better productivity than a normal diesel machine with so many other benefits, I think we'll see the beginning of the end of the diesel era with this machine."
While he doesn't believe diesel powered equipment will be eliminated completely, the availability of electric machines as a complement to their diesel counterparts will enable a more cost-effective means for mines to continue going further underground.
"The savings in ventilation is going to be the biggest driver for this kind of equipment because that is where you will save a lot of money," says Svedlund. "That's important to stay competitive and justify new technology because it's always a little more expensive than what's been built [previously].
"We'll definitely see more models coming in the coming years, and I think other manufacturers will come out with battery-electric models," he concludes. "In my opinion, it's not a question of if you're going to have a battery operated machine; if you're going to be mining, it's going to be a matter of survival."  
Companies in this article