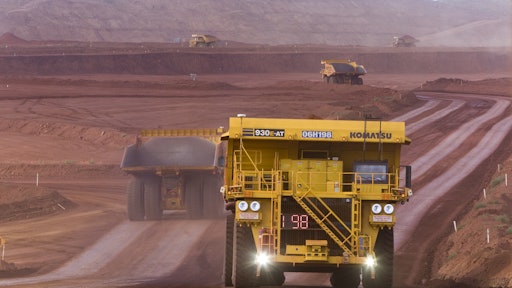 Mining has been leading the way for the development of fully autonomous vehicles due in part to the operational efficiencies it can offer. Even the smallest improvement can bring about large savings to a mining operation. OEMs such as Caterpillar, Komatsu and Volvo have been developing and testing autonomous vehicle technologies for several years, including both semi- and fully-autonomous machines.
Caterpillar Inc. has fully autonomous mining truck fleets operating at two mines in Western Australia—an iron ore mine operated by BHP Billiton and one by Fortescue Metals Group. Fortescue has 45 Cat 793F CMD trucks running at its mine, which is currently the only fully autonomous commercially available machine Caterpillar currently offers. In its June 2016 Quarterly Product Report, Fortescue announced the autonomous fleet transported its 200 millionth metric tonne of material since first commissioning the machines in 2013.
Caterpillar also operates a small fleet of autonomous trucks at its Tucson Proving Grounds in Arizona. At this site the company tests the machines and potential software updates for the autonomous systems before installing them at customers' operations. 
The Volvo Group announced in May it would demonstrate a fully autonomous truck for use in mining operations. Sensors and GPS technology continually read the vehicle's surroundings and navigate around obstacles for safe maneuvering both above and underground. Its transport system also gathers data to further optimize the truck's route and traffic safety.
On September 7, the company announced it had begun testing of the fully autonomous truck in an underground mine in Sweden. 
Jenny Elfsberg, Director of Emerging Technologies at Volvo Construction Equipment (Volvo CE), says the company has been working on research projects for an autonomous wheel loader, hauler and excavator for some time now. "Our autonomous wheel loader can reach the equivalent of 70% of a skilled operator's productivity levels for around one hour when loading and unloading," she says. The wheel loader has been used at a customer's asphalt plant in Sweden to test its capabilities in a real-world working environment. 
Autonomous machines are controlled more efficiently and precisely than even the most skilled human-operated vehicle allowing for increased efficiency gains such as fuel economy, overall machine performance, productivity gains and vehicle durability, especially during repetitive tasks. Elfsberg says in the future it will be possible to have a single operator control three or four machines at a time, further increasing productivity while at the same time reducing labor costs.
Working on autonomous vehicles enables Volvo CE to develop new innovations it can bring to market, including semi- and fully-automated functions, which support short- and mid-term developments before it's possible to realize the ultimate goal. "Although this technology may still be years away from production, the progress being made is exciting," says Elfsberg.
The technologies involved 
Caterpillar currently has three types of autonomous machines in use at mine sites around the world. These include the semi-autonomous D11T dozer and semi-autonomous underground load haul dumper (LHD) in addition to the fully autonomous 793F CMD trucks.
All of the autonomous machines use the Cat MineStar System, Caterpillar's mine operations and mobile equipment management system. Within this system are various features for fleet tracking, proximity detection, remote machine operation, as well as the capabilities for semi- and fully-autonomous operation. MineStar's Command for hauling is the feature which enables fully autonomous operation of the 793F CMD trucks. 
A map of the entire mine and all possible haulage routes is built into the system, and is continuously updated in real time as the trucks complete their loading and dumping cycles. Each autonomous truck is equipped with GNSS hardware and software for accurate guidance along the haul road, loading and dumping areas. All onboard systems communicate with a central control system where operators monitor the fleet and take over control when necessary, such as if a breakdown or blockage of the haul road occurs.
Command for dozing is the semi-autonomous dozer system employed on the D11T dozer. These machines have been operating at the Arch Coal Thunder Basin Coal Company - Black Thunder mine in Wyoming; since August of last year the machines have logged more than 25,000 hours of operation and moved over 23 million loose cubic yards of material. Command for dozing enables an operator in a remote location to control four dozers at a time. Once the dozer's task has been set up, the machine operates autonomously until the task is completed.  
Among the benefits offered by the use of this system is improved safety. By remotely controlling the dozers from a distance, operators can be located in an office setting where they are protected from various environmental hazards. Automation of the machines also enables them to be run for more hours because they do not require rest periods like a human operator does.
For improved safety in underground mining, Caterpillar has developed semi-autonomous LHDs which are currently operating at a Newmont mine in Nevada and various other locations around the world, and will soon also be operating at mines in Ontario. The Cat MineStar Command for underground system enables the LHDs to autonomously carry out the travel and dump phases of a load-and-carry duty cycle. Similar to the dozers, the operator is remotely located at the surface of the mine and uses tele-remote control to maneuver the machine. Caterpillar says automation allows faster travel speeds and near-zero damage to the machine as the potential for running into walls is reduced. The system also has potential application in underground construction projects.  
Depending on the application, automating the full duty cycle is not always achievable or cost effective. The LHD requires remote control by an operator because the shot rock being loaded is not homogenous, making it difficult to automate the bucket loading function. In the case of the dozer, the rapidly changing environment in which it works necessitates a remote operator to make the first pass with the dozer in order to identify where to start and end each pass.
As part of its Mine of the Future program—aimed at finding new ways to mine and extract materials efficiently while also reducing environmental impacts and increasing safety—mining group Rio Tinto is operating a total of 71 autonomous machines at three of its sites in Western Australia, as well as seven fully autonomous drills. The trucks move about 20% of the operations' material.
Rio Tinto is using Komatsu mine trucks equipped with the Komatsu Autonomous Haulage System (AHS). The system—developed jointly by Komatsu Ltd., Komatsu America Corp. and Modular Mining Systems Inc.—consists of vehicle controllers, high-precision GPS, an obstacle detection system and wireless network system. A supervisory computer wirelessly sends information on target course and speed to the unmanned mine trucks, enabling them to complete loading and dumping cycles autonomously. Rio Tinto employees monitor the autonomous fleet from the company's Perth Operations Center located 1,500 km (932.1 miles) from the mine sites.
Remotely controlling the vehicles not only keeps operators safe, but also enables loads to be delivered in an efficient manner. The trucks move along a predetermined route and at a set speed, eliminating potential for fluctuations that might otherwise occur with a human operator and negatively affect fuel efficiency or productivity. "These new technologies bring value and productivity benefits through decreased variability, improved schedule efficiency and early identification of bottlenecks in the system. The autonomous truck fleet also delivers significant savings in maintenance, tire life and fuel," said Andrew Harding, Rio Tinto's Chief Executive of Iron Ore - China, Korea and Japan, in a 2014 press release announcing the company's autonomous fleet had moved its 200 millionth tonne of material since going into operation in 2012. 
In a September 2015 press release about the expansion of its iron ore mines in Western Australia, Rio Tinto said automation has provided significant productivity benefits and savings. The autonomous trucks in operation there are 12% more productive than the manned fleet and the company has seen a 13% reduction in load and haul costs due to the autonomous trucks' efficiencies.
With this increased productivity, the company says it has been better able to manage the highs and lows of the mining industry's business cycle, and positioned itself as the lowest cost iron ore producer in the region.
As a provider of autonomous systems, RCT works directly with both OEMs and end users to integrate its technologies. It offers line-of-sight, tele-remote and multi-machine automation systems for both surface and underground mining equipment. 
In March of this year, RCT released its ControlMaster Independent Guidance system to meet the growing demand for mining automation technologies, particularly in underground mining. Steering, braking and speed are all automatically controlled by the system. Brendon Cullen, ControlMaster Product Manager at RCT, says operators set a pre-determined path which the machine will then follow without the need for operator input during tramming. Use of laser technology within the system keeps the machine centered on its path and prevents it from running into walls or other obstacles.
The company also recently retrofit its ControlMaster Line-of-Sight Remote Dozer System onto a 15-year old Caterpillar D8R at a coal mine in Kentucky. RCT's system enables operators to remotely control the dozer from a safe distance using a handheld controller. Integration of the system required the company to custom make several of the components. Cullen says it was necessary to modify cabling, as well as install linkages, cylinders and sensors to allow the remote control system to interface seamlessly with the machine and not affect its operating systems.
Autonomy is the way of the future
Full vehicle automation will continue to expand within the mining industry as it looks to find ways to increase productivity and safety—particularly as underground operations move further beneath the earth's surface.  
Caterpillar says it is continually working to refine the operation of all three categories of autonomous machines it currently has available. It is also working to fully automate other types of mining machines. Rotary blasthole drills will most likely be the next to be fully automated.
In addition to productivity and safety, the need for skilled labor is among the primary drivers for automation in mining. Finding qualified machine operators has become increasingly more difficult over the years. By providing the ability to operate autonomous machinery from more desirable locations, such as an office that is not in as remote a location as the mine site may be, mining operations will have an easier time attracting new hires. Brian Fox, Vice President, Marketing – Automation within Atlas Copco's Mining & Rock Excavation Business Area, said in a company interview that finding people which are able to work with data and networks will be easier than traditional operators because the new generation is exposed to and educated in new technology. 
While autonomous vehicle operation is becoming more prevalent and anticipated to grow into the foreseeable future, Fox said one of the reasons mining hasn't been as quick to adapt automation as industries such as manufacturing is because of the ever-changing geological and environmental conditions in which the machines work. Additionally, there has not been a large demand from customers. Though safety is important to them, the industry has done a good job of developing safety procedures and regulations. However, he said the industry has reached a point now where automation will be necessary in order to achieve any further improvements.
Cullen notes that one of the constraints associated with integrating autonomous control within mining is the interaction of machinery and personnel on existing sites. "Some functions of the mining process still need human control and will for the foreseeable future," he says. "While most autonomous machinery has numerous safeguards in the event of an unplanned movement, the machinery can't always control the interaction it has with human controlled machinery and vehicles."
He adds that while integration into existing mine sites has its challenges, if a mine is designed around autonomous control those challenges can be overcome during the mine planning stage.  
Justifying the cost and ensuring reliability of autonomous technology have also been factors hindering more widespread adoption. As more results from long-term testing start becoming available, and development and testing of these systems continues to grow, so will the presence of autonomous vehicles in mining operations.
Companies in this article