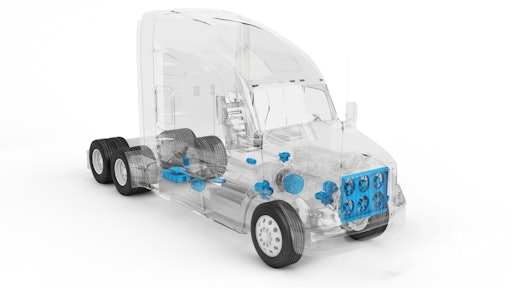 Eaton
As new emissions regulations are put into place and electrification of components and systems increases, higher voltages will be required. Because of this, many manufacturers are already moving toward the use of 48V system architectures.
Regulations are the biggest driver for the move to 48V systems, says Ben Karrer, Manager, Technology Development, Eaton's Vehicle Group. "There are a lot of solutions for reducing CO2, but electrification of some of the accessories on vehicles and 48V mild hybridization of the powertrain are some of the ways 48V technology helps with CO2 reduction," he explains.
Electrification and mild hybridization can help to create more fuel-efficient systems which Karrer says is a key method for reducing emissions. In addition, electric power can help ensure better system performance.
To meet increasingly stringent nitrogen oxides (NOx) emissions targets, active heating of the aftertreatment system is one of the methods utilized. Actively heating the system ensures it gets hot as fast as possible for effective stripping of NOx out of the exhaust. Typically, it can take time for the aftertreatment system to get up to the appropriate temperature but use of 48V power to electrically heat the aftertreatment enables active heating to quickly bring the temperature up and maintain it during operation to assure emissions compliance.
Brad Bisaillon, Director of North American Sales, Industrial Market at American Battery Solutions (ABS), agrees that efficiency improvements are among the drivers for the move to 48V systems. He explains that some electrical components such as the alternator work more efficiently at a higher voltage. For components like batteries, there is the potential for longer run times and easier charging with higher voltages.
In on-highway applications, he says there are a lot of 12/24V dual voltage systems being utilized to help achieve these efficiency gains while in off-highway equipment voltages are even higher, from 350 up to 800V particularly when moving to full electrification.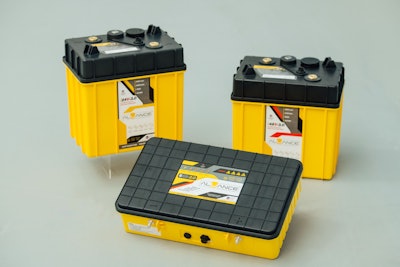 Increased power demand necessitates higher voltages
According to Dave Schulenberg, Director of Product Management at Briggs & Stratton, increasing voltage to 48V allows for more power at the same or lower current levels. He says 48V is the highest nominal voltage that can be used without exceeding the 60V threshold which defines a high-voltage system. These high-voltage systems typically require additional insulation to protect users from being shocked, adding more design time and cost.
"Forty-eight volt is a great sweet spot for many applications because it can deliver enough power to drive many applications while remaining below the high voltage threshold," says Schulenberg. "The fact that 48V components can be used in applications ranging from automotive, heavy off-road and lawn and garden equipment will give it the volume to be very cost effective. Certainly, there will be applications where higher voltage will be needed, but 48V component versatility will make it a standard in the long term."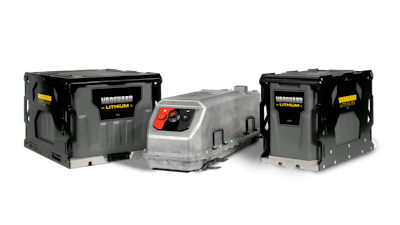 READ MORE: Advancements in Battery Systems are Increasing
Integration of autonomous driving capabilities, safety systems like lane keeping and other advanced technologies are increasing the need for electric power in vehicles and equipment. Karrer says this increased need for electrical power is also driving the push toward 48V systems. These systems require a lot of power to perform accurately; moving to higher voltage systems reduces the amount of current necessary to supply the appropriate amount of power to these systems.
"As we are electrifying more of these systems, there are other packaging benefits to be had by taking things off of mechanically driven power," says Karrer. "Think about an engine cooling fan or a water pump. These things are mechanically driven today on most commercial vehicles. [By] electrifying these accessories, not only is there an opportunity to be more efficient with how we use those accessories, but we can also package them in different locations that could improve aerodynamics of the vehicle as well as just find better locations for that power to be used."
Transitioning from mechanical power to electrical power allows replacement of mechanical power transfer components like belts or shafts with electrical wires. These wires are more flexible, allowing components to be mounted almost anywhere in a vehicle which can greatly optimize an OEM's design.
Moving from today's 12V electrical systems used in the typical North American commercial vehicle to 48V systems drops the amount of current necessary. Essentially, four times the amount of electrical power is possible with similar size wires as today's systems. This helps to keep costs down as much of the cost associated with electrical components is a function of how much current the devices will utilize, says Karrer.
Designing for 48V systems
Schulenberg says every type of powertrain component is being developed for 48V including batteries, motors, actuators, motor controllers and user interfaces. When developing these electronic components, he says they must be rated for a minimum of the top charge voltage of a 48V system, which is typically 58.8V.
He notes these 48V products are being used in various ways. In addition to their use on engines to drive auxiliary components as a means of reducing parasitic load to increase fuel economy, 48V components are also being used to replace vehicle level auxiliary PTOs that used to be driven mechanically or with hydraulics. "Attachments like snowblowers, augers, breakers and rakes, are all being considered for 48V electric power to improve efficiency and reduce the risk of hydraulic leaks," says Schulenberg.
"Forty-eight volt components are also being used to replace complete drivetrains which include the wheel motors that move the vehicle and all the chore functions that vehicle might employ," he added.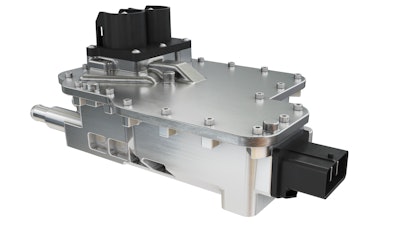 Bisaillon says ABS has standard off-the-shelf battery products for 48V systems as well as the ability to customize solutions for OEM customers. For the latter, he says the company will work directly with an OEM to understand the battery chemistry it is looking for, the run time as well as certification requirements and other design criteria to ensure an optimal solution is developed.
He notes that as you move into higher voltages, product development becomes more complex. While everyone wants the most energy they can get in the smallest space possible, but there is only so much energy that can be put into a certain size formfactor.
Safety also becomes an issue, especially with high-voltage systems such as those over 300V. Bisaillon says that while 48V can shock a person, 350V can kill so extra training is necessary when working with higher voltage components and systems.
Selecting the right components and finding a common voltage platform for a vehicle can help to ensure safety and performance of higher voltage systems. "The onus is upon the OEM to really focus on what is the target voltage of the vehicle and ensure that as they're selecting components [while] going through their design phase, they're selecting a system voltage that is going to work with all of the components on board, not just the battery," says Bisaillon. "[Whether] it's hydraulic motors, starters, alternators or drive motors, everything needs to be a common voltage."
In August 2021, Eaton announced its Vehicle Group had developed a series of 48V products for use in on- and off-highway commercial vehicles. The company is focusing most of its development efforts in this area on products for power management such as motor generators, inverters and DC/DC converters.
The DC/DC converters will be particularly beneficial because as Karrer explains, not everything on a vehicle will be moving to 48V. There will still be some 12 or 24V loads within a vehicle necessitating the use of a converter for the lower voltages.
Energy storage technology will also be needed, which he says Eaton is also developing. The company also plans to have products available which are in what Karrer refers to as the power consumers, i.e. those products which use the 48V power such as air conditioning fans, pumps and other electrified accessories.
Redesigns will be necessary for current products which work with 12V systems to enable their use with 48V systems, says Karrer. As such, the industry will need to think about what devices make sense to move to 48V and which ones can stay at 12 or 24V. "It really becomes a function of how much power is required," he says. "It makes little sense to move low power electrical loads to 48V but high power loads or the addition of new high power loads such as active heating of aftertreatment systems or autonomous driving are definitely going to make sense or even require 48V power."
Karrer says integration of a full system is one of the biggest challenges associated with developing technology for 48V systems. This will require generation, management and storage of higher amounts of power than what many are used to which could be pose difficult for some manufacturers.
However, he sees 48V systems being beneficial to OEMs especially as a means of ensuring internal combustion engine (ICE) powered equipment stays efficient and emissions compliant.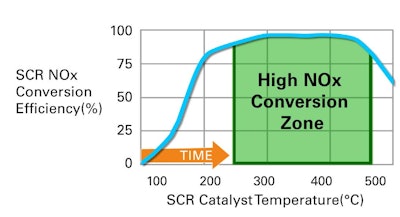 What does the future hold?
Bisaillon says 48V has been the voltage of choice for smaller construction equipment transitioning to electrification. Forty-eight volts made the move from ICE to electric power easier, he says, because this voltage already existed in some applications such as forklifts.
And as the size and types of equipment being electrified increases, so too will the voltages. Many OEMs are already moving to 72 and 96V, and large equipment will be in the range of 350V and up.
Karrer says Eaton projects by 2030 about 20% of the on-highway commercial vehicle market will feature 48V systems. High-voltage battery and hydrogen powered vehicles will make their way into the market, but for now ICE will still be necessary. With the help of 48V systems, OEMs can be sure they are providing a lower emissions product that will meet market needs until battery and hydrogen powered vehicles are more readily available.
While Karrer says the push to 48V in off-highway is somewhat slower, emissions regulations like those in place for on-highway are coming and will bring about a similar transition to 48V systems.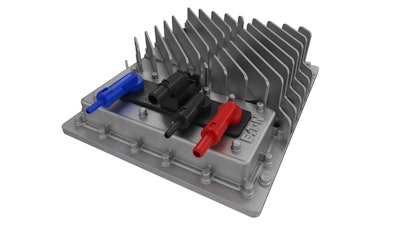 Companies in this article