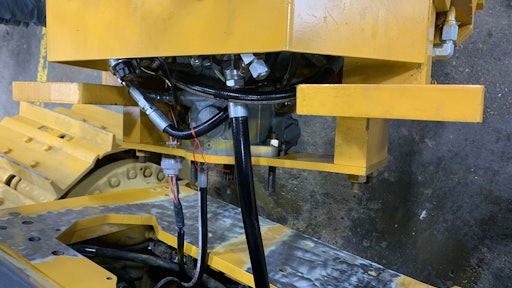 CARCO/PACCAR Winch
Customers expect intelligent equipment and specialized attachments to require less manual effort to install, allow for greater ease of operation and reduce service-bay times. These expectations are helping drive the market for reliable solutions that are safe and cost-effective. There is also growing demand for technologies that allow for the completion of tasks with fewer man-hours and less formal training, spurred in part by a competitive equipment rental marketplace and uncertainties surrounding construction labor shortages in the post-virus workforce economy.
Building greater overall compatibility and machine control was a goal for one manufacturer when designing a hydrostatic tail winch. The original prototype was developed, tested and put through rigorous paces on a John Deere 700L crawler dozer in coordination with a distributor for the manufacturer. The winch is powered by a dedicated, closed-loop hydrostatic circuit and equipped with electronic controls.
Making Changes
The distributor's technicians and the manufacturer's engineers worked side-by-side to design and install the first hydrostatic tail winch, which was designed for the John Deere 700L dozer. The dozer was built for different construction, forestry, land clearing, advanced recovery and oil field applications. With the launch of its new dozer, John Deere wanted operators to have greater visibility, comfort and other improvements intended to reduce fatigue and minimize the effort required to perform grade-control installations in the field.
The winch manufacturer highlighted the low-effort electrohydraulic (EH) controls among the equipment's centerpiece components. The company is making changes in terms of aesthetics and ease of integration with the new configuration cutting almost 18 hours off the previously required installation time. The job can now be done in under a day with no disturbance or manipulation to the inside of the dozer cab.
With previous hydraulic control versions, installation of the joystick required cutting and welding a mount inside the cab with multiple hoses feeding through to connect with the Deere pump system. With the new controls, only two hoses and a wire harness must be run and connected. Cutting the mount or plastic on the cab interior is not required. It can be removed and (the dozer) can be returned to its original condition.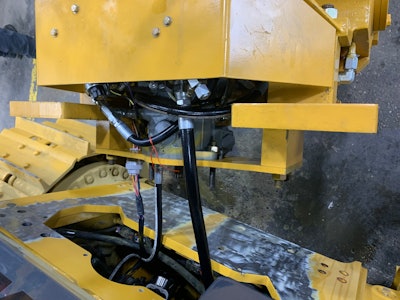 Customers' expectations have risen for standard equipment, parts and service options. They have also increased for engineering solutions designed with a systems approach to safety, innovation and productivity. Manufacturers and distributors are motivated by efficiencies and eager for opportunities to pass along the cost effectiveness of solutions to their customer bases. Quick turnaround times on installations are a crucial component to keeping up with demand—with safety and reliability both top priorities for end users operating in challenging working environments or on unforgiving terrain.
Form and Function
According to EWI Works International, a North America-based occupational ergonomics company, working postures can be influenced by many factors including workstation layout, the location and orientation of work, and individual work methods. "Complying to the cab" is commonly linked to helping reduce the potential for musculoskeletal injuries (MSIs) because activities such as unnecessary repetition or awkward postures have been associated with the condition. Improving cab ergonomics, such as seat profiles, dimensions and visibility, is commonly linked to improved operator comfort and reduced fatigue, as well as helping mitigate MSIs.
The controls can be customized to the person working in the cab. Making adjustments is easy, and the fingertip technology gives more control in respect to the aggressiveness of the machine or blade. The new winch is independent, self-contained with controls that are integrated with the crawler dozer's existing components. It also has a control handle which includes a joystick in the cab. Plus the entire winch system can easily be removed if the carrier equipment is sold, traded or repurposed for an alternative application.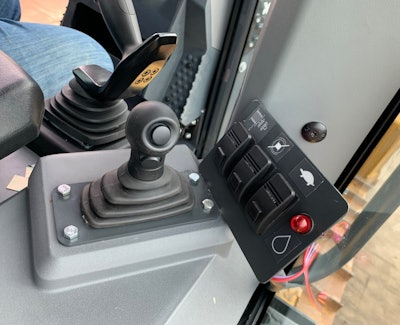 Fit for Class
The hydrostatic tail winch install was designed for ease of installation. The ergonomic correctness, or more natural, blended looks that help bolster visibility and reduce operator fatigue, are often being linked to the buying considerations of customers in search of high-performance tools.
Hydrostatic winches offer inherent safety advantages, including the ability to operate in high-duty cycles without generating excessive heat. Oil lubricated, multidisc braking systems allow for operation in forward and reverse, and more control when working on slopes or in other difficult conditions. It includes multiroller fairleads for safety and better control when guiding wire rope at recommended angles, setting up operators for a range of diverse field applications.
Todd Razor is a writer for PACCAR Winch. .