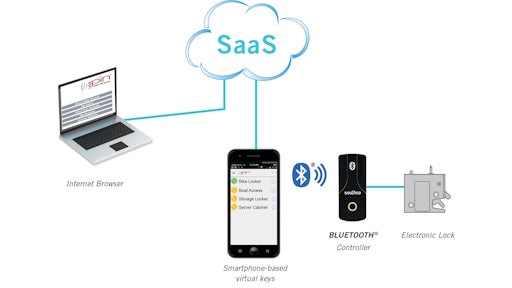 Southco
The latest generation of off-highway equipment—construction vehicles, agriculture and forestry machines—is smarter and more sophisticated. It also takes advantage of digital technology to achieve greater versatility and energy-efficient operation. At the same time, these are hard-working machines engineered to operate in rugged environments, delivering productive operation day in and day out and offering a reliable return on investment for their owners and fleet operators.
Users of off-highway equipment want the comfort and convenience found in modern automobiles in a rugged and durable package. Well-engineered access hardware, such as hidden latches and electronic locks, can help improve vehicle designs and the user experience. The same impression results from panel latches and entry door hardware that reduces noise by eliminating rattles and operating smoothly and reliably with gloved hands.
A range of positioning hinges with built-in technology allows displays to be moved with one hand yet avoid shaking from engine or equipment vibrations. For heavy door panels and engine hoods, counterbalance hinges provide a simple, more reliable and cost-effective way to open and hold these covers in place.
Evolving Off-Highway Operations Change End-User Needs
"Autonomous" operation in many off-highway applications is growing: more and more equipment can be programmed to automate functions that include digging a trench or spraying a field with herbicides. This requires an operator inside the cab to oversee its operations and perform other tasks while keeping an eye on the equipment as the job is completed.
This is changing the cab into a mobile office, where an operator may be responsible for a wider range of project duties, like managing schedules and other supervisory activities. It is also evolving the layout and systems being installed in the cab, like computers for planning and scheduling and other digital devices. This increases the number of screens that need to be securely mounted but easily adjusted to accommodate different tasks.
Position control hinges are available that can meet these needs. Off-highway vehicles (especially in construction) are often rented or shared by multiple operators on a crew. Just like seat and steering wheel adjustments, different operators will want to adjust screen positions and orientations to make them easier to view and interact with, especially a touchscreen.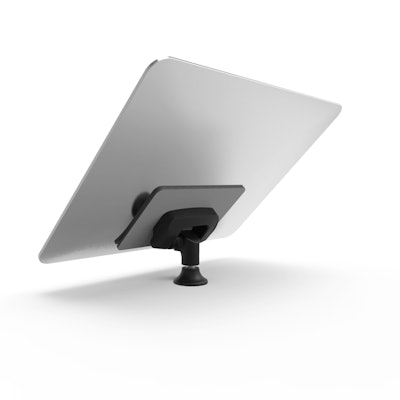 The use of positioning technology with intuitive touch point characteristics can be useful in these applications. Hinges can offer integrated, constant-torque-enabled, single-handed adjustment of connected monitors. Leading device suppliers offer hinges engineered for the higher levels of vibration found in the rougher operating environments of off-highway applications.
Constant-torque hinges use engineered friction to provide a specific resistance against motion. They enable positioning of a cab operator screen at any angle for thousands of operating cycles, without any degradation of torque—even under high vibration conditions. Even with this resistance against motion, repositioning is easy. An equipment operator can move a screen to a better angle with one hand while safely driving the vehicle or operating the equipment.
Some cab designers are augmenting fixed screen mounts with a range of articulating devices. One position control device manufacturer offers a double-articulating arm designed to support smart devices, such as tablets and laptops. This design lets the device be installed in a center console or a door and be deployed as needed. This provides flexibility in case operators need to bring personal devices with them for their shifts.
Similar articulating arms may be purchased from computer or business supply stores. However, using these off-the-shelf products in vehicles could cause complications for original equipment manufacturers (OEMs).
One way that access and position control suppliers can help OEMS control costs is by providing products that have been tested and certified compliant with regulations such as the U.S. Federal Motor Vehicle Safety Standards. These standards are designed to ensure that products such as position control hinges or latching systems function securely and do not fail when they experience sudden stops or impact situations.
Protecting Equipment with Electronic Latching Systems
A major and ongoing challenge for off-highway equipment owners and operators is security. Protecting expensive equipment from vandalism or break-in attempts to steal the vehicle or parts is a growing priority.
Common practice in many agricultural and construction applications is to leave equipment onsite overnight rather than return it to secure storage areas every day. In addition, when different personnel operate the equipment, especially with rented assets, operators will be assigned to different machines every day. Managing access to these vehicles is a constant, critical challenge.
Just as with on-highway automobiles, the use of electronic locks is increasing with off-highway equipment (although mechanical keys are still somewhat common). Many equipment operators are installing rugged electronic locks designed for the thicker, heavier doors and storage panels found in off-highway equipment. Just like with the hinge technology, these latches are engineered and manufactured with high-quality materials to provide years of reliable operation, even while undergoing the increased vibration levels common for off-highway use.
One trend affecting the use of electronic locks in off-highway equipment is the growth of hybrid diesel-electric and pure battery electric vehicles—especially in small and midsize construction equipment, such as skid steer loaders, and in agricultural equipment.
Power consumption management is a concern for the OEMs building these new systems. Every draw on the battery must be calculated. In response, some electronic latching suppliers have developed latches with extremely low power-consumption draws. This includes locking mechanisms that draw no power when the vehicle is shut down to help preserve battery life and keep equipment secure and ready to operate.
Many operator access device options are available for electronic latching. These include standard electric key fobs with buttons to unlock cab doors and storage compartments. Because many vehicle cabs and other access points are so high off the ground that operators use ladders to reach them, some access solutions use proximity detectors. These automatically unlock doors when the user is close so that they don't have to let go of the ladder and reach for the fob.
While some off-highway equipment manufacturers are building electronic access and control into their own vehicle control modules, electronic access solutions (EAS) platforms available from access and position control providers can simplify the process of incorporating EAS into vehicle designs.
These EAS platforms have electronic locks with wireless interfaces, such as Bluetooth, so an operator's digital device—typically a smartphone—can act as the "key." Operators will have an EAS app on their device, to which time-based virtual keys can be sent via a cloud-based portal, simplifying the assignment of keys to multiple users and different pieces of equipment. That way, instead of having to distribute, manage and track the location of key fobs or other physical access devices, the process can be controlled virtually, which can be especially useful for equipment rental operations.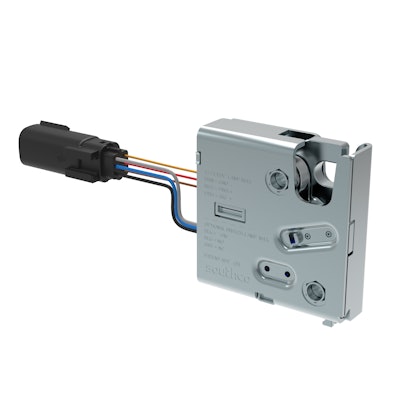 Latches and Hinges Help Improve Equipment Design and Ergonomics
Off-highway equipment is a competitive market, with multiple major players depending on the industry segment. One way they compete is through improved vehicle design and appearance, and latching and hinge options can help in this endeavor.
Hidden electronic latches and hinges are now available that install inside doors and other panels to make creating tight, smooth exterior designs. They also provide an added level of security, including:
Multiple latching points that can be anywhere inside the door
Hidden hinges not visible to the outside cause thieves to have a difficult time guessing where pry points are located
Different hinge technologies can also improve ergonomics for equipment operators. Constant torque hinges provide resistance through the full range of motion when opening and closing heavier equipment storage area panels. This lets users easily position doors and cab display screens, keeping them secure at any desired angle.
Constant-torque options are often available with newer technology. Asymmetric torque hinges, for larger-sized shelves or heavy doors, have lower torque when lifting the equipment door but heavier torque, assisted by gravity, to close it. Both movements allow the operator to access storage compartments more easily during their shifts. At the same time, the smooth motion may give a higher quality impression to the user, compared to basic hinges with no resistance.
Counterbalance hinge technology can be useful for heavy equipment doors, such as engine hoods. In many off-highway vehicles, these hoods are often powered open with hydraulics—additional equipment that consumes power. Counterbalance hinges counteract the downward force of gravity and provide precise control when opening and closing heavy panels, enabling the panel to be lifted and lowered effortlessly. These also remove the need for a powered door or hood.
As off-highway equipment becomes more sophisticated and versatile, vehicle OEMs seek technological support to help them improve interior and exterior designs, operator ergonomics and a more refined user experience. Position and access control technologies are available from suppliers that can help them achieve their goals and support their efforts to improve off-highway equipment efficiency and productivity.
Bob Straka is general manager, transportation industries, for Southco.