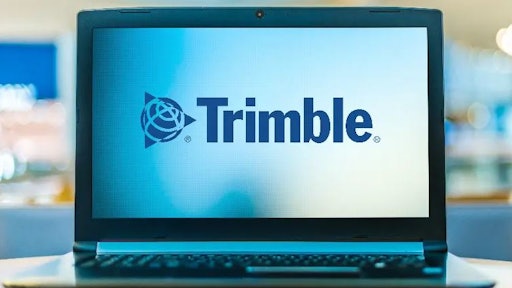 Visitors to the Trimble exhibit in Hall A2, Stand 437 during bauma 2022 won't be on the receiving end of much hype as the company is holding its fire for big announcements for Trimble Dimensions, which starts Nov. 7. But those who visit Trimble at BAUMA will be able to familiarize themselves with the slough of innovations launched by the Sunnyvale, Cal.-based technology conglomerate in the course of 2022.
Horizontal Steering Control and 3D Paving
Trimble is showing its horizontal steering control functionality on the Trimble Earthworks Grade Control Platform for Soil Compactors, the industry's first automatic steering control solution for soil compactors and a critical step towards autonomous equipment.
Trimble's grade control option typically connects digitally through a machine's hydraulic electronic control module (ECM), but on older machines not equipped with ECM Trimble dealer technicians will install valves that tap into the hydraulics directly, which then in turn control the system. Trimble's compaction steering automation control however is strictly mechanical, attaching to and turning the steering wheel. This would seem to help the operator take control of the machine if necessary.
Apart from autonomous steering, Trimble will display the 3D paving control platform for asphalt pavers and compactors. 3D paving control is becoming an essential tool for contractors. With automated screed control being mandated by many project owners and the Federal Highway Administration (FHWA), 2D screed control is becoming commoditized. 3D stringless paving is one way asphalt contractors are going one better than their field of competitors while cutting costs and shaving days off the project timeline. 3D paving is now reliable and mainstream, with the technology having been proven in earthworks and then seeing early adoption on high-value paving projects in the early 2000s.
"2D grade control is now relatively common," Trimble General Manager of Civil and Specialty Solutions Kevin Garcia told IronPros in a briefing earlier this year. "Asphalt paving contractors come to us now to learn about 3D … there is a big differentiator between 3D and things past. With 3D we are talking about variable depth paving, and it can very quickly change the depth of the pavement and conceivably the cross slope if needed, if you are going into a superelevated curve. It does not require paint markings on the ground and is taking the human error of that process out."
bauma attendees will also be able to experience the benefits of machine control guidance thanks to a Tenstar Simulator equipped with Trimble Earthworks Grade Control Platform for excavators. But well beyond the exhibit, Trimble machine control will be installed on more than 30 machines from major original equipment manufacturers (OEMs) exhibiting at the exposition.
Digital Surveying and Site Layout
In the field of construction surveying, Trimble will show the latest R780 GNSS receiver. This receiver features tilt compensation so surveyors can capture accurate points without spending the extra time to level the pole, speeding up the process and enabling work in low visibility when the bubble is hard to read. The antenna can be affixed to a tripod, T-bar or a vehicle, and is being billed as the most durable and rugged receiver the company has offered.
Also at bauma will be the Trimble RI robotic total station, launched in September of this year.
Offered in multiple configurations to meet a diverse set of workflows, the Trimble Ri is an appropriate choice for mechanical, electrical and plumbing (MEP), concrete, steel and general contractors. Combining an electronic theodolite with electronic distance measurement (EDM), Trimble Ri enables users to measure both vertical and horizontal angles and the distance from the instrument to a particular point. As a robotic piece of equipment, the Trimble Ri does not require site workers to physically turn total stations vertically and horizontally to orient them to the points, and instead follow a prism held by the operator. This cuts down the number of staff required from two to one.
And no Trimble experience would be complete without a visit from Spot, Boston Dynamics' robot platform which, when paired with the Trimble X7 scanner and Trimble FieldLink software can automate site data capture on projects that would be unviable for wheeled robots.
Green Building Intelligence
Trimble will also show and have professionals on hand to discuss new features in the latest release of their Tekla Structures building information management (BIM) software product. One reason they may be focusing on this product at the event is the rigorous and progressively more stringent regulatory environment in the European Union. In addition to EU-wide initiatives like the EU Green New Deal, Germany has committed to run ahead of the pack with even more aggressive carbon reduction target of 65 percent by 2030 with carbon neutrality by 2045. Germany is, however, putting their money where their mouth is with $14.8 billion in funding and subsidies to make buildings more energy efficient.
In March of this year, Trimble rolled out a new versions of the product set including Tekla Structures 2022, Tekla Structural Designer 2022, Tekla Tedds 2022 and Tekla PowerFab 2022. Apart from improvements aimed at increased construction productivity, efficiency, and quality, these new versions support sustainable construction and offers more automated and connected workflows across all project phases and stakeholders.
Tekla Structures and Tekla Structural Designer now offer dynamic embodied carbon calculation functionality, for both the design and detailing processes through an Embodied Carbon Calculator. This visual and dynamic calculations tool allows users to quickly and transparently assess the environmental implications of their design choices live within the Tekla software. Structural engineers can use it to compare different design options and their respective carbon
Offsite Technology Demonstrations
BAUMA also includes an offsite demonstration area. SITECH and Trimble will provide live demos including practical insights so attendees can see firsthand Trimble Connected Construction technologies including automation multiple makes and models of excavators and dozers, horizontal steering on compactors, augmented reality and paving control technology.