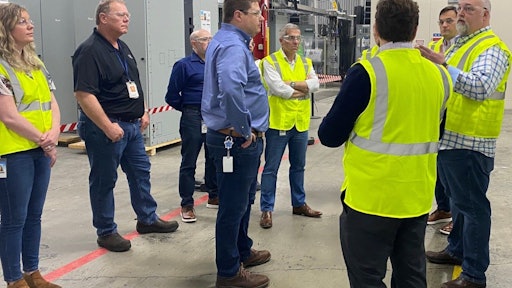 Eaton
Intelligent power management company Eaton has announced significant investments in its North American manufacturing and operations to support rapidly growing demand for its electrical solutions. The company is expanding manufacturing and bolstering resilience to increase the supply of its solutions for customers in utility, commercial, healthcare, industrial and residential markets across North America. The majority of these investments will be complete in 2024 and 2025.
Investments in Texas & Wisconsin Increase US Manufacturing of Essential Utility Solutions
Eaton is adding 200,000-square-feet to its Nacogdoches, Texas, manufacturing facility, more than doubling its size. The project will double production capacity of Eaton's voltage regulators to help utility customers across North America accelerate grid modernization and resilience projects. Eaton will continue to produce single-phase, pole-mount and pad-mount transformers in Texas to address the acute supply shortage for these products. The expansion will create more than 200 skilled manufacturing jobs.
The Texas expansion frees up capacity at the company's largest Wisconsin manufacturing facility in Waukesha, where Eaton is investing in equipment to increase manufacturing of three-phase transformers for utility, data center, large commercial and industrial applications. Eaton will continue to produce regulators, including complex pole and substation voltage regulators, for utility customers in Wisconsin.
South Carolina Facility Expands Manufacturing for Busway Products & EV Charging Technology
Eaton is increasing production of busway to meet rapidly growing demand for this power distribution technology used in commercial, industrial and fleet charging applications. This expansion includes Eaton's EV charging busway, an industry-first innovation that dramatically simplifies and expedites infrastructure for fleet charging, while avoiding major infrastructure modifications. For more than 60 years, Eaton has manufactured hundreds of thousands of miles of busway in South Carolina and continues to expand manufacturing capacity regionally.
Increased Production, Manufacturing Growth & Expanded Distribution
Eaton is increasing the manufacturing of its circuit breakers and metering for homes and commercial buildings. These investments include expanding capacity and diversifying production across various locations in the Americas region to increase the supply of its solutions for customers, enhance supply chain efficiency and boost manufacturing resilience.
Eaton is adding capacity to increase supplies of essential power distribution equipment to support infrastructure projects across industries. The company's most recent investments enhance its manufacturing facilities for switchgear and switchboards, which provide the power backbone for customers across the Americas.
Eaton is investing in the distribution capacity for its power quality products and connectivity solutions. The company recently opened its largest regional distribution center in Chicago and is expanding its distribution facility in Dallas to serve commercial, data center, industrial, healthcare and communications customers.