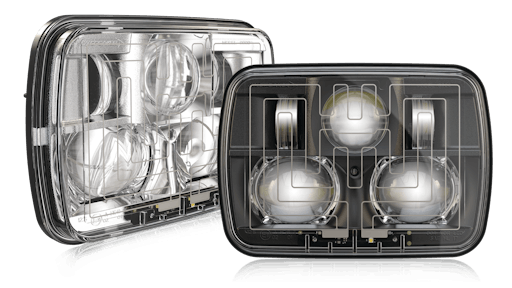 J.W. Speaker Corp.
From an outsider's perspective, new product development and advanced technology are supposed to solve problems and mitigate operation challenges for heavy equipment operators. And yet, each series of new technologies solve old problems and subsequently present their own set of new challenges. It is a perpetual solution machine—a self-fulfilling engineering prophecy.
Such is the case of LED lighting in vehicle applications. When the LED light first came to prevalence for heavy-duty vehicles, the overall energy savings and lifetime made it a no-brainer solution for OEMs. However, in colder climates where the older halogen bulb would create enough heat to melt snow and ice from the lens, the LED light would require an additional system to accomplish deicing properties.
And, even though there is no federal regulation mandating any specific deicing solution, several lighting manufacturers have been releasing heated LED lighting systems. The existing FMVSS 108 standard for on-highway vehicles sets safety requirements for lamps and reflective devices, but does not have any language for heating solutions for lights.
"One drawback LEDs have versus a halogen bulb is that they don't project any heat forward toward the lens," says Jason Meyers, Sr. Sales Manager, J.W. Speaker Corp. "A halogen light works similar to the front air defrost system in your car. The hot hair makes contact with the glass, the heat transfers through the glass and eventually deices the surface's exterior," Meyers explains. "The rear window defrost grid system is more effective because the heat is directly on the surface needing to be deiced." Both methods are being applied to current LED system development.
J.W. Speaker's SmartHeat heated lighting technology is a thermally conductive, embedded grid that is molded into the lens (the rear window defrost method). A polycarbonate headlight with hard-coating provides the durability and abrasion resistance demanded for rugged environments.
The SmartHeat system turns on automatically at vehicle start-up, as well as when its internal sensor senses the light's temperature is below the determined low temperature threshold. Once the light has warmed to meet the set high temperature threshold, the system automatically turns off. And for environments with constant cold conditions, the SmartHeat grid system stays on to continue to prevent ice build-up on the lens. The automated temperature management is managed through software and algorithms to ensure a truly smart system.
Maxxima, a division of Panor Corp., recently released its MaxxHeat heated lighting system. The Maxxima Vionic LED headlight series uses a thin element coating applied to the back of the lens; again, a solution similar to the rear window defrost of a car. It automatically turns on the lens heating system when the outside air temperature drops below 50 F (10 C).
But, Maxxima also uses the "front defrost" heating method with its MaxxHeat STT series of stop/tail/turn lights. A thermal diode is placed onto the circuit board to heat the chamber. "With stop/turn/tail lights, the chamber isn't very large, so heating it isn't as difficult as a larger headlamp chamber would be," says Peter Flynn, Division Vice President for Maxxima.
"With the added heating system, much of the energy savings are offset, but the life of the product and overall visibility aspects of LEDs remain as major benefits."
Flynn confirms that Maxxima has a series of snow plow lights with the MaxxHeat integrated lighting system about to be introduced; and Meyers stated that any light with applications that could encounter cold, snow or ice will likely have both a standard and a SmartHeat model.
Companies in this article