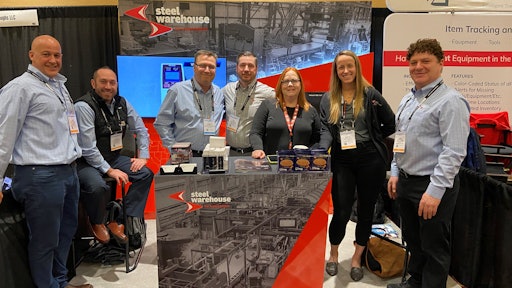 Green Truck Summit and Work Truck Week 2023 saw excellent educational sessions and numerous new product launches. Most centered around alternative power and electrification, both dominant event themes.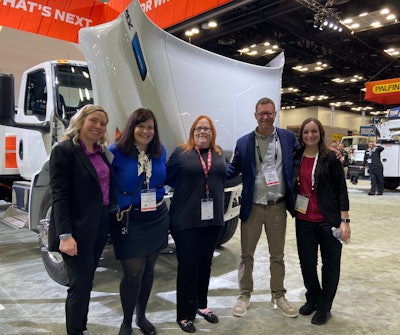 Before Cummins President and CEO Jennifer Rumsey's keynote to launch the Green Truck Summit, I was thrilled to have the chance to talk with her and get a preview of the presentation. The podcast of the interview will be available soon. Among the topics we discussed was diversity and the current state of power and emission control in the on-road heavy-duty vehicle and off-highway industries.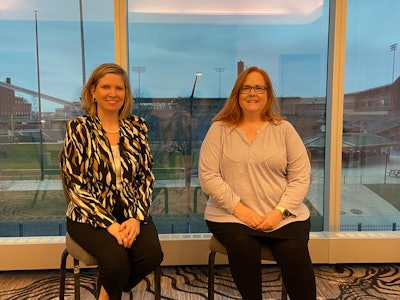 To summarize and use Rumsey's much-quoted words, the industry is in the messy middle. This means process is beginning, but multiple power sources are being used and research is ongoing about the ideal way to reach zero emissions.
During the keynote, Rumsey discussed the pressures facing the trucking industry:
Inflation and meeting financial needs
Supply constraints
Environmental, social and governance pressure
Knowing that alternatives must be tried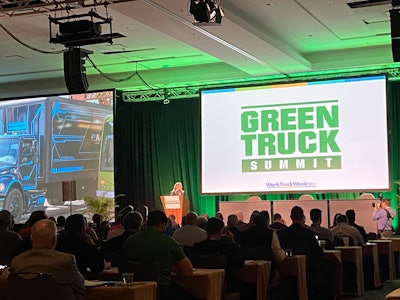 The phases to zero are:
Advancing today's solutions, including reducing carbon emissions in diesel engines
Deploying and advancing many solutions at varied paces and building up the infrastructure (including charging stations and the availability of hydrogen)
Making zero emission solutions broadly available—the ideal future state
Cummins also announced Accelera during this event.
Isuzu Goes Electric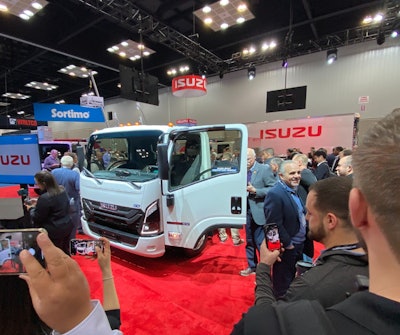 During a press conference, Isuzu Commercial Truck announced its first ever fully electric truck, the N-Series EV. The 2025-model-year Class 5 truck—featuring a full 19,500-pound gross vehicle weight rating, a battery electric platform developed by Isuzu Motors Limited, and an all-new cab design—will be available in the first half of 2024.
"The N-Series EV is a game-changer, not only for us, but for our dealers and our customers," said Shaun C. Skinner, president, Isuzu Commercial Truck of America and Isuzu Commercial Truck of Canada. "We have always prided ourselves on offering a variety of powertrains to meet the needs of our owners. As we look at the regulatory landscape ahead of us, we know that the demand for a medium-duty truck powered by electricity is going to increase dramatically. And we will be ready, with the first electric production Class 5 low cab forward truck in the U.S. and Canadian marketplace."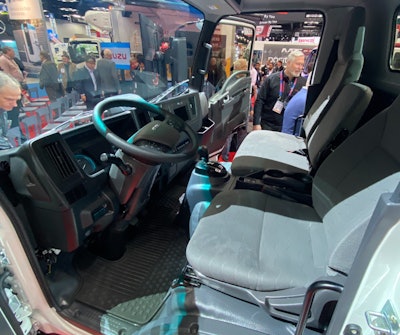 Every N-Series EV will be powered by 20-kilowatt-hour, lithium-ion battery packs. Four battery configurations are available: three-, five-, seven-, and nine-battery-pack models.
The new cab includes:
Driver and outboard front passenger airbags
The steering wheel's position and angle have been changed to provide a better for a wider range of drivers
The steering wheel hub will contain switches that operate the multi-information display, audio system, cruise control and hands-free phone calling
New 7-inch color multi-information display will house warning lights, status indicators of driver-assistance features, time and temperature, odometer, fuel gauge and shift position indicator; drivers can choose from English, French and Spanish as the display language
Auto-on/off headlamps
Electrically operated climate controls
Variable intermittent windshield wipers
Electronic parking brake
Driver's seat arm rest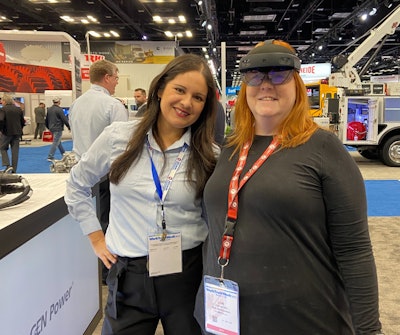 During a booth visit to Allison Transmission, I was able to see firsthand the operation of the eGen Power 100s fully integrated electric axle. The new axle was on display during the event, and I saw the equipment virtually and on display.
Parker Features ePTO Motors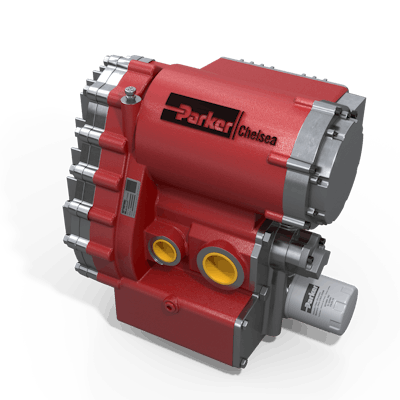 With increased focus on emission reductions comes an increased interest in electrified work functions that rely on batteries and motors for power. Parker Chelsea announced two integrated electric power takeoff (ePTO) series that can be installed on either battery electric vehicles or hybrid-electric vehicles: the e910 Series and the e970 Series. Both models are designed to increase run time and optimize efficiency.
J.W. Speaker Displayed Work Truck Lighting Solutions
J.W. Speaker, manufacturer of LED technology, debuted its LED work truck lighting solutions during Work Truck Week. Attendees saw the complete line of J.W. Speaker LED work truck lights designed to provide optimal illumination in the harshest working conditions—improving the safety, productivity, and comfort of vehicle operators and workers on the jobsite in agriculture, construction, mining or even off-road environments.
"From delivery vans to snowplows to tractors and trailers, if you're working in a vehicle, you're working at night and when driving conditions are suboptimal," said Kyle Alban, senior account manager at J.W. Speaker. "No matter the vehicle or the size of your fleet, safety and efficiency are key to better projects. We're excited to be at NETA Work Truck Week to help customers focus on protecting their people, bringing visibility where it's needed most and being a high-quality provider of LED lighting solutions. We'll be sharing a wide variety of lighting options that can be mixed and matched to improve aftermarket and OEM vehicles."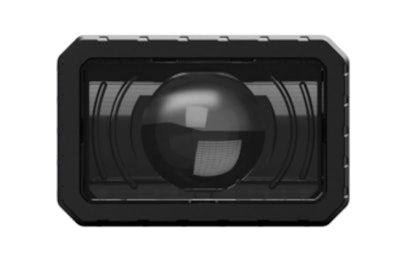 The work truck lighting family displayed at the J.W. Speaker booth included:
Model 93 5-in-1 LED Headlight: A drop-in LED replacement for standard 90-millimeter (mm) headlights that also integrates into OEM designs.
Model 905 and Model 260 Dawn to Dusk Lighting System (DDLS): The compact, lightweight Model 905 work light or Model 260 rear combination light provides crisp, clear, expansive projection in any work environment and has a plug-and-play assembly.
Mosaic Modular Lighting System: Mosaic allows OEMs to create customized vehicle lighting designs without high optical tooling costs. Using the Mosaic Modular System of approved lights helps streamline design, simplify manufacturing and expedite time-to-market.
SmartHeat Technology: These work truck lights feature integrated lens heating technology to automatically remove snow and ice from the surface of the lens—with no action required by the driver.
Lincoln Electric Features a Multifunction Engine Drive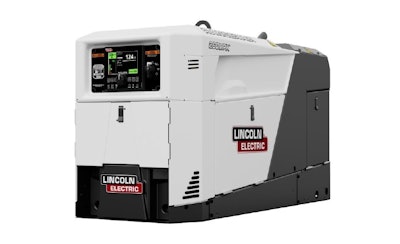 Lincoln Electric introduced the all-new Ranger Air 260MPX multifunction engine drive. This machine was designed for the work truck industry, where the unexpected can be expected on any given day. Available later in 2023, this versatile machine is designed to prepare operators for whatever unpredictable circumstances and job demands come their way.
The Ranger Air 260MPX is an air compressor, generator, battery charger, battery jump assist and multiprocess welder all in one. This compact machine eliminates the need to carry multiple pieces of power equipment on a service truck. The result is a lighter payload and more space on the truck for other tools and gear.