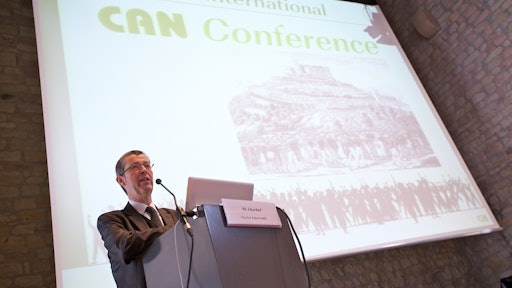 For many years, there has been some rumor on an improved CAN protocol. At the 13th International CAN Conference (iCC) organized by the CiA nonprofit association, Bosch has introduced the CAN-FD (flexible data-rate) protocol. It is backwards compatible to the CAN data link layer protocol as standardized in ISO 11898-1. It allows higher transmission speeds in a part of the data frame: Bosch and Vector demonstrated a 15 Mbit/s CAN-FD network prototype using off-the-shelf transceiver chips compliant with ISO 11898-2. Besides the increase of throughput, the introduced protocol supports larger payloads. Up to 64 byte are transmitted in a single data-frame. This avoids in many cases a segmentation of data. Several carmakers (e.g. General Motors and Renault) were very interested in the new protocol. For the automotive industry it is very important that the CAN cabling and the other physical layer components including transceiver chips can be reused. Also other industries are interested in the CAN-FD protocol. One paper was focused on the topic, how to map the CANopen application layer to CAN-FD. Most important is the prolongation of PDOs (process data objects). PDOs with up to 64 byte payload will allow to transmit different 64-bit commands in one message, which overcomes today's data consistency problems. "In particular, the drives and motion control industry will appreciate this feature," says Heinz-Juergen Oertel, CiA's former technical director.
The iCC took place in Germany and was attended by more than 130 experts from all over the world, including India and Malaysia. The speakers covered several topics such as Linux software driver, CAN applications and usage of CAN-related tools. At the conference some silicon vendors launched their CAN transceivers supporting selective wake-up functionality as standardized in ISO 11898-6. These chips will enable partial networking; this means the user is able to switch single devices on and off, in order to reduce energy consumption.
All presentations were very technical, such as one paper about new strategies to detect CAN nodes in a network, which are configured wrongly regarding the bit-timing. The authors presented interesting solutions: They measure the individual "fingerprint" of the CAN node by means of an oszilloscope. Another speaker reported in detail about challenges during the design of one of the largest CAN networks. This system with more than 1,500 CAN nodes was used to illuminate the Olympic Rings in Vancouver (Canada). All iCC papers are available for download on CiA's website.
The conference was accompanied by a tabletop exhibition. Several companies showed new products. And CiA celebrated its 20th anniversary at the conference. The international users and manufacturers group organized the iCC in 1994, and develops CANopen specifications. The CiA international headquarters in Nuremberg (Germany) also organizes CAN seminars for beginners as well as for dedicated applications.