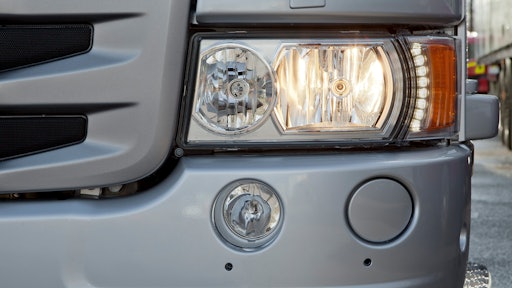 In line with Scania's continuous development of its products, time has now come for a review of the frontal lighting. Operators get access to a wider range of options, while truck spotters need to be updated on the new light profiles.
New headlights
Scania adds H7 headlights to the current H4 and Xenon options. The new units have clear glass lenses and the styling resembles that of the Xenon units.
New integrated daytime running lights
New indicator light modules with integrated daytime running lights, sidelights and indicators are styled to blend in with the restyled headlamp units, all using LED technology with significantly longer service life than traditional bulbs. This also leaves space for both foglights and spotlights in the bumper.
Beam patterns
Scania offers customers a choice of lighting setups with different characters.
H7 provides a wider beam than H4. Dipped beam remains on when main beam is used, providing a homogeneous main beam. H1 is used for the main beam.
Xenon provides a long and wide beam suitable for most night driving conditions. H7 is used for the main beam. Xenon lights have a long service life.
H4 provides long reach and a light pattern that is particularly comfortable for relaxed motorway driving.