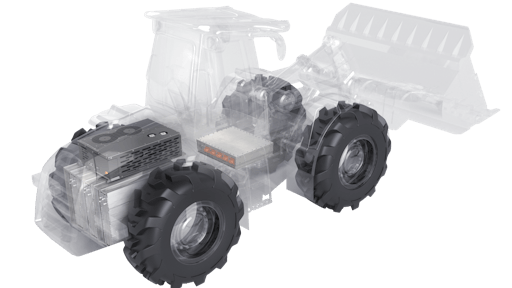 Webasto
Emission reduction and anti-idling regulations continue to proliferate globally. The social and political pressure to reduce carbon dioxide emissions and diesel particulate matter has never been greater.
Whether it is the European Commission's Stage 5 criteria, its Fit for 55 package or the latest edict from the California Air Resource Board, fossil-fuel-powered vehicles are destined to become rare. The move toward zero-emission on- and off-highway vehicles (ZEVs) is moving forward with exponential velocity.
One need look no further than the Advanced Clean Transportation (ACT) Expo in May 2022 to see the growth and interest in this technology. It was obvious that there were few, if any, major players in the commercial vehicle and heavy equipment industries who were not present. There were also a plethora of new, potential ZEV entrants to these industries.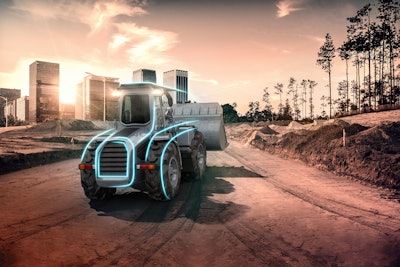 Potential Barriers to a Disruptive Approach to Electrifying Commercial Vehicles
One of the more interesting takeaways from ACT Expo centered around the industry's potential disruptors. Many among the disruptors' teams do not come from the industry. They are less familiar with its culture, traditions and methods of doing business. Some may say change is a good thing. However, considering the value and robustness of the existing industry ecosystem might be worthwhile, as well as examining how it will be harnessed to assure a more consistent, orderly and fluid transition to ZEVs.
Important questions about the factors below should be asked and answered:
Durability
Supply chains
Distribution channels
Dealer services
Warranties
Residual values
The responses to these relevant questions drive most commercial vehicle and heavy-equipment purchases. Getting new technologies operational, appropriately certified, into production at scale and then to deliver a product that functions in the real world as advertised is a tall order for any organization, particularly one new to an industry.
From the Inside Looking out
To successfully address the rapid and widespread transition to ZEVs, the industry may primarily rely on major original equipment manufacturers (OEMs) and their suppliers for the solutions. With the political and ecological wind at their backs, these organizations are aware of the implications of not responding with appropriate speed, skill and effectiveness.
Major players in the on- and off-highway equipment industry have the benefit of an existing and ongoing revenue stream. They can and will fund tomorrow's technological advancements with today's equipment sales.
These OEMs have brand loyalty, research and development assets, manufacturing capabilities, dealer and service networks, and the relationships up and down the value chain. In essence, they understand and are part of the culture. They are better positioned than anyone else in the field to deliver what the market demands.
An Example of Equilibrium in a Changing Industry
One 120-year-old industry supplier had been producing engine-independent, fuel-operated heaters for commercial vehicles and heavy on- and off-highway equipment. In the early 2000s, the supplier knew that it would have to adapt to an alternative fuel future.
In 2015, its first high-voltage heater (HVH) for hybrid and electric vehicles went into series production. It delivered to OEMs through established supply channels, with the supplier's service and support infrastructure in position. This illustrated a self-regulating market tending toward equilibrium.
A Pragmatic Move Toward Electrification
The HVH was not the end of the electrification story. The same industry insights that led to the HVH inspired them to look more deeply at the issue of vehicle electrification. What they discovered was a problem and a potential opportunity.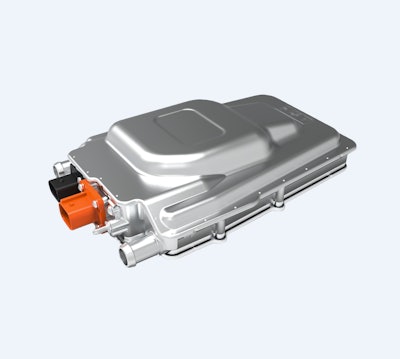 The problem was that most battery electric vehicle (BEV) battery solutions were focused on high-volume targets, like the automotive and light-duty truck industry. With the ability to amortize the purpose-built battery development costs over millions of units, the math made sense. However, for manufacturers of lower-volume equipment, particularly in the construction, mining, agriculture and other off-highway sectors, this method did not work. The supplier realized that it had an opportunity to preemptively solve the electrification problem with a modular battery system.
A Plug-and-Play Modular Solution
The modular battery system was engineered to fit within the frame rails of most medium-duty vehicles and heavy-duty equipment. It would also provide either 400-volt or 800-volt service. The system was designed for scalability and broad configuration flexibility. In addition, modular battery packs can be added to match the unique duty cycles and power requirements of the equipment they serve.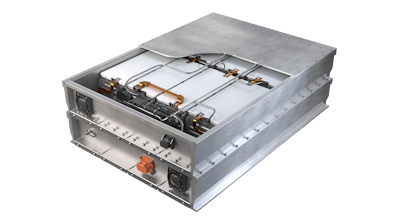 Each battery pack has 35 kWh of energy and up to 10 packs can be used. This allows for a combined 350 kWh using what the system's vehicle interface box (VIB). Up to 18 packs can be used for a combined 630 kWh using the system's vehicle interface gateway (VIG). The VIB and the VIG can both serve as the system's self-contained master battery management system (BMS) and power distribution unit.
The system's electric battery thermal management (eBTM) technology maximizes battery lifespan by enabling each to function at its optimum operating temperature. Using the system, electrified equipment can operate in environments ranging from -22°F (-30°C) to 122°F (50°C).
The plug-and-play system reduces development time and cost for the vehicle manufacturer. The system's compact, energy-dense format makes the battery packs easy for engineers to configure for use on most vehicle platform, and battery modules can be positioned outside the frame rails if necessary. The sturdy system is tested for impact resistance up to 100 kilonewtons and has an IP67/IP6K9K rating for water tightness.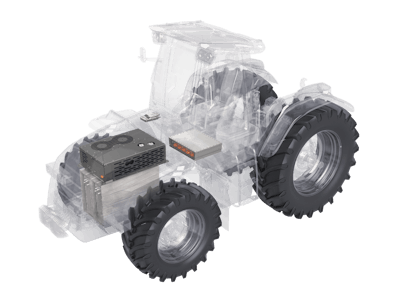 Practical Applications
Following successes in BEV ground support, municipal vehicle and public transportation applications in Europe, the supplier recently partnered with Dutch startup Electric Construction Equipment (ECE), an official importer and distributor of Doosan construction machinery.

Using ECE's detailed specifications, the supplier helped the company electrify and deliver a Doosan DX165W electric excavator and a DX300LC excavator. The excavators are each equipped with four standard battery systems in a separate and swappable box with a capacity of 140 kWh. The battery packs form a self-contained, climate-controlled system providing a total of 800 volts.
The supplier also recently collaborated with Zeus Electric Chassis, Inc., to develop the Zeus Power Platform, a ground-up, severe-duty, eMobility solution. Zeus' BEV cab and chassis platform enables fleets to use their existing OEM body partners, system integrators and up-fitters for Class 4, 5 and 6 applications. These include:
Bucket trucks
Cranes
Dump trucks
Service bodies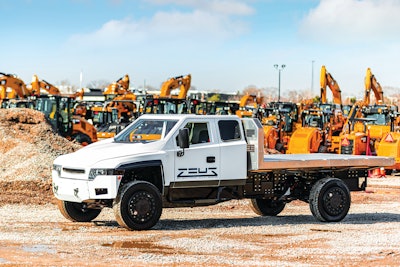 Using the modular batteries, the Zeus system architecture allows hydraulics and onboard tools—such as winches, air compressors, booms and welders—to be powered directly from the main batteries. With the Zeus Power Platform, a fleet gains the benefits of converting to an electric vehicle, while retaining all the truck-mounted equipment functionality that their personnel are familiar with and rely on.
Meeting the Electric Moment
Many bright minds have turned their attention to keeping pace with the rapid growth and adoption of ZEVs. As a result, many valid solutions will emerge. However, no organizations are better prepared to meet the challenge than those already in the industry.
Taylor Hansen is president & CEO, customized solutions – Americas region, for Webasto Group.