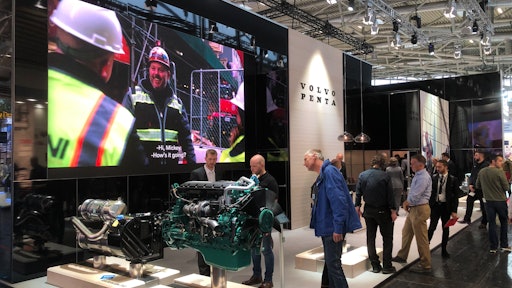 Volvo Penta
The packed press conference featured two major new additions to Volvo Penta's portfolio: the new cube battery and the dual-fuel hydrogen engine. Both were met with excitement because they offer flexibility to OEMs.
The Cube Battery
Volvo Penta launched its new cube battery at bauma Munich, offering industrial customers increased installation flexibility and a 40% increase in energy density. The company's existing flat-pack battery has also been improved to deliver a 40% increase in energy density. The cube battery is based on proven Volvo Group technology. The cube-shaped battery increases the versatility and flexibility of Volvo Penta's electromobility offering, opening electrification opportunities for more customers across a wider range of industrial subsectors, machines and applications.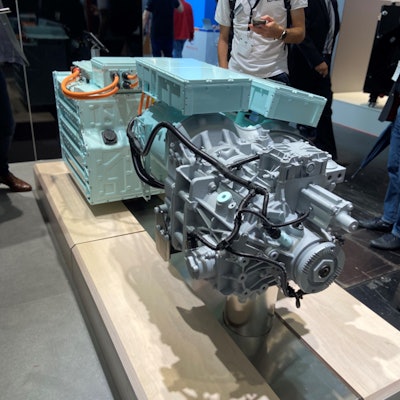 "The new cubic battery shape is a strong addition to Volvo Penta's electric driveline offering," says Eduardo Araujo, electromobility product manager at Volvo Penta. "It has been developed to meet the needs of demanding applications and safety requirements, as well as facilitate alternative packaging designs due to its cubic shape—which allows the batteries to be easily stacked. It delivers increased energy density together with installation flexibility and will help OEMs transition to battery-electric power who maybe aren't able to incorporate the length of the flat-pack design into their equipment."
Both Volvo Penta's cube battery and its existing flat-pack battery—which went into production in 2021—offer customers reliable power and range with a 40% increase in energy density compared to what was previously available, allowing equipment to operate for longer before a recharge is needed.
The cube battery measures 768 mm x 684 mm x 668 mm, boasting a lighter design. It delivers 90 kWh of energy, while the updated flat-pack battery delivers 94 kWh of energy.
The cube battery is a proven Volvo Group technology that is already being used in Volvo Trucks and benefits from hundreds of thousands of hours of testing and real-world use.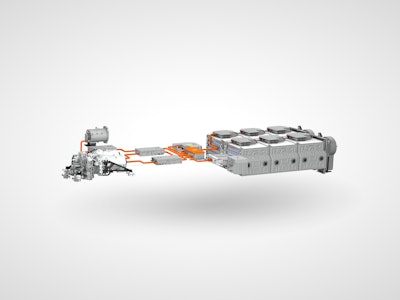 "We take a full system supplier approach which means that we can create a flexible, bespoke electric driveline solution for specific machines and applications," explains Araujo. "We are very experienced in a variety of different segments, so by using that knowledge and combining it with the Volvo Group's proven electromobility experience, we can build the best modular system for our customer's applications. We partner with our customers and collaborate to optimize the design and adapt the complete electric driveline system for a specific vehicle, allowing us to deliver a tailored solution based on their exact usage requirements."
As with the flat-pack battery, Volvo Penta will further develop and adapt the Volvo Group's electric platform and combine it with its knowledge and experience with the different applications, environments and climates in which its customers operate.
Dual-Fuel Hydrogen Engine
In addition, Volvo Penta revealed its dual-fuel hydrogen engine at bauma as part of its transformation journey into new, sustainable technologies. Using hydrogen as a renewable fuel source, the engine—which is an evolution of the company's proven D8 model—will reduce carbon dioxide (CO2) emissions by up to 80% without impacting power or performance.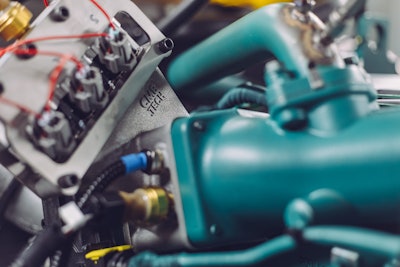 "The new Volvo Penta dual-fuel hydrogen engine offers customers a low-carbon interim solution before suitable zero-emissions alternatives become viable," explains Anders Wernersson, product manager for the dual-fuel hydrogen engine. "It delivers the same power and torque curve as a regular diesel engine but with significantly lower CO2 emissions. The technology is relatively simple and can be installed with minimal disruption, so we see this as being a cost-effective and robust solution for customers in a variety of applications—including construction and mining—who are looking to transition to net-zero emissions."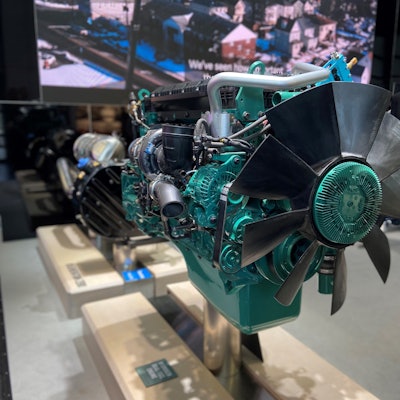 Volvo Penta partnered with CMB.TECH to develop the dual-fuel hydrogen-powered solution. CMB.TECH provides and trials the hydrogen add-on kit and tank system that works together with the Volvo Penta D8 engine and software. Currently, the engines are operating in test cells to optimize the hydrogen-diesel injection strategy for maximum reliability and emissions savings.
"Collaboration and partnerships are essential to facilitate the transformation towards more sustainable power solutions," says Anders. "This close partnership approach is a cornerstone of Volvo Penta's long-term decarbonization and business strategy. We work closely with our customers and partners to create tailored solutions based on their requirements."
At bauma? Learn more at Stand A4.526.