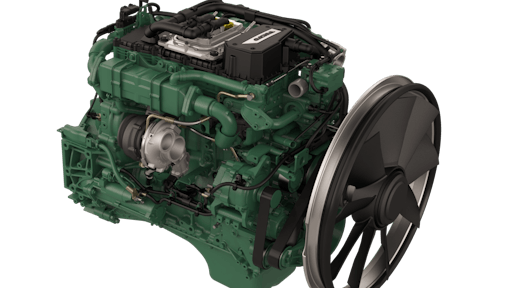 Volvo Penta is introducing new 5- and 8-liter engines that meet EU Stage II (EPA Tier 2), Stage IIIA (Tier 3) and Stage IV (Tier 4 Final) emissions standards. Developed in cooperation with Volvo Trucks and the Volvo Group, these D5 and D8 engines benefit from a redesigned platform and advanced fuel injection and aftertreatment systems. Although the D5 and D8 engines are new to Volvo Penta in Stage II (Tier 2) and IIIA (Tier 3) configuration, the same base units have been subjected to hundreds of thousands of hours of running by Volvo Trucks and Volvo Buses, and have undergone extensive field tests in a variety of applications and machines, including terminal tractors and forklifts.
These robust, reliable D5 and D8 engines share the same base engine design as their D11, D13 and D16 counterparts, as well as a common electronics platform that allows them to communicate using the same protocol, regardless of emissions level. Their inline 4- and 6-cylinder design features a common design footprint, with components like the turbocharger located in the same place on all models. Displacement in the D5 and D8 is increased compared to previous versions, offering improved engine block stiffness, as well as higher torque at low speed. But despite the larger displacement, fuel consumption is also reduced by as much as 2.5%.
OEMs can replace their 6- or 7-liter 6-cylinder engines with the 4-cylinder D5, due to its higher power density. Downsizing to a 4-cylinder engine, with its lower weight and smaller physical size, makes installation easier. And despite the increase in power, the new D5 and D8 also benefit from better fuel economy.
Efficient aftertreatment
With its D5 and D8 engines, Volvo Penta has kept the Stage IIIA (Tier 3) aftertreatment system simple. While most engine manufacturers have incorporated exhaust gas recirculation (EGR) into their Stage IIIA (Tier 3) models, Volvo Penta engineered its Stage IIIA (Tier 3) D5 and D8 engines to burn so cleanly that — like their Stage II (Tier 2) counterparts — they don't need the addition of an EGR. The benefits of the engine's highly efficient fuel injection system include less upkeep and maintenance, as well as better fuel consumption and good low-end response.
Volvo Penta's Stage IV (Tier 4 Final) aftertreatment system is simpler and more straightforward than that of other manufacturers. While most Stage IV (Tier 4 Final) competitor engines require a diesel particulate filter (DPF) or diesel oxidation catalyst (DOC) — which need regular upkeep and replacement — Volvo Penta's Stage IV (Tier 4 Final) engines use only selective catalytic reduction (SCR). This means less maintenance and upkeep for customers, as well as better productivity and uptime and lower maintenance costs.