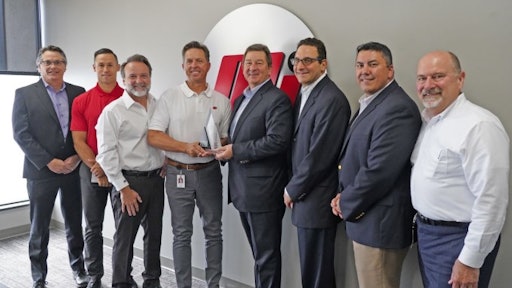 Motion
This update includes new acquisitions, partnerships and the continued move to electrification by the OEM off-highway industry.
Caterpillar Acquires Tangent Energy Solutions
Caterpillar Inc. acquired Tangent Energy Solutions, a U.S.-based energy-as-a-service (EaaS) company. Headquartered in Kennett Square, Pennsylvania, Tangent Energy provides customers with turnkey solutions for reducing energy costs, increasing energy efficiency, reducing emissions, monetizing electric grid support and providing resiliency for customer operations.
Tangent Energy's software solutions monitor patterns from grid and client facilities and analyze opportunities in energy markets. Then the software dispatches resources to maximize return without disrupting normal business operations. Tangent Energy Solutions will continue to offer services under the Tangent Energy brand. It will operate under Caterpillar's Electric Power Division.
Motion's 2021 Supplier of the Year Award Winner: Gates
Motion Industries, Inc., a distributor of maintenance, repair and operation replacement parts, named Gates Corporation, manufacturer of fluid power and power transmission solutions, "2021 Supplier of the Year." The presentation took place May 3, 2022, at Motion's headquarters in Birmingham, Alabama.
Timken to Acquire Spinea
The Timken Company, a manufacturer of engineered bearings and power transmission products, reached an agreement to acquire Spinea, a European technology manufacturer of engineered cycloidal reduction gears and actuators. Spinea's solutions primarily serve high-precision automation and robotics applications in the factory automation sector. Spinea will further scale Timken's position in automation, the company's second-largest market after renewable energy in 2021.
AGCO Acquires JCA Industries
AGCO, a manufacturer and distributor of agricultural machinery and ag technology, announced it acquired JCA Industries, Inc. (JCA), a developer of autonomous software for agricultural machines, implement controls and electronic system components. JCA designs electronic systems and software to automate and control agricultural equipment. JCA's path planning, sensor fusion, and remote-control software products are used by OEMs. In addition, JCA has been serving agriculture equipment manufacturers as a provider for electronic designs and software for autonomous machine development. This acquisition increases AGCO's engineering and software development capabilities.
President Biden, President of North America for Siemens Energy and Other US Manufacturers Attend Ohio Launch of AM Forward
Rich Voorberg, President of North America for Siemens Energy, joined President Biden and a group of U.S. manufacturers at the United Performance Materials facility in Hamilton, Ohio, to Additive Manufacturing Forward (launch AM Forward). AM Forward is an initiative designed to upgrade the capacity of America's small and medium-sized manufacturers using additive manufacturing or 3D printing.
"It was an honor to join President Biden and executives from other companies in the energy and aerospace industries this afternoon to kick off the implementation of AM Forward," said Voorberg. "We believe that for our company and for the industry to remain competitive, we must have a robust supply chain in the U.S. producing and processing critical parts and components for the energy sector. AM Forward will help accelerate the adoption of 3D printing at scale, increasing the agility and resiliency of our supply chain and supporting good-paying jobs across the United States."
Learn more from Siemens Energy.
Electrification: Q-Tronic BV and Flash Battery Partnership
The new partnership between Q-Tronic BV, Holland-based powertrain system integrator, and Italy's Flash Battery, a producer of custom lithium batteries, targets The Netherlands, Belgium and Luxembourg.
As pointed out by Flash Battery CEO Marco Righi and Q-Tronic Managing Director Marcel Doppenberg, these areas "have set on an uncompromising journey towards far-reaching sustainability and are pushing hard for electrification, something that's taking place in every Northern European country."
Learn more from Flash Battery.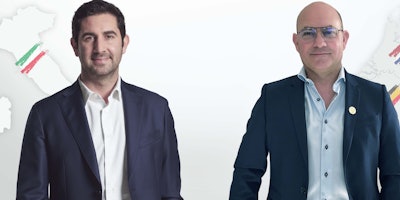 Producers Dairy Deploys First Volvo VNR Electric Trucks in California's Central Valley
Producers Dairy, a dairy processor and direct-to-store supplier, will deliver farm-to-table freshness with zero tailpipe emissions with the addition of two Volvo VNR Electric trucks into their fleet. The Volvo VNR Electric trucks are the first commercial, battery-electric Class 8 trucks to be deployed in California's Central Valley. They were recently highlighted during an event at Producers Dairy's corporate headquarters in Fresno, California.
The Volvo VNR Electric model was designed as a sustainable transportation solution for local and regional distribution, pickup and delivery, and food and beverage distribution. The two Volvo VNR Electric units will be the first Class 8 battery-electric vehicles in the company's fleet of more than 300 trucks.
Half of Heavy-Duty Regional Haul Tractors Are Electrifiable Now, Study Finds
The North American Council for Freight Efficiency (NACFE) released the third of four market segment reports, Electric Trucks Have Arrived: The Use Case for Heavy-Duty Regional Haul Tractors. This report is based on findings from last year's Run on Less – Electric (RoL-E) freight efficiency demonstration. The top-level finding from the report is that 50% of this Class 8 market segment is ready for electrification now.
Four fleet-OEM pairs in RoL-E operated heavy-duty regional haul tractors:
Anheuser-Busch with a BYD 8TT tractor
Biagi Bros. with a Peterbilt Model 579EV
NFI with a Volvo VNR Electric
Penske with a Freightliner eCascadia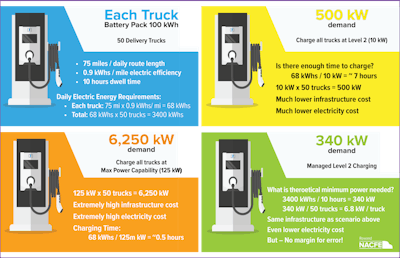 As Run on Less – Electric concluded in September 2021, NACFE predicted that 70% of this market segment was electrifiable. After more detailed analysis, interviews with industry experts and further research for this report, NACFE now considers this market segment to be 50% electrifiable with lower average daily miles, which results in the avoidance of close to 29.4 million metric tonnes of carbon dioxide equivalent (CO2e) annually. NACFE estimates the entire CO2e could be eliminated by this segment at an average of 250 miles per day to be 97.8 million metric tonnes.
The report includes basic information about heavy-duty regional haul tractors and the size and scope of the market. It looks at duty cycle and charging considerations and presents the benefits and challenges of battery electric vehicles. It also includes information on the manufacturers and fleets that had heavy-duty regional haul tractors in the study and provides details on what metrics were measured.
Companies in this article