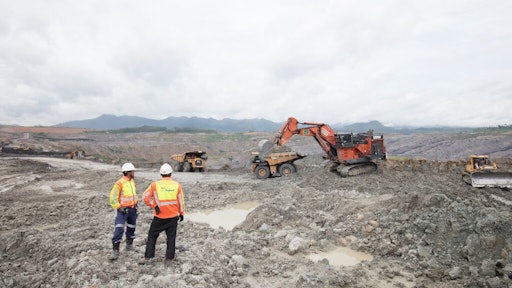 Shell
During an embargoed media presentation yesterday and in a press release today, Shell announced its new pilot offering for electrifying a 220-ton mining haul truck. The electrification offering was developed with Shell and eight other companies:
Skeleton—produces fast energy storage for automotive, transportation, grid, and industrial applications
Microvast—

designs, develops and manufactures of battery solutions for mobile and stationary applications

Stäubli—provides

industrial and mechatronic solution

Carnegie Robotics—manufactures

sensors, autonomy software and platforms for defense, agriculture, mining, marine, warehouse & energy applications

Heliox—

produces smart energy management solutions

Spirae—

develops solutions for integrating renewable and distributed energy resources within microgrids and power systems for economic optimization, resiliency enhancement, and decarbonization

Alliance Automation—

specializes in delivering value added solutions, consultancy and support to customers and partners in many industries

Worley—

delivers consulting, engineering, procurement and construction services
The solution is an end-to-end and interoperable electrification system that reduces emissions without compromising on efficiency or safety. It aims to be cost competitive versus diesel-powered operations. Shell has teams for its different sectors working to decide the ideal power source for each sector. While Shell recognizes that all power alternatives (such as biofuels and hydrogen) have roles in decarbonizing off-highway vehicle, for mining, electric power is the plan.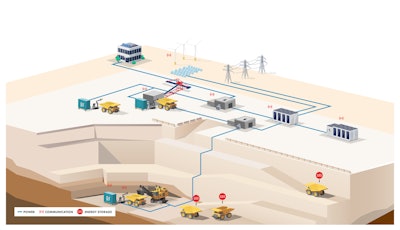 "It is increasingly clear that no one, single organization can solve decarbonization alone," said Grischa Sauerberg, vice president, sectoral decarbonization and innovation at Shell. "The need for a collaborative effort is particularly evident within carbon-intensive industries like mining, where the challenges are great, but the opportunities are even greater. To overcome these challenges and unlock these opportunities, Shell is helping to bring together some of the sector's most innovative companies—with electrification proving an important first step towards the shaping of a clear decarbonization pathway."
The Research
During the presentation, Ian Sanders, global mining and metals sector leader, for Deloitte Touche Tohmatsu Limited, served as moderator and discussed a recent Deloitte study. The company conducted a decarbonization study and talked with 10 mining companies. These companies had goals to reduce emissions by 30% to 50% by 2030. The areas of least resistance for this move are:
Using renewable power

Displacing diesel (makes up 60% to 90% of emissions) with alternative fuels

Looking to electrification
Getting to net zero in the mining industry requires collaboration, according to Sauerberg. With this in mind, Shell Mining formed its nine-company consortium. The result of the collaboration is an exciting electric system that meets the mining industry's requirements:
Fast charging
Different power/energy storage
Able to withstand the mine's harsh environment
A need for new material combinations and combinations of novel technologies
The System
The electric system from the consortium solved the challenges of electrification, which include:
Safety

—

Lithium-ion (li-ion) batteries and thermal runaway pose safety issues
Slow charging

—

Leads to increased downtime
Sustainability issues

—

Materials for the batteries including lithium and cobalt
Short battery life
The new system includes:
Power provisioning and microgrids

—A

im to provide a consistent and reliable supply of renewable power in a safe and stable manner
Ultrafast charging

—

Taking approximately 90 seconds via flexible, hardwearing and resilient, on-site, ultrafast charge-points, which provide assets with continuous operations in the most challenging of environments
In-vehicle energy storage

—T

hrough a combination of advanced battery and capacitor technologies that aim to deliver long lifetimes, ultrafast charging and high performance
The Disruptive Battery
With most industries, a major challenge with electric vehicles is the time required to charge the batteries. With large equipment, having the footprint for vehicles to sit and charge is another challenge. With what Sebastian Pohlmann, vice president, automotive and business development, Skeleton Technologies, calls super battery energy storage, these challenges are eliminated.
The difference begins with the materials that make up the battery. While it has some lithium, it doesn't contain cobalt, nickel, graphite or copper. One large component is aluminum. Skeleton changed the materials used to make a breakthrough. The materials for this "super battery" are comment and easy to get. The material change also increases the battery's safety. It is inherently safe even if pierced, crushed or overheated.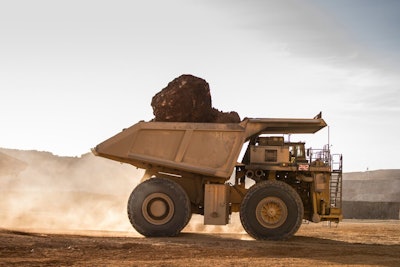 The game-changing, ultrafast charging time of 90 seconds beats the typical vehicle charge time of 6.5 hours. In addition, the charging is accomplished during loading and unloading the haul truck, so the vehicle continues to operate 24 hours per day. During the presentation, Pohlmann also stated that the battery's life is longer than traditional li-ion batteries. The projected life cycle is 50,000. While samples are currently available for testing, battery production will begin in 2024.
Next Steps
The consortium plans to develop and test prototypes, including the electrified haul truck. The immediate next step is to deliver the integrated solution and get a prototype on the ground to test at the research center in Hamburg, Germany. In 2024, they plan to conduct field tests and then be able to scale up in 2025. To learn more, check out the Shell press release