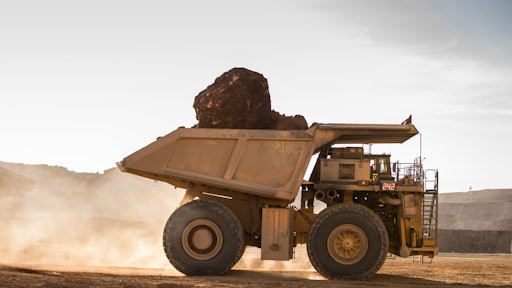 Shell
The World Economic Forum suggests that the production of minerals like graphite, cobalt and lithium could increase by nearly 500% by 2050 to meet the growing demand for clean energy technologies.1 The role of the mining industry—and by association, its equipment—in the energy transition is only likely to grow during the coming decades.
Though this output will help other industries achieve a lower-carbon future, it means mining itself faces somewhat of a paradox. Accounting for between 4% to 7% of global greenhouse gas (GHG) across Scope 1 and 2 emissions alone, the industry is facing increased scrutiny over decarbonizing itself.2 And given that 40% to 50% of mining's carbon dioxide (CO2) emissions come from the diesel used in mobile equipment, these assets should arguably be a top priority for the sector.3
Mining's reliance on diesel is well documented, with the sector using almost $7 billion worth of diesel-powered equipment globally.4 Because much of this ends up powering onsite vehicles, estimates suggest that the decarbonization of haulage trucks alone could reduce a mine's emissions by up to 25%.5
With industry output likely to be even more energy intensive in the coming years, electrification is set to become more of a necessity for businesses. Though, as a hard-to-abate, industrial sector, mining is likely to face several complexities in its electrification transition. As an industry that affects all sectors, it is important that original equipment manufacturers (OEMs) and mining operators are aware of the considerations involved in making electrification a success­—environmentally, operationally and financially.
1. Cost: Look Beyond Upfront Investment for Electrification's True Value
Like any operational transformation, one of the most important considerations when it comes to electrification is cost. Although electric equipment can be cheaper to operate and maintain when compared to its diesel counterparts, the initial, upfront investment in the technology and equipment can be significant.
To prevent the dissuading of companies from exploring electrification, a total cost of ownership (TCO) approach can be useful. TCO is the total amount spent on industrial equipment, including cost acquisition and operation over its entire life, as well as the costs of lost production during periods of unplanned downtime.
The numbers back this up, too. Despite higher upfront vehicle and infrastructure costs, McKinsey estimates that by 2030, TCO for a battery electric vehicle (BEV) or fuel cell electric vehicle haulage truck will be approximately 20% and 10% lower, respectively, than existing diesel trucks.3
This is largely due to 20% to 30% lower maintenance costs and 40% to 60% lower fuel costs.3 Figures which underpin the potential that electrification holds for improved operational efficiency. Meanwhile, the projection that battery pack costs are set to decline 50% by 2030, points to a much more accessible and affordable entry point down the road.5
Other positive consequences center on environmental factors. For one, the cost of capital can be 20% to 25% higher for those miners with the lowest environmental, social and corporate governance scores, meaning an investment today is likely to pay dividends for years to come.3
Tied in with this is the importance of ensuring renewable energy sources for any electrified equipment being used. While 30% to 35% of mining's current CO2 emissions come from non-renewable electricity, switching to a green source of electricity could address between 30% to 50% of the industry's current emissions output.6
2. Conditions: Making Electric Work Across the Value Chain
To ensure a reliable and renewable electricity supply, and therefore allow electric equipment to thrive, a mine site must also consider the conditions in play. This includes both the logistical conditions above-ground that will help provide the necessary power for BEVs to run and the physical conditions below, which any electric equipment will have to operate in.
Starting with the former, power supply presents challenges. One of the first the decision over which comes first: guarantees of an adequate electricity supply or investment in the equipment itself. The fact that mining companies do not always have visibility into power grids makes this an even trickier puzzle to solve. To make things harder still, 42 of the top 50 mining-dependent countries are currently under-developing their renewable capacity, making a consistent, efficient energy supply difficult to come by.7
To remove these logistical barriers, mine operators have a couple of different options. They can either identify several partners that each bring their own expertise to the table, from energy supply to infrastructure to equipment. Or they can identify a partner that provides an integrated offering by combining mining experience, technology and equipment with energy-related expertise.
A partner that is involved at almost every stage of the power supply system while also providing a range of digital solutions and services is ideal. The digital solutions should target important areas like:
Fuel efficiency: Through data transparency and advanced analytics that can improve fuel efficiency while reducing costs.
Tailings storage facility management: Providing a one-stop shop that can help manage performance and risk by improving communication across the entire tailings process.
Emissions management: Helping to manage a mine site's emissions through live, dynamic reporting that supports proactive, strategic and data-driven decision making.
Together, digitally enabled tools can help connect operational siloes across the value chain, helping to forge a more integrated and effective ecosystem. The centralized insights that some platforms offer can help with demand and supply-side management too, by providing the visibility needed to balance the equation.
Because of the specific, physical conditions presented by a mine site, there is also an increasingly important role for equipment manufacturers when it comes to electric solutions. After all, mine sites have traditionally been designed with diesel-driven assets—not intricate, electric-powered equipment in mind. Dust, dirt, heat and humidity are all challenges that new, electric equipment must be able to withstand daily.
Prioritizing BEV haulage over stationary or even trolley electrification systems could be beneficial, since interoperable, in-cycle, charging infrastructure can be implemented onsite without the significant investment required by off-truck trolley assist infrastructure. Over time, this more advanced, cleaner, electrified equipment will help reduce the heat, dust and noise usually associated with diesel-powered vehicles—creating safer operating conditions that are more conducive to a zero-emission mine.
3. Collaboration: How to Connect the Entire Value Chain
Ultimately, there will be a period of adaptation when it comes to electrifying mobile assets and, in turn, mine sites themselves. Over time, costs will likely lower, and conditions will improve. The speed at which these two things happen, however, will largely depend on how effective the surrounding collaboration is. In fact, collaboration is one of the three most important factors in achieving decarbonization, according to mining professionals.7
Since electrification is a relatively new entrant to the mining space, companies must be particularly strategic when deciding who partner with. Fortunately, there are several ways mine operators can collaborate, plus a growing number of companies they can choose to collaborate with – between customers, competitors and cross-sector players like technology companies. OEMs are obviously a large part of this equation too, with their specialist equipment knowledge an invaluable resource to mining operators.
For electrification needs specifically, it may make most sense to explore multilateral power agreements that can help support shared power interests, while de-risking the investment required
Meanwhile, industry-wide alliances can help companies push through technology advancements more quickly.
Expertise Is a Valuable Commodity
Mining is the start of key supply chains globally. If the sector can get a decarbonization pathway like electrification right, then its impact will reverberate throughout the industrial world. But doing so will require smart thinking around these key considerations of costs, condition, and collaboration, on the part of OEMs and operators.
And with nine out of 10 mining leaders saying that a lack of skills and in-house expertise are barriers to their decarbonization efforts, there has arguably never been a more important time for the industry to lead the charge by investing in collaborative partnerships and projects.8
References
Sean Fleming. "This is why the energy transition will be reliant on the mining industry." World Economic Forum. May 19, 2021.
Kimberly Henderson and Jukka Maksimainen. "Here's how the mining industry can respond to climate change." McKinsey & Company. August 27, 2020.
Henry Legge, Clemens Müller-Falcke, Tomas Nauclér, and Erik Östgren. "Creating the zero-carbon mine." McKinsey & Company. June 29, 2021.
Diesel Technology Forum. "Mining." DieselForum.org.
Lindsay Delevingne, Will Glazener, Liesbet Grégoir, and Kimberly Henderson. "Climate risk and decarbonization: What every mining CEO needs to know." McKinsey & Company. January 28, 2020.
Deloitte analysis based on: ICMM, "

Role of Mining in National Economies: Mining Contribution Index (5th edition)

." 2022; IRENA, "

Renewable Capacity Statistics

." 2022;

World Bank

national accounts data and OECD National Accounts data files, 2022.
Shell and Deloitte. "Emerging Sectors: Mining Decarbonization Study." 2022.
S&P Global. "Path to net zero: More mining companies setting targets to reduce emissions." SPGlobal.com. 2020.
Mark Hannan is vice president, mining decarbonization, at Shell.