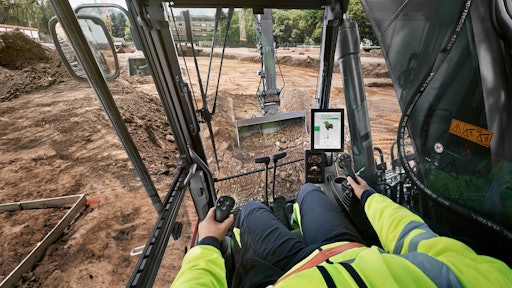 Volvo Construction Equipment
The construction and lawn and landscape industries have been experiencing disruptions for a while. The need for energy efficiency, noise reduction and operator safety are drivers of ongoing innovation. The need to drastically reduce emissions from industry equipment in these sectors is paramount.
Green Industry Insight
The OEM Off-Highway team recently spoke with Sara Webb, editor, Green Industry Pros, about trends in the lawn and landscape industry, also commonly referred to as the "green industry."
"Most green industry professionals I speak to are looking for ways to up their efficiency—labor efficiency, equipment efficiency, energy efficiency, water efficiency," Webb said. "You name it; they're striving for it. To that aim, some landscapers are taking a fresh look at robotic equipment and software to streamline and automate tedious processes they already had in place. It will be interesting to see how manufacturers answer the calls for new efficient products, particularly at this year's Equip Expo in Louisville, Kentucky."
According to Webb, other trends include:
Battery-powered equipment—It is becoming more mainstream with longer runtimes. Prices are coming down a bit, so it's worth the upfront investment with high fuel prices.
Smart irrigation controllers that help save on water—These are particularly popular in the West and in municipalities that put a high price tag on water—while most OEMs' equipment does not directly affect water use, this goal for the professionals using the equipment may influence them in some way.
Electrification
Perhaps the most popular buzzword in the green industries and construction is electrification, and with good reason. Both industries find themselves in the midst of a transformation in power sources. The electrification of passenger and smaller mobile commercial vehicles is occurring rapidly.
"While landscapers and turf managers have had electric options for handheld tools and lower horsepower machines like mowers for years, fully electric, battery-powered construction equipment like compact wheel loaders and excavators are new," said Lars Arnold, electromobility product manager, Volvo Construction Equipment.
According to Nick Moore, director of sales—electrification, at Briggs & Stratton, green industry professionals are realizing how important battery-powered equipment is, especially considering the increasing emission regulations experienced in the U.S. and globally.
"When it comes to the benefits of battery power, the output of zero emissions is a huge regulatory driver for OEMs and end users," Moore said. "However, battery-powered equipment can also offer a better user experience because of its quieter operation and minimal required maintenance. Another big driver is mitigating the cost of fuel. For professional cutters who must fuel up an entire trailer full of equipment every day, battery power can really benefit the bottom line of their business given current gas prices."
As end-user demands for quieter, lower emission equipment grows, OEMS must meet these requirements. Arnold discussed one case study in which Volvo helped a customer that needed quieter operation and lower emissions in its equipment.
"One of the first U.S. projects our ECR25 electric compact excavator and L25 electric compact wheel loader were used on was building a trail at a national wildlife refuge," Arnold said. "As you can imagine, the quiet operation was less of a disturbance to the animals living in the area, and the lack of emissions was safer for the natural environment."
Vanguard has also used electrification to help customers. "Earlier this year, Scag Power Equipment (Scag) introduced its EVZ electric zero turn riding mower (see Image 3), which is powered by the Vanguard 5 kWh commercial lithium-ion battery pack," said Moore. "The EVZ is the first fully-electric unit in Scag's lawn mower lineup. We were excited to work alongside Scag to bring a new battery-powered option to the turf market."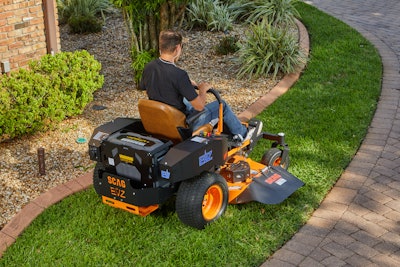 Efficiency
Increased efficiency means several things, including:
Decreased maintenance intervals
Better management of time
Automating redundant, tedious or easy-to-carry-out tasks
According to Moore, "Another big trend we've seen in the industry is that many manufacturers, including Vanguard, are turning their focus to developing and designing engine (or power-source) features that help enhance productivity and reduce maintenance requirements.
"With labor shortages and a pent-up demand of lawn and landscape work, the industry is constantly being asked to do more with less. Because of this, professionals are relying on their equipment more than ever to deliver a powerful performance and maximize productivity."
Decreased wait time to get started is also an increase in efficiency when using battery power. "Electric machines provide instant torque, so there is no delay like you might feel on a diesel machine," said Arnold. "In addition, the maintenance is much easier (and less expensive) because you don't have an internal combustion engine to take care of."
To add to the efficiency of using battery power, Vanguard developed a swappable battery. The development team borrowed from smaller batteries that have long been used in power tools and small outdoor power products.
"We examined what was being done in the hand tool market and brought it to larger equipment," Moore said. "The battery features an exchangeable design, allowing customers to easily remove and replace the battery as needed with minimal downtime. The Swappable Battery also enables [scalable] power, so you can use more than [multiple battery packs] together to meet larger power needs."
Digitalization
Often, digital enhancements, including Internet of Things (IoT) technologies, go hand in hand with efficiency. Two such technologies are Vanguard's Electronic Fuel Injection and Electronic Throttle Control.
"[These] also greatly improve fuel efficiency for applications within the landscape equipment market," Moore said. "Together, these solutions are helping our customers stay on the job longer while enhancing the overall performance and productivity of their equipment."
While efficiency is involved, other benefits include transparency, improved planning and minimized risk, according to Wilfried Aulbur, senior partner, Roland Berger.
"Digitization is expected to grow significantly, driven by evolving technologies and industry/ segment-specific advancements—for example, building information modeling (BIM)," Aulbur said. "On the construction site, IoT provides transparency and helps optimize planning, minimize risk and improve efficiency. Being clear on the purpose of IoT applications (for example, developing new business models versus operational efficiency) is critical for the successful use of IoT."
Supporting OEMs on the Journey
Component suppliers are eager to help OEMs meet the requirements and goals of their end users.
"We are closely working with OEMs, understanding their pain points and offering solutions to help them be successful in a world with changing demands," Moore said. "Wherever the industry takes us, we'll be there to support OEMs and their customers in navigating these changes."
---
4 Disruptive Construction Trends
Contributed by Wilfried Aulbur, senior partner, and Giovanni Schelfi, principal, Roland Berger
The construction industry will face disruption in the upcoming decades that will be driven by 4 highly disruptive trends:
Automation, robotics and artificial intelligence—The use of digital tools to complement traditional processes will increase.
Changing to active/intelligent buildings—Intelligent technologies (sensors, for example) will be required in new constructions.
A shift to off-site manufacturing—Project speed will increase with prefabricated or modular
BIM and digital twin—These initiatives will increase cooperation and transparency