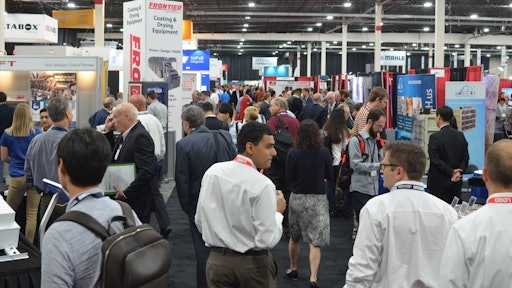 The Battery Show recently concluded its eighth consecutive year as North America's leading exhibition for advanced battery technology. 
Since inception, the free-to-attend event has grown and evolved, now welcoming thousands of visitors from across supply chains and encompassing other major exhibitions: Electric & Hybrid Vehicle Technology Expo and Critical Power Expo. The co-located events feature the Open Tech Forum, Buyers Forum @ Critical Power Expo, and the Product Showcase, and offer a rare opportunity for industry players to gather in one location to discover the latest sector innovations and technologies, network with professional peers, and be part of the most compelling industry discussions.
The shows welcomed more than 8,000 visitors over three days – a 20% increase on the 2016 figures. The first two days broke records, with more than 5,000 visitors stepping through the doors on day one. "I've been attending for over 5 years now, and this is the most-attended show I've ever been to," said Andrew Mays, Product Manager at Ulbrich Specialty Strip Mill. Nexceris's Steven Ruth agreed, saying, "I'm so impressed with the event, I'm impressed with how it's grown and how the dimensions of it have expanded."
Day one saw the show floor thrumming with activity as visitors brought their enthusiasm, industry knowledge, and technical questions to the experts. The Product Showcase proved particularly popular, with TE Connectivity demonstrating its high-voltage interconnections and LORD Corporation exhibiting its thermally conductive encapsulants for motors. Meanwhile, the Buyers Forum launched its program with speakers from AECOM, CH2M, and DTE Energy, who tackled topics including how to rightsize your infrastructure and prevent over-investment while being prepared for future power needs, and finance strategies for energy-project management. 
The diversity of subject tracks, visitors, and exhibitors across the shows impressed. "Fantastic show," said Graeme Harfman, Director of Product Management at Delta-Q Technologies. "Lots of depth of suppliers here, right down to component manufacturers, thermal dissipation, all the way up to charging systems and electric drivetrains – it's really good!"
Momentum continued into day two, when a staggering 7,500 visitors crossed the threshold – the largest attendance in the event's 8 years. Proving a major draw for visitors were the Product Showcases – a series of immersive live demos featuring the latest battery and power innovations and technologies. Big industry names including Voltabox, Maxwell, and Nuvation Energy unveiled and demonstrated new products. B&W MEGTEC presented its unique simultaneous two-side coating system for battery electrodes, while UNIPOWER LLC unveiled its Aspiro 1U, a compact, integrated, ETSI rack-mounted DC power system. During Paraclete Energy's live demo, the company revealed its unique nanoparticle silicon metal technology for making the highest-capacity, longest-range, lowest-cost batteries.
Visitors headed to the Open Tech Forum where industry experts and thought leaders took to the stage and shared their perspectives on a broad range of the latest and most promising battery technologies that are either in the marketplace or in the latter stages of development. The presentations offered a unique insight into a diverse portfolio of technologies and their capabilities. Discussion points included how copper is involved in making more efficient and eco-friendly electric cars, from the Copper Development Association; how to satisfy sports car customers in the era of HEV and BEV from WITTENSTEIN, Inc.; and easing the burden of ISO 26262 compliance with requirements management from Jama Software.
Over at the Buyers Forum @ Critical Power Expo, some of the industry's most recognizable faces tackled topics broad and niche, from what would happen to an airport during a blackout to how systems are coping with the ever-evolving Internet of Things, with speakers from organizations including T-Mobile, GE, Eaton and ABB.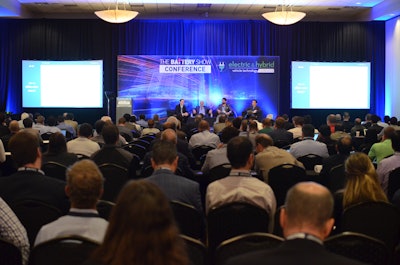 Running alongside the exhibitions, The Battery Show and Electric & Hybrid Vehicle Technology Conferences launched with fascinating keynote speeches from companies including Uber, Hyundai, Johnson Controls, and Toyota. Topics discussed included the Uber Elevate project, which is aimed at driving production of flying cars, and 48V, with talks from Valeo, A123 Systems, Bosch, and GM considering its design potential and integration technicalities.
Record numbers were reported over the course of the conference, as more than 150 high-caliber speakers delved deep into the hottest industry topics. Delegates also had access to interactive Pre-Conference workshops – new for 2017 – which examined the most advanced and complex areas of battery and H/EV testing, as well as charging infrastructure. 
Feedback from the event has been overwhelmingly positive. Joseph Xavier, Nuvation Energy's Director of Marketing, said, "The Battery Show never ceases to amaze us in that it seems to evolve with the market every year!" And that evolution is set to continue in next year's show. More than 80% of floor space has already been booked, so make sure you save the date; join us on September 11-13, 2018 for the highest-energy event yet.