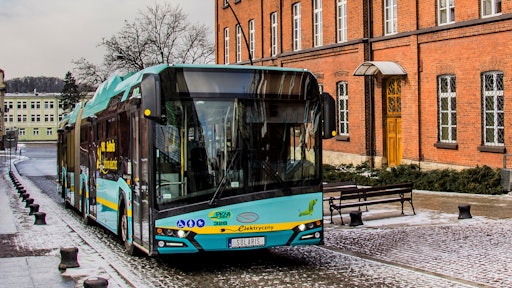 Solaris Bus & Coach
With the continued development and market introduction of electric vehicles, the question of what to do with the batteries which power those vehicles remains. Several companies and organizations have been researching ways to reuse or recycle these batteries so as to minimize their negative impact on the environment.
Most recently, the U.S. Dept. of Energy announced winners of its Battery Recycling Prize which aims to find innovative solutions to collecting, storing, and transporting discarded lithium-ion batteries for eventual recycling. On January 13, 2021, it also announced the rules for the third and final phase of its Lithium-Ion Battery Recycling Prize. In this phase, the goal is to develop and demonstrate process with the potential to profitably capture 90% of all discarded or spent lithium-based batteries when scaled.
During Phase III of the Prize, the seven Phase II winning teams will be eligible to implement a pilot validation of the end-to-end solutions developed in Phase I and expanded upon in Phase II.
"This prize encourages American entrepreneurs to find innovative solutions to collecting, storing, and transporting discarded lithium-ion batteries for eventual recycling, improving our ability to give batteries a second life as well as recover resources to reuse time and time again," said Daniel R Simmons, DOE Assistant Secretary of Energy Efficiency and Renewable Energy. "We are excited to see these teams implement a pilot validation of their concepts, bringing these exciting technologies one step closer to deployment."
In this final phase, each team is expected to demonstrate their ability to recover LIBs and verify the feasibility of achieving the end-to-end solution's projected impact when fully scaled. These teams will continue to partner with industry experts and DOE's National Laboratories through the American-Made Challenge Network voucher service program. Voucher funds are used to support the demonstration of the pilot validation during the Phase III contest. Up to four final winners of Phase III will receive up to $2,000,000, distributed equally among the winners.
New Flyer completes battery recycling pilot
New Flyer Industries Canada ULC and New Flyer of America Inc., subsidiaries of global bus manufacturer NFI Group Inc., announced on January 8 completion of a battery recycling pilot with one of North America's largest lithium-ion battery recyclers, Li-Cycle Corporation.
Li-Cycle offers a proprietary, closed loop lithium-ion battery resource recovery service producing minimal solid waste, and zero liquid and air emissions that can sustainably produce battery grade lithium, cobalt, and nickel products. The pilot is Li-Cycle's first program in the heavy-duty vehicle space.
New Flyer provided Li-Cycle with 45 end-of-life lithium-ion battery modules (used for research and development) totaling 3,200 lbs. to be processed at Li-Cycle's Spoke facility and turned into black mass, which is then further refined to recover critical materials such as nickel and cobalt.
"As our customers transition to zero-emission mobility, they do so with a focus on cradle to grave sustainability. The demand for battery recycling is growing, so too is the desire to lessen environmental impact on our communities. Our pilot with Li-Cycle is delivering just this and we are optimistic in offering battery recycling in future," said Chris Stoddart, President, New Flyer and MCI. "We're committed to providing sustainable mobility solutions from procurement through vehicle retirement. Working with Li-Cycle delivers a triple sustainability benefit: we recover critical resources and divert them from landfills, provide them for re-use in the battery supply chain, and do so through Li-Cycle's proprietary clean recycling process that minimizes impact to surrounding environments."
Li-Cycle uses patented Spoke & Hub technologies to recover 95% of all lithium-ion battery materials – extracting high-grade materials for battery reproduction, at a cost lower than mined and refined material. Key differentiators of the Spoke & Hub model include an automated process at Spoke facilities where batteries are received in any state of charge and are mechanically shredded with no sorting, dismantling, discharging, or thermal processing needed. Patented Li-Cycle Hub technology then intakes the black mass produced at Spoke plants, processes the materials hydrometallurgically, and outputs high-purity battery chemicals to be redirected to the lithium-ion battery supply chain and broader economy.
Li-Cycle's technology sets it apart from most other recycling facilities which use thermal processes to recover only a portion of the materials present in spent batteries. This approach only recaptures half the contents, as the lithium is lost, going up smokestacks and leading to further emissions. Li-Cycle's wet-chemistry process requires lower energy consumption than traditional high temperature processes and is fully sustainable with no solid or liquid waste and zero impact air emissions.
"As of 2019, approximately 425,000 of the world's buses are electric, and our goal is to support the growth of electrification with solutions to end-of-life challenges associated with lithium-ion batteries," said Kunal Phalpher, Chief Commercial Officer, Li-Cycle. "This pilot program demonstrates how Li-Cycle is supporting the transition to sustainable transport, serving the dual purpose of reducing hazardous waste while recovering critical materials so they can be reintroduced into the supply chain. We are excited to work with New Flyer in closing the loop for electric bus products."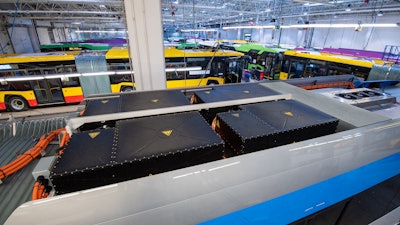 Solaris joins consortium to find second life for EV batteries
Solaris Bus & Coach is part of a consortium — other members include Impact Clean Power Technology S.A. and TAURON Polska Energia — which aims to create a prototype system for storing electric energy based on retired bus batteries. The project will investigate use of lithium-ion cells no longer capable of meeting the power needs of electric vehicles.
While these batteries may not have the capacity to power a vehicle, they typically still have enough energy capacity that can be used for other applications. Solaris says integration of the batteries into energy storage systems — such as for grid power — can provide them with a second life. This helps not only extend their useful life but prevents them from going to a landfill too soon and causing environmental damage.
"Over time and as a result of their operation, batteries run down their capacity. To put it simply, one may assume that a battery reaches its end-of-service in an electric bus once its capacity drops below 80% of its original value. However, it can still serve as an excellent form of electrical energy storage in stationary applications. Hence the idea for the second-life battery project, which we will implement in cooperation with TAURON and Impact", explains Łukasz Chełchowski, Director of the Office of Development at Solaris.
A storage system made of used batteries constitutes an important component of the modern grid, combining the generation of energy from conventional and renewable sources with its storage and supply to the final customer. What is more, modern battery storage solutions ensure grid stability, with the steadily increasing share of renewable energy sources. They also boost the quality of electricity supplied and support the development of e-mobility and micro-grids.
Second Life is a research project, carried out in collaboration with the National Centre for Research and Development in Poland. The work, aimed at developing an energy storage prototype system, is due to be completed in 2022.
Solaris will provide batteries with a nominal capacity of 160 kWh for the construction of the prototype system as part of the project. Previously, the batteries had been used in an electric bus operated by public carrier PKM Jaworzno.
As heavy vehicle and equipment electrification continues to progress, companies and organizations like these will also continue to evaluate what to do with batteries once past their useful life, as well as the battery chemistries being utilized.
Companies in this article