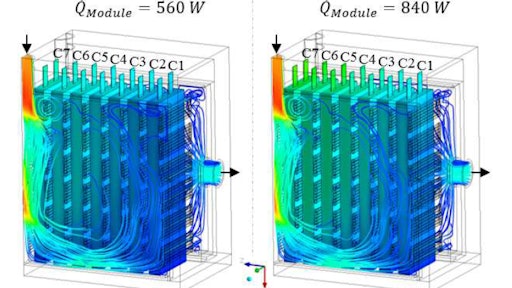 With the charging speed and power density of the latest lithium-ion batteries, active and passive cooling is becoming a key factor in electric vehicle battery life. AKG collaborated with FH Aachen and RWTH Aachen University to find the best combination of cooling technology for a 48V high-power battery module. For an ideal temperature gradient across the battery, use a combination of side-cooling, inter-cell cooling, and thermally conductive fill material. 
The research used computational fluid dynamics (CFD) and finite element analysis (FEA) to test various configurations. The goal was to find a solution to keep the average temperatures of individual cells – not just the average temperature of the battery module – between 15 and 40 C. Analyses included 280 W, 560 W, and 840 W heat generation rates. Along with maintaining an ideal temperature range, maintaining a small temperature gradient across each cell would further improve the outcome.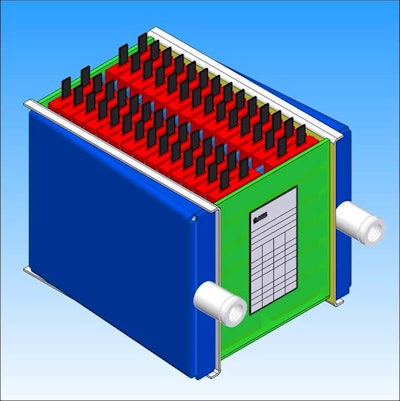 Using active cooling with water-glycol on the sides of the cells, and passive internal cooling plates, both temperature maximum and temperature gradient are managed cost-effectively. 
The addition of a suitable fill material for high-power battery applications significantly improves the heat transfer to the cooling system, allowing the design to exceed its goal. 
The successful design optimization project was presented at the EVS 31 & EVTeC 2018 joint event in Japan on October 2. A full copy of the paper "Optimal Cooling Solution for High-Power Automotive Battery Module" is available through the Society of Automotive Engineers of Japan, Inc.