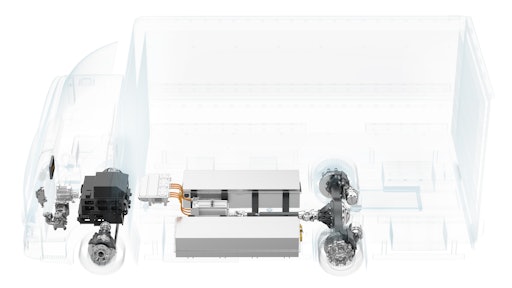 Dana has announced major vehicle electrification projects with medium- and heavy-duty OEMs. The company made the announcements during the North American Commercial Vehicle Show 2019.
For one of the projects, Dana will supply complete e-Powertrain systems for a medium-duty vehicle program beginning next year. The new trucks will feature Dana's Spicer Electrified powertrain technologies and are expected to be on the road in early 2021.
The electric powertrain system will be fully designed, integrated, and upfitted to the customer's chassis by Dana. It will be configured a direct drive system consisting of a motor which powers Dana axles and driveshafts.
Dana's complete e-Powertrain is composed of:
a Spicer Electrified e-Propulsion system, comprising a Dana TM4 motor and inverter;
a Spicer Electrified e-Power system, which generates, stores, and manages the energy for the vehicle; consists of battery packs, battery management system, on-board charger, power electronics cradle, and electrified auxiliary systems; and
Dana-developed software and controls that will enable the diagnostics and telemetry of the system, as well as thermal management.
Dana has also secured a new e-Powertrain development project with a leading truck manufacturer. It will incorporate a Dana TM4 SUMO HP motor. The motor is designed for hybrid and battery-electric configurations, and is best suited for high-power applications. It can function with multi-speed gearboxes, and integrated e-axles.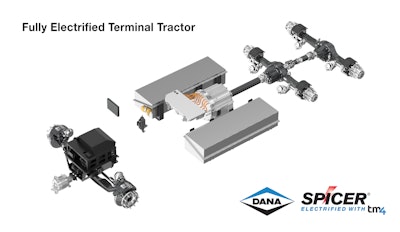 New electric terminal tractor debut
During the NACV Show, Dana also unveiled a fully electric terminal tractor powered by the new Spicer Electrified e-Powertrain system. It is integrated in a terminal tractor built by Lonestar SV. Lonestar SV specializes in the final stage assembly and refurbishment of commercial vehicles, and other vehicle application solutions.
Dana's e-Powertrain system can be adapted by Lonestar SV into a vehicle with a non-powered rolling chassis, or existing vehicles with diesel engines can be converted into all-electric trucks. The powertrain provided by Dana includes the motor, inverter, power electronics cradle, and battery systems.
The terminal tractor has a gross combination weight rating (GCWR) of 80,000 or 101,000 lbs., and is offered in 4x2, 6x2, and 6x4 configurations. Customization of the electrified system is possible to meet individual range requirements. The Lonestar SV T22 and S22 models allow for 22 hours of continuous operation with only 2 hours required for a full battery recharge. The T12 and S12 models allow for 12 hours of continuous operation and are equipped with DC fast-charging capability.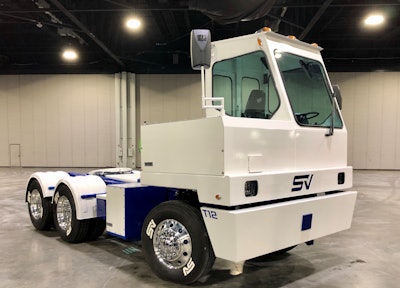 Dana said it worked closely with Lonestar SV to integrate the e-Powertrain system.
Becoming a one-stop shop for electrified components
With the various acquisitions Dana has made over the last few years—including those of TM4 and Oerlikon—the company has been able to expand its electrification technology offerings. The company's most recent acquisition in August of Nordresa enables it to provide a full suite of solutions, said Mark Wallace, President of Commercial Vehicle Group, Dana Inc., during the company's press conference at the NACV Show.
He said Dana has invested over $300 million in vehicle electrification. "As the Dana leadership team recognized the future around electrified transportation, we set out to find and develop the competencies that would put us in a leading position to support our customers' future vehicle architectures," said Wallace. "We believe Nordresa rounds out a portfolio that makes Dana a complete one stop e-powertrain provider, by having fully vertically integrated e-capabilities."
Dana will highlight its electrification projects during the NACV Show with a ticker at its booth showing the number of vehicles powered by its e-Propulsion technologies—which have surpassed 16,000 commercial vehicles globally. To date Dana powered electric vehicles have driven over 600 million miles, resulting in the reduction of nearly 160,000 metric tons of carbon dioxide. This has enabled customers to reduce the use of diesel fuel by nearly 3.5 billion gallons.
Companies in this article