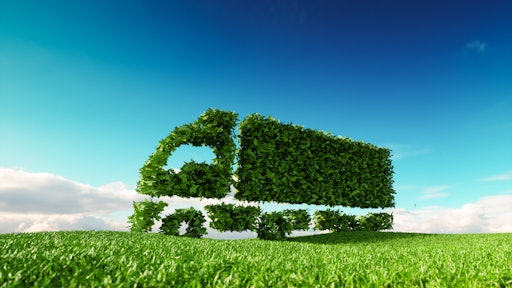 ©Malp – stock.adobe.com
Meritor Inc., Danfoss Editron and Electra Commercial Vehicles—a UK integrator of battery electric commercial vehicles—have come together to form the Meritor-led Electric Powertrain Integration for Heavy Commercial Vehicles (EPIC) consortium. The companies will combine their expertise in developing electric powered systems to develop advanced electric powertrains.
The group has secured £15.9 million in funding from Advanced Propulsion Centre UK (APC) and Innovate UK to develop a next-generation, zero-emissions electric powertrain that will provide commercial vehicle OEMs with an advanced solution designed to meet global CO2 reduction targets.
"With this award, our consortium will develop a game-changing electric powertrain for heavy-duty 4x2 and 6x2 vehicles up to 44 tonnes without wheel-end reduction and up to 65 tonne vehicles with wheel-end reduction," said Chris Villavarayan, CEO and President, for Meritor, in the company's press release announcing the APC funding. "This technology will provide commercial vehicle OEMs with the optimal solution to meet EU 2025 CO2 reduction targets and enable Meritor to significantly expand its Blue Horizon technology portfolio brand into Europe."
According to Meritor's press release, each EPIC member will play a critical role in the development and validation of four different chassis:
Meritor

: Overall integration of motor, inverter, transmission and carrier into the axle housing to enable packaging in existing vehicles, also transmission and geared carrier development and integration, transmission controller and software development, lightweight brake development, system validation and supply chain selection and development

Danfoss

Editron: Electric motor and inverter, development and integration
Electra Commercial Vehicles: Mechanical and controls integration of battery-electric chassis
Technology comes together
Danfoss Editron states in its press release announcing the partnership that the three members will design and develop an electric powertrain system consisting of a high-power electric motor and high-efficiency silicon carbide inverter delivered by Danfoss Editron and a three-speed transmission, geared differential and lightweight brakes provided by Meritor.
Once fully-developed, it is planned that the electric powertrain system will be industrialized and marketed globally to commercial vehicle OEMs under Meritor's Blue Horizon brand. The Meritor 17Xe ePowertrain system will be equipped with a single axle, a single 800V electric motor, and deliver up to 430 kW of continuous power.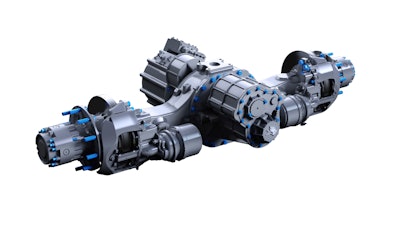 READ MORE: Meritor 17Xe Electric Axle
Using just one motor helps to reduce parts, weight and cost of the system while also improving reliability. The companies note this is an improvement over current systems which typically use two motors to meet the power requirements of heavy-duty commercial vehicles.
The Danfoss Editron motor is able to meet the high power density needs of these vehicles because its design is based on a patented architecture and method of thermal management. It also exceeds the APC's 2035 Roadmap targets for power density.
Electra Commercial Vehicles will be responsible for the mechanical and controls integration of the battery-electric chassis and build up four different chassis for validation.
Meritor will integrate all of the components into a single, uniquely architected system that can be installed in an existing chassis with little to no modification to the suspension and frame required. This will greatly benefit commercial vehicle OEMs as they will not have to make major changes to their vehicle designs to incorporate the powertrain system, saving them design time and costs.
Meritor says the system will be available for use in heavy trucks and buses in 6X2 or 4X2 configurations. It will be suitable for full-electric and hydrogen fuel cell vehicles as well as series hybrid and plug-in hybrid architectures. The company also says the integrated system will provide efficient packaging for short wheelbase trucks, optimized gearing for energy regeneration, and a wide range of ratios.
To help deliver its part of the EPIC project, Danfoss Editron says it will create a Low-Carbon Innovation Center next to its existing facility in Edinburgh, providing an anchor for its electrification activities in the UK. Global experts from across Danfoss Editron's business will be used to bring knowledge into the UK, with key team members regularly rotating across all EPIC partner sites to increase exposure, witness integration and expand expertise.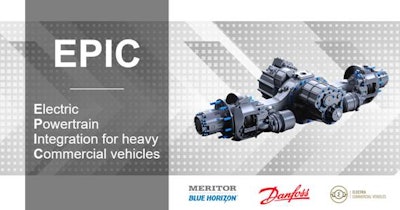 Meritor says it will also create a European Center of Excellence for eMobility in Cwmbran, Wales as part of the program.
Commenting on the APC funding and EPIC project, Danfoss Editron's Global Sales Director for On-Highway Adrian Schaffer said, "The EPIC project will deliver an innovative and revolutionary approach to electrification by commercializing a new, fully integrated solution for the on-highway market. The electric powertrain system will be a fantastic new option for customers interested in integrated solutions, plus complement our existing robust offering and leadership in electric systems. There is currently a tremendous change happening across heavy-duty markets, with more companies demanding electrification solutions than ever before. This technology will play a vital role in meeting this growing demand."
Jeff Herrin, Vice President of Research and Development at Danfoss Power Solutions, the business unit which Danfoss Editron falls under, added, "We're thrilled to be part of this powerhouse team that is joining forces to develop a next-generation, zero-emission electric powertrain. EPIC will provide a game-changing solution to commercial vehicle OEMs, enabling them to meet global CO2 reduction targets by increasing efficiency, reducing weight, lowering cost and unlocking longer range than existing solutions on today's market. The EPIC project will unlock the electrification potential of 310,000 heavy commercial vehicles in the UK, which are worth nearly £2.5 billion to the country's supply chain annually and projected to save over 36 million tons of CO2 between 2025-2034."
*Information based on press releases from Meritor and Danfoss Editron.
Companies in this article