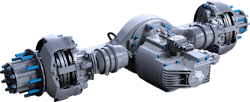 Meritor Inc.
Meritor Inc. has announced it will begin production of its Blue Horizon 14Xe electric powertrain (ePowertrain) starting in mid-2021. In addition, the company has announced several partnerships to supply the ePowertrain to OEMs in the commercial vehicle industry.
The Blue Horizon 14Xe integrated ePowertrain is a fully integrated, all-electric system which can be used to power medium- and heavy-duty commercial vehicles. Meritor states in its press release announcing production of the ePowertrain it is designed to provide efficiency, performance, weight savings and space utilization. In addition, the company says there are several advantages it offers over remote mount systems which include:
Tighter turning radius due to a shorter wheelbase
Increased room between frame rails for additional battery capacity, which extends the range of the vehicle
Lighter weight (up to 800 lbs.)
The powertrain control module used with the 14Xe complies with ISO-26262 ASIL-C rating, the international standard for functional safety in the automotive industry that applies to electrical and electronic systems consisting of hardware and software components in vehicles. This ensures the performance and safety of the system.
"The 14Xe ePowertrain has been tested in various conditions around the world with several OEMs, vehicle types and applications, so we can offer the industry a proven electric powertrain technology," said T.J. Reed, Vice President of Global Electrification for Meritor, in the company's press release. "In January 2020, we announced our agreement with PACCAR to be its non-exclusive supplier of electric powertrains. One year later, we are nearing production and preparing to put vehicles on the road."
The 14Xe electric powertrain will be produced at Meritor's facilities in Asheville and Forest City, NC.
Industry partnerships bring technology to market
Volta Trucks and Meritor Inc. have jointly announced the selection of Meritor as the strategic drivetrain component supplier for the Volta Zero electric delivery truck. According to Volta Trucks, this partnership will support the delivery of Volta Zero vehicles for customer trials during 2021, and the start of series production around 12 months afterwards.
Meritor will supply its Blue Horizon 14Xe integrated ePowertrain which will be used to drive the rear wheels of the truck. The integrated powertrain is a single unit containing an electric motor, transmission and rear axle. This creates a drive system which enable all-electric propulsion for medium- and heavy-duty commercial vehicles.
Because of the integration of the components, it is lighter in weight and more efficient, helping extend the range of the vehicle. This also ensures the components work together in an optimized manner to ensure performance in the Volta Zero electric truck. Packaging benefits are also achieved by freeing up space between the chassis rails to provide the safest possible location for the vehicle's battery.
READ MORE: Purpose-Built Electric Drivetrain Components Ensure Performance and Efficiency
"Meritor is excited to work with Volta Trucks to bring electric commercial vehicles to the European market. Our expertise and investment in advanced technologies has made it possible to offer customers, like Volta Trucks, solutions to meet their electrification needs," said Ken Hogan, Meritor's Senior Vice President and President of Truck, Europe and Asia Pacific.
Chief Executive Officer of Volta Trucks, Rob Fowler, added, "Confirmation of the strategic supplier for the electric drivetrain is another major milestone on our journey towards the production of the Volta Zero. As a pioneer and innovator in this unserved area of the electric vehicle marketplace, it is imperative for us to select experienced, world-class suppliers who share our ambition and values. The first use of Meritor's revolutionary eAxle in a European commercial vehicle is an excellent example of our cutting-edge product development and supplier selection strategy in action."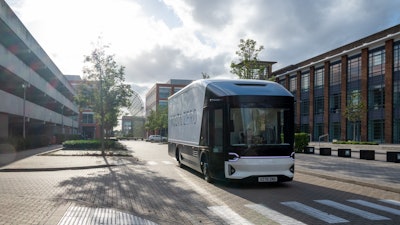 Meritor has announced it will also supply the 14Xe integrated ePowertrain to Lion Electric, another OEM of zero-emissions medium- and heavy-duty vehicles based in Canada. Lion Electric Class 8 tractors will be equipped with the ePowertrain; production is scheduled to begin in mid-2021.
"Lion Electric is driving the future of sustainable mobility in the commercial vehicle space, and Meritor is proud to provide Lion Electric with electric powertrain technologies that meet the needs of its next-generation tractors," said Reed. "This award is a testament to the commitment we've made to investing in advanced technologies, so we can continue being a trusted partner and supplier of electrification technologies for the industry."
Meritor has also signed a 5-year supply agreement with specialty truck manufacturer Autocar LLC Trucks. It will supply the 14Xe integrated ePowertrain for use on a refuse vehicles; production is scheduled to begin in 2022.
"We're proud to have Autocar as a customer for several of our product offerings. As Meritor has developed its next-generation technologies, we have been able to align our electric powertrain products to their needs," said Pedro Garcia, Director of Global EV Powertrain for Meritor, in the company's press release announcing the supply agreement. "We are excited about the opportunity to take our partnership into a new direction and get these new technologies on the road."
"Meritor has been a longtime partner to Autocar, providing us with proven and trusted technologies for our vehicles, and we look forward to expanding our partnership, so that we can bring zero-emission solutions to market," said James Johnston, President of Autocar.
Meritor's announcements demonstrate the current feasibility of electric vehicle technology, and the direction the commercial vehicle industry is headed. Many electric vehicles are now starting to become available in the market and testing with customers in real-world applications is expanding. The more these vehicles get put into use, the better able the industry will be to evaluate their performance and how best to proceed with further alternative energy technologies.
*Content based on information provided by Meritor Inc. and Volta Trucks.
Companies in this article