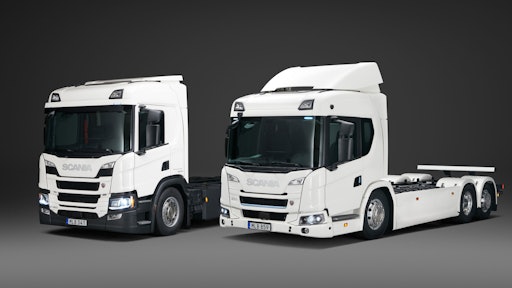 Scania AB
Scania commercially launches its range of electric trucks, a milestone in its aim to be leading in the transition to a sustainable transport system. The high-performance plug-in hybrid and fully electric trucks initially focus on urban applications, including distribution to retailers.
With Scania's proven record in delivering premium diesel and renewable fuel trucks, the launch marks a significant step in the company's development. Over the coming years, Scania will continue to develop its range of electrified vehicles for all applications, including long-haulage and construction.
"It is with a great deal of pride that we announce the start of Scania's long-term electrification commitment," says Scania's President and CEO Henrik Henriksson. "We will over the coming years annually launch electrified products for our entire range and we are presently reorganizing our production towards that end. Of particular significance is that we will in a few years' time, also introduce long-distance electric trucks adapted for fast charging during drivers' compulsory 45-minute rest periods."
Electrification of the heavy commercial truck fleet is decisive in reaching the Paris Agreement target of limiting global warming to well below 2 C (35.6 F). E-vehicles will therefore increasingly be an attractive option for progressive customers. Scania will in the initial stages, develop and deploy hybrid and fully electric trucks in partnership with these forward-looking customers.
"Although electrified vehicles in certain aspects represent a new technology, we've taken all possible steps to ensure that we apply the same unwavering uptime criteria as for our other trucks," says Anders Lampinen, Director, New Technologies. "Scania signifies premium quality and needless to say that characterizes our electrified trucks as well."
In addition to general cargo and temperature-controlled transports, e-trucks can be gainfully deployed with bodywork as hooklifts, tippers, concrete mixers and refuse collectors as well as for fire and rescue services.
"We are convinced that progressive customers will be eager to lead the way into electrification by taking initial steps to future-proof their fleets," says Lampinen. "In major transport companies with large fleets, implementation gives them an early opportunity to gain experience in this area. Meanwhile, we know that large transport buyers are interested in reducing their carbon footprints."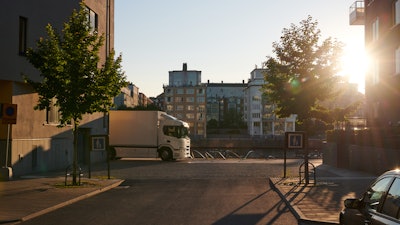 New fully electric truck
The Scania fully electric truck – offered with L- and P-series cabs –has a range of up to 250 km. It can operate during the whole day and still return safely to its home depot for overnight charging. If there is a need for an extended range, the driver can fast charge the truck over a break or during natural stops in operation.
The truck is available with the option of either five, for a total of 165 kWh, or nine batteries totaling 300 kWh installed capacity. With five batteries the range is 130 km. The range is, of course, dependent on the weight, body type and topography.
With the combustion engine removed, space for batteries has been freed. Additional batteries are mounted on the chassis frame. The new electric motor delivers a continuous power of 230 kW or approximately 310 hp. The motor has two gears to provide high power over a wider speed span, thereby improving comfort.
One of the major benefits with an electric motor compared with combustion engine is its high controlability. In practice, the customer will experience this through faster acceleration and response from the powertrain.
Other components needed for fully electric propulsion, such as battery management units, battery cooling components, electrohydraulic steering system, electric air compressor and inverter are also mounted along the chassis frame.
Scania's battery electric truck comes equipped with a CCS charging connector to charge from the electric grid. With 130 kW DC charging, the five battery packs will be charged in less than 55 minutes and the nine batteries in less than 100 minutes. The truck can also be charged through regenerative braking.
Scania's new truck is equipped for a fully electric power take off. Instead of connecting auxiliaries to the interface that is usually located on the gearbox or engine, it is instead connected to an electrical connection box, called a DC box mounted on the chassis. This gives a DC link of up to 60 kW PTO for body auxiliaries such as refrigeration systems and hooklifts.
The Scania electric truck is available with the L- and P-series cab, both of which are designed for urban operations. The low-floor L-series cab, particularly, is purpose-designed for congested city conditions with unrivaled visibility.
"Sustainable emission-free transport is an increasing requirement for transport companies," says Lampinen. "Acquiring an electric truck is not just an investment in the customer's fleet, but also in its brand and market. The electric truck enables the customer to stay ahead of the competition, learn about infrastructural challenges and start adapting for the future."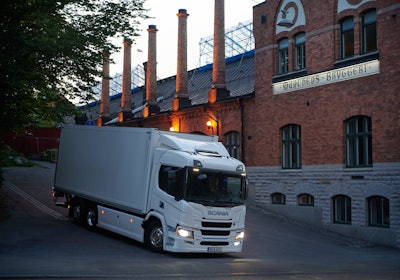 Plug-in hybrid truck
Scania's new plug-in hybrid truck, with an electric range of up to 60 km, combines the best of two worlds. It offers the flexible opportunities of the combustion engine with the outstanding benefits of silent and emission-free propulsion.
"Incorporating the hybrid truck into hauliers' fleets is doubtless the simplest way of gaining experience of operating electric vehicles," says Lampinen. "Acting as a bridge between the different technologies, this can help gain valuable experience in gradually expanding fleets to encompass a greater share of electric vehicles."
Scania's hybrid plug-in hybrid truck comes equipped with a CCS charging connector to charge from the electric grid. With 95 kW DC charging, the three battery packs will be charged to 80% in approximately 35 minutes. The truck can also be charged through regenerative braking.
With the new higher energy density batteries – each of the three packs has an installed capacity of 30 kWh for a total of 90 kWh – the truck can travel in an electric mode up to 60 km, depending on the gross total weight, topography and type of body. Additionally, complementary charging can be carried out while the truck is parked for loading or unloading, or while the driver is on breaks.
The Scania plug-in hybrid truck is available with the L- and P-series cab, both of which are designed for urban operations. The low-floor L-series cab, particularly, is purpose-designed for congested city conditions with unrivaled visibility.
In addition to the electric 115 kW motor – which is located between the engine and the gearbox – the hybrid truck comes with the 9-L 280–360 hp diesel engine.
Scania Zone is the perfect tool for use with the hybrid truck. The position-based service helps drivers in automatically switching propulsion mode to comply with traffic and environmental regulations as well as individually pre-defined policies for speed, noise and other emissions.
Both the plug-in and fully electric truck will be essential for operating in the growing number of urban areas around the world with low-emission city center zones. They also provide opportunities for increased vehicle utilization. With silent deliveries, transport services can be extended well into the night and early mornings, avoiding traffic congestion and parking difficulties. Studies show that off-peak deliveries can be more than 30% quicker than on equivalent daytime transport routes thanks to simpler parking at delivery points, less queuing, higher speeds and more frequently green lights at intersections.
With the silent mode of both trucks and the remarkable acceleration of the the fully electric truck of 2,200 Nm torque, they offer a very different and exciting driving experience. "We know that there are plenty of young and experienced drivers that will be attracted not only by tangibly contributing to sustainable transports but also by the opportunity to be among the first on the road with these trucks of the future."