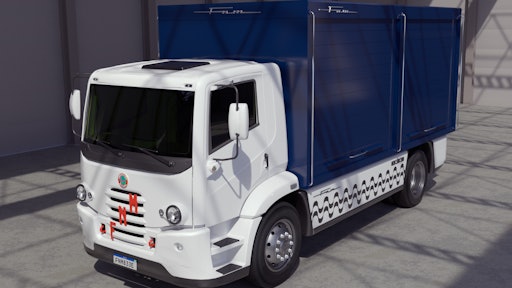 Danfoss Editron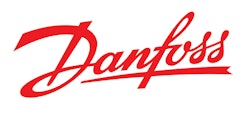 Danfoss Editron has been selected as the official supplier for drivetrain systems that will power fully-electric trucks manufactured by Fábrica Nacional de Mobilidades (FNM) in Brazil.  
Founded in 1942, FNM was Brazil's first truck manufacturer. The company was privatized in 1968 by the government, before being bought by Fiat who held the company until 1988. Now reborn in the spirit of commercial vehicle electrification, FNM has established a dedicated electric vehicle business which will focus on high-tech trucks and buses which produce zero-emissions.
Danfoss Editron is providing the electric drivetrains which will power the FNM 832 and FNM 833 models for commercial fleets. The FNM 832 is a Class 6 truck with up to 14-ton capacity, while the FNM 833 is a Class 8 truck model with 18-ton capacity. Both trucks will feature advanced lithium-ion batteries supplied by Octillion Power Systems. These batteries will offer an operational range of up to 300 km, enabling them to make urban deliveries across Brazil.
Danfoss Editron's electric drivetrain systems feature a 250 kW motor with an Eaton multi-speed transmission, Octillion 650V battery and are capable of generating 355 hp. The FNM electric commercial vehicles will save 128 tons of CO2 emissions annually compared to similar-sized models of petrol and diesel-powered trucks.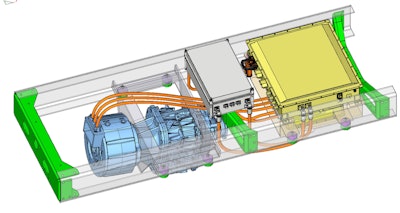 Commenting on the project, Danfoss Editron's Director of On-Highway Global Sales Adrian Schaffer said, "We have been working closely with the FNM team for several years. Now that FNM has put together an effective and efficient demonstration program we are ready to roll out a production-intent fleet. We see the Brazilian market as essential to the fleet operators and citizens of Brazil, as well as a gateway to the rest of South America for electric commercial vehicles."  
Celso Santos, Chief Industrial Officer of FNM, commented, "We are delighted to select Danfoss Editron as our electric drivetrain supplier, with Octillion Power Systems providing the battery systems. The FNM smart trucks use state-of-the-art technologies, including a tablet that is connected to an operational IT center and the client´s logistics systems. This will enable e-monitoring and innovative video-telematic solutions, such as an anti-collision camera system with artificial intelligence and alert systems for driving maneuvers like changing lanes. We will also be using niobium in nearly all the key components of these trucks, such as the chassis, brakes, suspension and wheels, to reduce weight and increase strength, performance and endurance." 
Paul Beach, President of Octillion Power Systems, added, "Danfoss Editron invited Octillion into this opportunity and we believe these FNM electric trucks will boost the overall market and help Brazil in fundamental ways, especially during the global pandemic where a green restart is essential. FNM has an incredible history and the company and its vehicles are going to set the bar for vehicle electrification in Brazil and beyond."