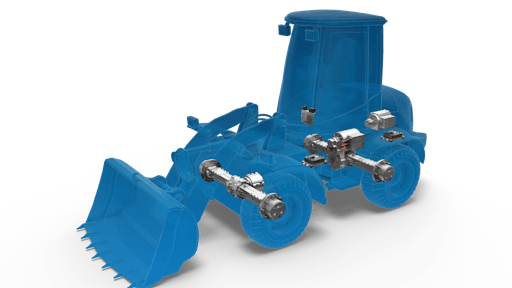 ZF Friedrichshafen AG
As the heavy vehicle and equipment industries continue their push toward further electrification, new drivetrain components enabling electric-powered propulsion are entering the market.
For instance, Danfoss Editron recently introduced a full-electric wheel loader system. The company said in its announcement of the system there is growing demand for electric and hybrid machines which can help companies, cities and countries around the world achieve carbon dioxide (CO2) and emissions reduction targets.
The system features an EM-PMI375-T800 motor with a speed range of up to 4,000 rpm and uses synchronous reluctance assisted permanent magnet technology. It also includes EC-C1200-AFE350 DC/AC converters and a DC-DC converter. This configuration enables the 650V battery to supply the DC voltage, which is then inverted to AC to control the traction motor. Other subsystems can also be operated from the DC link voltage. The company says its system is designed to provide high levels of performance with greater efficiency across all system states while keeping energy consumption to a minimum.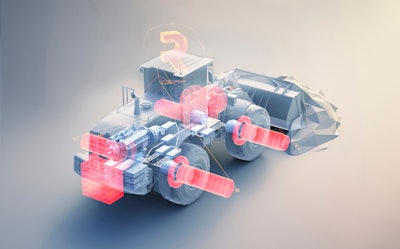 A growing global population and increased urbanization will help drive electrification, as well. The construction industry will have a stronger focus on infrastructure and housing projects in urban centers, requiring the use of equipment—particularly compact equipment—which meets standards for reduced exhaust, particulate and noise emissions, says Alexander Eisner, Head of Product Communication Off-Highway Systems at ZF Friedrichshafen AG.
In addition, he says many cities around the world have announced bans on certain internal combustion engines in the coming years which will restrict access to city centers for some types of equipment, especially those powered by a diesel engine. Because of this, ZF, like many other manufacturers, continues to develop new components for electric-powered machines such as the eTRAC driveline system introduced in early 2020.
Eisner says the driveline system can operate on different voltage levels from 48-650V to ensure the right performance for a particular application. It consists of an electric drive unit combined with front and rear axles, power electronics and a control unit. "[It] achieves the same output as conventional drivetrains, without compromising on performance factors such as traction and top speed," he says.
The first versions have been launched in compact wheel loaders in the European market. Eisner says the driveline for this compact wheel loader application uses an electric motor and transmission developed specifically for the application using actual measurement data from conventional compact wheel loaders. "This allows for greater levels of cycle efficiency and avoids the need for load reduction (derating) of the components, meaning no compromises in performance," he says.
Designing with electrification in mind
When heavy-duty electric vehicles were first under development, many of the necessary components and equipment had not yet been developed to a level comparable to conventional products. As such, there was a lot of experimentation with products that were available; while these early systems worked, they were not necessarily optimized for packaging, performance and efficiency, says Alexander Schey, Chief Commercial Officer, Electrification at Allison Transmission.
Because of this, the industry has shifted toward more customized and purpose-built solutions. Doing so ensures the components being developed are better able to handle the specific performance needs of the electric vehicle.
Efficiency is one of the biggest factors to take into consideration when it comes to electrification. "Efficiency has an outsized impact for electric vehicles when compared to conventional vehicles because it impacts the size, cost and weight of the battery pack, which is the largest, and certainly the most expensive cost component on the vehicle," he explains. "So, if you're able to increase the efficiency by 10%, you can reduce the battery pack size, cost and weight accordingly."
Schey says this is why it is important to develop drivetrain components specifically for electric vehicles. Doing so allows manufacturers to design a component differently than they might for a conventionally powered vehicle. "Powering auxiliary systems, like braking, electrically rather than via power take off can improve the efficiency significantly," he says.
Additionally, he says that because electric motors run differently compared to an internal combustion engine, there are wider torque and speed ranges that can be optimized to maximize efficiency. It is also important to consider the higher voltage ranges utilized. Taking these factors into account when developing a system helps improve overall efficiency.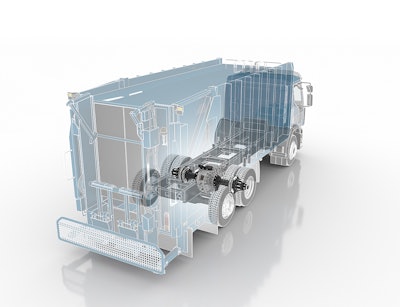 Allison Transmission's new eGen Power 100D electric axles feature two electric motors used in parallel to power the vehicle. Schey says what makes this system different is the fact the electric motors are coaxial with the axis of the axle—essentially, the line of the axle from wheel to wheel, with the motor axes in the same orientation. "And that allows for a much more efficient transfer of energy than you would get in a typical axle where you have the prop shaft coming at a 90-degree angle," he explains. "That alone saves 3-5% of energy."
All of the system's components—excluding inverters which are chassis mounted—are located in a central housing, which Schey says provides packaging advantages by leaving more space for batteries or cargo on the vehicle.
Instead of replacing the diesel engine with an electric motor and continuing to use the usual driveline and transmission, Daimler chose to design a propriety e-axle for its Freightliner eCascadia. Doing so provides a number of advantages the company said during a webinar on its technology held as part of the ACT Virtual event. The e-axle consists of trusted components carried over from the company's diesel trucks—axle housings, axle shafts and wheel ends—and the newly developed e-carrier.
Daimler said this e-carrier houses the electric motor and transmission components of the e-axle, providing a compact package which fits well into the electric truck. High-performance electric motors were utilized to ensure availability of sufficient driving performance while also allowing for maximum energy recuperation during operations. It said this improves overall energy efficiency of the vehicle and enables drivers to get more range out of the truck.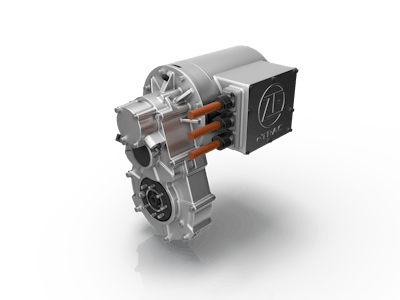 The modular design of the e-axle allows it to be deployed on various electric truck models from Daimler. Its modularity also enables it to be adapted to the different performance requirements of various applications to meet customers' specific needs.
Industry needs must be achieved
Thomas Healy, CEO of Hyliion, says it is a unique time in the industry because everyone knows electrification is coming, but customers are trying to figure out what solutions will fit them best. In the long-haul truck market, he says fleets have three options to choose from—full-electric plug in, hydrogen fuel cell and those like Hyliion's Hypertruck ERX (Electric Range Extender) which is a fully electric truck that uses natural gas to recharge the batteries.
At the front of the vehicle is a compressed natural gas (CNG) powered engine which is used to power an on-board generator that charges the truck's batteries. The batteries are large enough to provide up to 25 mi. (40.2 km) of full-electric operation. At the back of the truck are a set of conventional axles driven by a fully electric drivetrain. With this set up, the Hypertruck ERX can provide a range in excess of 1,000 mi. (1,609.3 km) and operates 24 hours a day, says Patrick Sexton, Chief Technology Officer at Hyliion. These capabilities help to eliminate any range anxieties a fleet may have, which is a common concern with over-the-road vehicles.
Sexton notes the system uses many proven technologies to provide fleets a go-forward option with low total cost of ownership, and reliable range and payload capacity without compromising performance. The company has partnered with Dana Inc. to supply the electric motor, inverter and axle technologies for the system. This collaboration provides an additional level of comfort to fleets by pairing a familiar global brand with Hyliion's technology. It assures fleets they are getting a robust and proven system which meets the needs of their application.
Healy says the Hypertruck ERX is a practical option for normal fleet operators. Electric plug-in works well for local delivery applications where a larger battery is not needed and there are more frequent opportunities to recharge. And while hydrogen is showing potential in the long-haul space, the infrastructure for refueling is not yet available. "CNG today has the ability to actually have the lowest cost of fuel compared to all these other solutions, even diesel, with an existing network of nearly 700 refueling stations nationwide," he says.
CNG, or renewable natural gas (RNG) which can also be used with the system, can already be purchased for less than $1 per diesel gallon equivalent "so there's a strong cost opportunity there," says Healy. "From our standpoint, we see our Hyliion Hypertruck ERX solution as a very practical and realistic way to bring electrification forward in the present while we work toward a more sustainable tomorrow."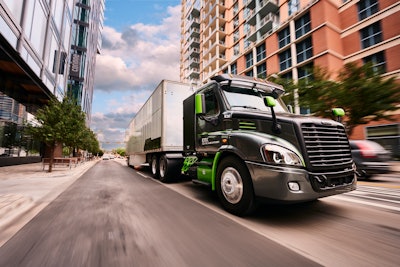 Paul Bottero, CEO and President of Inmotive Inc., says the company's Ingear transmission could be used in traditionally powered vehicles, but is particularly suited for electric vehicles because of the three key benefits it provides—high efficiency, low design cost and smooth shifting. He says that if an electric vehicle transmission does not offer all three of these benefits, then there is a tendency to use a one-speed system instead. He notes that while a one-speed system works in many applications, the company sees two-speed options as the future of electric vehicle transmissions because of the high levels of efficiency they can provide.
He says that most electric vehicles use single-speed transmissions, however, equipping a vehicle with an Ingear transmission lowers cost, extends range and improves acceleration times, highway passing capability, top speed and gradeability.
Typically, there are two reduction gears between the electric motor and the wheels, with the motor turning about nine times for each revolution of the wheels. The Ingear replaces the second reduction gear with a continuous chain drive and a morphing sprocket. To shift, an actuator directs sprocket segments into place during a single revolution of the wheels, effectively increasing or decreasing the gear ratio. The Ingear's patented geometry keeps the motor and wheels in sync, enabling continuous torque flow throughout the shift process. By enabling the drivetrain to operate more efficiently with low- and high-gear ability, less energy is wasted resulting in more range from each charge. Similarly, regeneration is improved and is continuous, even while downshifting
Bottero says the company's new Ingear two-speed transmission was designed with electric motors in mind. The transmission has a chain drive design without any clutches or power disconnect which provides smooth shifting and high efficiency. "Compared to other systems that have clutches and extra sets of meshing gears, we have lower losses. And those lower losses equate to either longer range in an [on-road] electric vehicle or better duty cycles in off-highway equipment because you have more battery life," he explains.
The continuous torque provided by the transmission is also beneficial to off-highway equipment, notes Bottero. Because there are no clutches, the transmission delivers continuous power even during shifting for continuous engagement of the wheels to the motor. "What this means is if a loaded truck is going up a grade on a dirt or gravel road and trying to shift gears, disconnecting power would be a problem. With the Ingear transmission, we would allow that vehicle to continue to go up the grade without any loss of power, and be able to provide more torque as required or more speed depending on what the situation calls for," he explains.
The Ingear is not a "one size fits all" technology. Its design flexibility enables OEMs to customize the size and scale of the technology based on the specific vehicle type. While initial development has focused on the passenger car market, the technology can be adapted for a wide range of vehicles, including commercial, off-highway and fuel cell applications.
Eisner says ZF uses its experience with electric lift trucks and other e-mobility applications when developing components for electric-powered off-highway equipment. He says the company has found using liquid cooling for its electric motors and power electronics ensures long-lasting performance in construction machinery applications.
And to make the most of the special properties of the new eTRAC system's electric motors, he says ZF designed a new high-speed transmission for the system. This helps to ensure optimal performance for customers. In addition, the system is modular in design which makes it easy to customize it to various application and machine needs.
"In the long run, the technology can also be adapted for other construction machinery applications such as excavators, site dumpers, telehandlers and larger machinery like mid-sized wheel loaders," Eisner said. "Increased energy density, continuous price reductions and lower energy production costs thanks to renewable power sources will see batteries become the main energy source for more and more applications."
And as the number of electric vehicle and equipment applications expand, so too will the technologies which power them.
Companies in this article