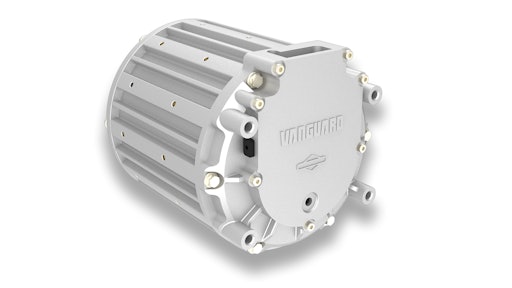 Vanguard
At Equip Exposition in Louisville, Kentucky, Oct. 18–20, 2023, Vanguard showcased its brand-new MVG Series of motors and MC Series of motor controllers alongside a mix of equipment applications powered by Vanguard batteries. Along with these developments, they also showcased latest additions to the Vanguard battery lineup.
According to company executives, it is on a mission to make it easier for OEMs to incorporate battery power into their equipment offerings, because more industries are expecting and demanding reliable, clean battery power.
Vanguard offers OEMs a complete system package with the introduction of its motors and motor controllers. Built tough and engineered with ease-of-service in mind, the MVG Series and MC Series include different power options to meet voltage needs across equipment sizes.
With the addition of these high-quality motors and motor controllers to its product lineup, Vanguard will be a source for power application across a wide variety of products. The design of the motors and motor controllers maximizes ease of integration and serviceability making it an ideal solution for compact equipment like blowers and walk-behind trowels, as well as pumps, sprayers, power rakes and more.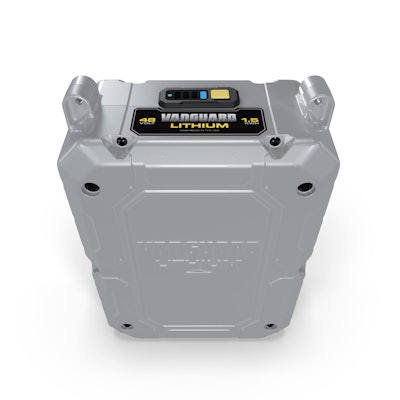 At the show, the 48V 1.5kWh* Commercial Battery (Si1.5) were displayed in action powering two concept pieces of equipment — a small walk-behind trowel and a blower. Billy Goat also had an 18-inch electrified PLUGR aerator on display powered by the Si1.5.
Built to bring efficiency, versatility and reliability to applications across industries, the exchangeable design of the Si1.5 Battery enables easy swapping between equipment, or equipment and charger, on the jobsite so operators can efficiently tackle the job at hand. Designed, engineered and assembled in the United States, the Si1.5 Battery is now available.
Vanguard will also showed its new 24V 3.5kWh* Battery, which utilizes advanced Lithium-Ion chemistry for safer and powerful performance. By offering a battery at the 24V level, Vanguard can help simplify the integration process for existing OEM applications utilizing lead-acid batteries. With the 24V 3.5kWh* Battery, Vanguard is able to better serve the access, cleaning and construction industries by powering equipment like boom lifts, floor scrubbers, sweepers, cranes and environmental systems.
With the addition of the new batteries, Vanguard now offers an even more competitive range of battery power solutions: 1.5kWh*, 3.5kWh*, 3.8kWh*, 5kWh*, 7kWh* and 10kWh* options.