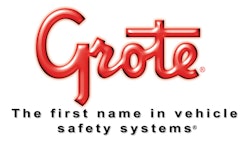 Grote Industries, a provider of high-performance LED lighting and lighting harness technology for the transportation industry, announces that Tom Draper has joined Grote as marketing manager. Draper will lead Grote's marketing department and will be responsible for all marketing activities, including corporate branding and advertising.
Draper brings more than 35 years of knowledge and experience in leading top domestic and international marketing teams and creating high-impact business-to-business programs. Draper worked for 10 years in industrial and defense marketing departments within General Electric as well as military departments of ITT Defense and Gould Electronics. Draper also held marketing director posts for the industrial and power control businesses of Square D, Eaton Cutler Hammer and Balluff, and has industrial channel marketing experience with WESCO, GE and Balluff. 
Draper brings his extensive domestic and international hands-on business-to-business writing and creative promotion experience to Grote. He is known for effective share growth planning and new business capture programs, creating innovative marketing and sales initiatives that drive field and channel success, plus industry-leading tactical and strategic marketing communications that expand industry market share, build customer relationships and increase brand awareness.