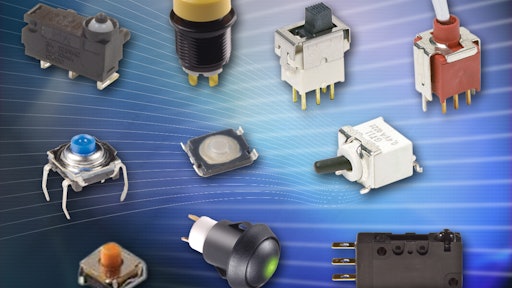 C&K Components, an international supplier of tact switches, toggle, rocker and pushbutton switches, and smart card interconnect devices, has expanded its IP-rated sealed switch product family to include an economical subminiature snap-acting switch. The TFS Series snap-acting switch comes in two models, one has .020 by .187 quick connect terminal, and the other has molded-in wire terminals. Both are sealed to IP67 ratings. Ideal for price-sensitive applications, the rugged and reliable TFS Series provides an operating life of up to 100,000 cycles. In addition to the TFS Series, the ZMS Series and LCS Series subminiature snap-acting switches have an IP67-rated option and offer long-term reliability.
The sealed product family from C&K also includes the AP Series (IP67-rated with a lifecycle of 1,000,000) NP Series (IP68-rated with a lifecycle of 1,000,000), and HP Series (IP68-rated with a lifecycle of 10,000,000) pushbutton switches, which combine ruggedness and long-life cycles.
The KMT0 nano-miniature top actuated tactile switches not only provide IP68-rated sealing, but also more than 300,000 electrical and mechanical cycles in the industry's smallest package. The KSA Series and KSC Series high-performance sealed tactile switches are IP67-rated and designed for SMT.
C&K's E Series and ET Series sealed miniature toggle switches are IP57-rated to protection against harmful dust deposit, full-scale voltage protection, temporary immersion. The ultra-miniature GT Series toggle switches are sealed against solder and cleaning process contaminants. The ES Series miniature slide switch is also sealed to IP57 requirements, while the M Series half-inch rotary switch offers IP67-rated sealing.
"Ideal for demanding, rugged and harsh environment applications, our extensive IP-rated sealed switch product family offers our customers highly reliable switches that meet design and cost requirements," says Lou Zajac, sales & marketing director for C&K Components
All C&K IP-rated sealed switches are RoHS-compliant. The sealed switch family is available in a wide range of contact ratings, minimum/maximum voltages and circuitry configurations to meet customer requirements.