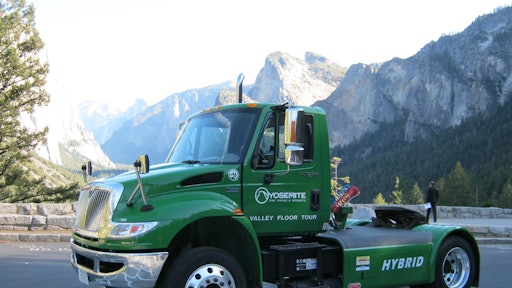 Once only passable by foot or horseback, Yosemite National Park now allows visitors to enjoy the pristine surroundings onboard new low-emission, fuel-friendly vehicles powered by Eaton's hybrid electric systems. Eaton Corp. worked with the U.S. General Services Administration and Delaware North Companies Parks and Resorts to deliver four new Class 8 tractors. An additional seven vehicles – 37-passenger shuttle buses – are on order and awaiting delivery.
As a result, more than 4 million visitors per year are now enjoying cleaner air and reduced emissions throughout the park's 760,000 acres in the Sierra Nevada mountain chain in central California.
"The low-speed, low-mileage and stop-and-go duty cycles at Yosemite provide the perfect operating conditions for a hybrid truck," says Kevin Snow, chief engineer for hybrid applications at Eaton. "On top of that, the environmental and fuel consumption improvements are going to be quite substantial."
Dan Anthonijsz, village garage manager at Yosemite for Delaware North Companies, agrees.
"We are definitely realizing fuel consumption reductions, currently averaging about 6.7 miles per gallon with the tram tractors," notes Anthonijsz. "That's a huge improvement over the one mile to the gallon that we were getting with the propane trucks that the new vehicles replaced.
"Also with the new vehicle, you don't even see anything coming out of the exhaust pipes. It is a huge improvement for the environment."
In addition, Eaton worked with park officials to install a new engine brake on a tow truck, also with an Eaton hybrid electric system, to ensure the regenerative braking function was operating properly. Regenerative braking allows the hybrid system to recover power normally lost during braking and stores the energy in batteries to provide engine-off power take off capabilities.
Eaton has published a case study on the Yosemite purchases that is available for download at eaton.com/roadranger. Search for publication number TRSL2517.
The hybrid systems used on all of the Yosemite vehicles employ parallel, diesel-electric hybrid architecture. It incorporates an electric motor/generator between the output of an automated clutch and input of the transmission. The system recovers energy normally lost during braking and stores the energy in batteries. When electric torque is blended with engine torque, the stored energy is used to improve fuel economy and vehicle performance and is ideal for stop-and-go applications.
Eaton systems have collectively accumulated more than 300 million miles of service, reducing fuel consumption by eight million gallons of diesel fuel and CO2 emissions by more than 80,000 metric tons. At the time they were evaluating solutions, more than 6,000 of Eaton's hybrid systems were in use today on city buses, school buses, package delivery trucks, beverage delivery trucks, refrigerated delivery trucks, refuse and recycling trucks, utility vehicles and other commercial applications.