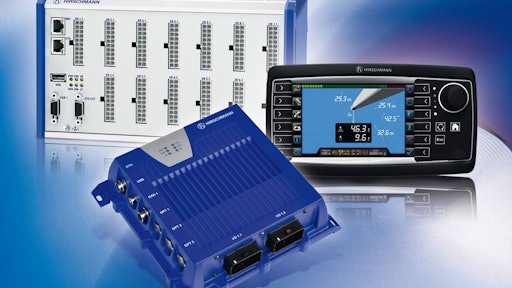 As emissions regulations have progressively gotten more stringent, engine manufacturers have had to figure out the best means of reducing emissions. Using electronic controls on engines is one way engineers have found to effectively and efficiently meet emissions regulations. Joe Maher, Product Marketing Manager of Electronics Components for Sauer-Danfoss, Plymouth, MN, says electronically controlling an engine is the only technically feasible and economic way to lower engine emissions. With electronics, sensors and software can be used to monitor systems and precisely control performance, eliminating the need for extensive wire systems which can add weight and complexity. As electronic technologies have become more advanced and prevalent, their cost has decreased, as well.
Marvin Farr, Manager of Engine Electronics at John Deere Power Systems, Waterloo, IA, says embedded software algorithms within an engine controller manage actuators that control fuel injection and air flow to deliver desired engine performance, such as torque output, emissions and fuel economy. Through these electronic controls, there can be better optimization of engine combustion, adaptive control of drivetrains and smarter management of parasitic loads. Accessories such as starters and cooling fans can also be managed with the engine controller to further optimize performance and efficiency.
When MTU, Friedrichshafen, Germany, developed its engine controller, or ADEC (Advanced Diesel Engine Control), the company designed it to be a closed-loop system. Dr. Dietmar von Zwehl, Director of Electronics Development and Design at MTU Friedrichshafen, says the control system is based on a set of sensors. Within the closed-loop readings from the sensors are compared to the engine's target settings for optimal performance, and any deviations will automatically be adjusted by the engine controller. This helps ensure the engine continues to perform as it is designed to, and will continue to do so over its entire lifespan.
Electronics bring longevity
As power demand is managed by the engine controller, not only does it enable effective management of the engine's duty cycle, but also the components involved with transmitting power to the vehicle, says Maher. This helps extend the lifespan of the engine and the surrounding components. Ramping can be added to create soft starts and stops, reducing mechanical stress on parts such as hydraulic cylinders to provide further longevity. Farr says system monitoring and the automatic protection provided by electronic systems helps with engine and vehicle durability, as well. "Oiling and cooling systems are continuously monitored by electronic systems," says Farr, "which allow the engine to be automatically derated or shut down to prevent engine damage if either system is not functioning properly."
With the use of electronic controls for engines, other electronically controlled systems have become more prevalent, as well, in vehicles. Everything from hydraulic systems and steering to transmissions can be controlled using electronics. "Once an engine controller is provided with the engine, it now becomes an easy job to interface the rest of the vehicle control with the engine control using CAN communication protocols," says Maher. Managing the entire vehicle via electronics provides more efficiency, which in turn leads to additional reductions in emissions and fuel consumption.
Using electronics for various systems in the vehicle can help increase safety, as well. Sensors can be placed throughout the vehicle to continually monitor activity. For example, sensors and control logic can be used to determine if a transmission is in neutral before the vehicle can be started. Maher says using electronics is often a simpler, more cost effective means of insuring safety.
Proper integration is key
Integrating engines into various applications can be challenging, though, because the electronic systems often vary from application to application. Ensuring optimal functional cooperation between electronic systems is important to not only a vehicle's overall behavior but its efficiency, as well. According to Farr, the development of standardized networks for communications among all controllers in a vehicle has been key to successful integration of various electronic systems.
To make integration easier, MTU designed its engine controller to have an interface which is standardized across all applications. "MTU's strategy is to limit the engine specific functions to its ADEC, and application-specific functions are placed in the vehicle electronics," says Zwehl. The functional cooperation between the engine control and vehicle electronics is based on high flexibility software. "More and more functionality is solved by software," he says.
The standard interface of MTU's ADEC also helps with diagnostics, the amount of which Zwehl says has increased with more electronics being used on vehicles. By standardizing the engine controller, though, only one tool is necessary to diagnose any potential problems, alleviating the burden for maintenance personnel who may be working with equipment used in various types of applications.
John Deere's Farr notes that the environment in which off-highway vehicles are used can also pose some challenges when using electronically controlled systems. With so much dust, dirt and debris around, the various electronic controllers, sensors and actuators need to be properly hardened and protected to ensure durability and reliability.
Keeping it safe
Functional safety, or the technologies used to minimize any potential risks to equipment operators and the accuracy of those safety technologies, has become increasingly more important with the amount of electronic controls now being employed in heavy-duty equipment. Sauer-Danfoss' Maher says functional safety is moving from a deterministic to probabilistic approach due to European Machinery Directive 2006/42/EC and the global standard EN ISO 13849-1:2009.
The deterministic approach establishes a design architecture to mitigate potential problems. Probabilistic, on the other hand, calculates a specific required safety performance level for which a solution is designed and its performance is documented through analysis of component reliability, system architecture and diagnostic coverage.
Juergen Baesel, Product Manager for Mobile Machine Control and Safety Systems, and Ralf Kaptur, Product Manager for Mobile Machine Control, both of Hirschmann Automation and Control GmbH, Neckartenzlingen, Germany, say a system that meets functional safety requirements must be designed to evaluate and prevent the risk of random failures as well as systematic failures. The company's iSCALE control system (search 10630432 at www.oemoffhighway.com to learn more), for example, features self-diagnostics and intelligent failure analysis built into the hardware and software to ensure functional safety. By continuously monitoring itself, the control system can ensure safety and perform the proper operations to eliminate danger. Baesel and Kaptur say in general, functional safety systems are designed to shutdown machines as soon as they detect an error to keep operators safe, because even the smallest error can have adverse effects for a vehicle operator.
"Functional safety and its different application-specific requirements is a challenge," says Zwehl. "Each application has its own safety goals which have to be fulfilled by the engine control system and the vehicle automation as well." He says designing the interface of the engine controller and vehicle electronics for the variance between applications can help ease this challenge. Basic safety constructs are built into the MTU electronics in order to meet application-specific safety goals.
As mobile electronic controls continue to progress, Baesel and Kaptur say more and more safety functions will be necessary without hindering the performance of the machine. More intelligent diagnostics will be required to ensure there's an equal balance between safety and functionality.
Companies in this article