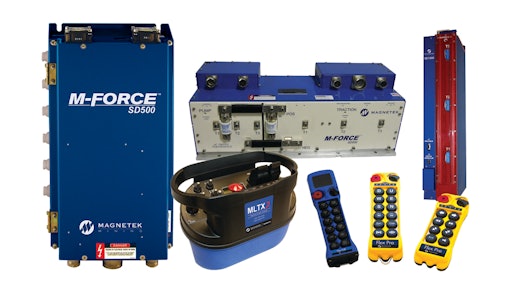 Magnetek Inc., a leading designer and manufacturer of variable frequency drives and radio remote controls, will be exhibiting at MINExpo International 2012 at the Las Vegas Convention Center in Las Vegas, NV, September 24 to 26. On display will be Magnetek's line of M-FORCE AC drives as well as wireless remote controls for mining applications.
Magnetek's M-FORCE line of Severe Duty AC Traction Drives includes the SD500 AC drive for a variety of mining applications including battery-operated mobile vehicles, locomotives, muckers, loaders and haulage equipment. M-FORCE drives control induction AC motors for high efficiency at a wide range of motor speeds in traction applications or at a fixed speed for hydraulic pumps and fans. The M-FORCE SD500 Severe Duty AC Traction Drive is designed with a flat plate heat sink as standard. Magnetek also provides custom engineered systems that include liquid and various air cooled options. In addition, the company offers an SD500 Combo Drive System that combines two variable frequency drives in a common enclosure for combined traction and hydraulic applications.
The M-FORCE Drive System offers optional equipment such as the display, intuitive graphics and external buttons for diagnostics and control in an MSHA-approved housing and Magnetek's proven CAN bus radio frequency hardware technology. The M-FORCE System offers stand-alone controllers and radio receiver controllers capable of direct machine control of motors and hydraulics in addition to other CAN-BUS compatible devices.
Magnetek will also display its 1000 Volt Series of Variable Frequency Drive. Designed to operate in applications ranging from simple variable or constant torque to sophisticated networked systems, each drive is designed to handle common mine voltage of 950V. These drives offer four modes of control, network communications options, application-specific drive software and standard plus optional input/outputs. "Magnetek has a proven track record for reliability and value in the mining industry with over 30 years of experience and over 10,000 mining drives in the field," says Ed Butte, Magnetek's Director of Mining.
"We want to make sure mining customers know about Magnetek's vast experience in wireless radio controls as well. We have over 100,000 radio controls operating in the field today in a variety of applications including industrial, mobile hydraulic, locomotive and mining. Our rugged wireless controls provide mine operators with better positioning for job visibility and safety, allow for data feedback and extend the life of the machine and hydraulic components," Butte says.
Magnetek offers a line of ATEX Ex rated radio transmitters to meet the demands of a mining environment. Magnetek's innovative, cost-effective wireless radio controls complete with hydraulic or electric interface controls, are designed to meet customer specifications, reducing internal engineering and manufacturing costs, improving time to market and enhancing equipment performance.
"Customers can stop by our booth and try the Flex Pro wireless radio control, the latest in proportional wireless control technology," Butte says. "Flex Pro provides operators with the ability to proportionally moderate speed, allowing them to maneuver with precise, smooth control." Magnetek's innovative new Flex VUE radio control will be introduced at MINExpo. Flex VUE incorporates a graphic display for advanced communications, configuration convenience, and two-way feedback in a hand-held proportional radio controller. Finally, the new MLTX2 Bellybox Wireless Radio Control with graphic display, one of the lightest bellybox transmitters available today, will be featured. Its contoured design and easy to use, angled lever or joystick controls enhance operator comfort, while the rugged, super-tough nylon housing is rated NEMA 4 (IP66), sealed to withstand harsh environments. The MLTX2 transmitter can be combined with Magnetek's MHR Radio Controller, which integrates the components of a radio receiver and hydraulic controller into a single unit, reducing cost and freeing up valuable space.   
For more information about Magnetek's mining motion control products and to try the Flex Pro proportional radio controller, stop by booth 7026, Central Hall at MINExpo.